POSTED MARCH 25, 2012:
It is with deep regret that we announce the passing of brother retired Hamden firefighter, Paul Reutenauer, on Sunday, March 25, 2012 in Florida.
Paul's fire service career began when he joined the Mt. Carmel Volunteer Fire Co. in 1951. He became a member of the career department in December 1957 and was assigned to old Platoon 2 under Deputy Chief Everett Doherty. From the start of the 42-hour workweek in 1970 until his retirement in March 1993, Paul served at Station 4 on Platoon 3. A great guy with a wonderful sense of humor, Paul will be missed by all who knew him.
A Funeral Mass was held at 11 a.m. on Friday morning,
March 30, 2012,
at Our Lady of Mt. Carmel Church in Hamden.
Our thoughts and prayers are with Paul's family.
Obituary (below) as it appeared in the New Haven Register on Wednesday, March 28, 2012.
More photos of Paul with some of his colleagues below the obituary.

© 2012 New Haven Register - March 28, 2012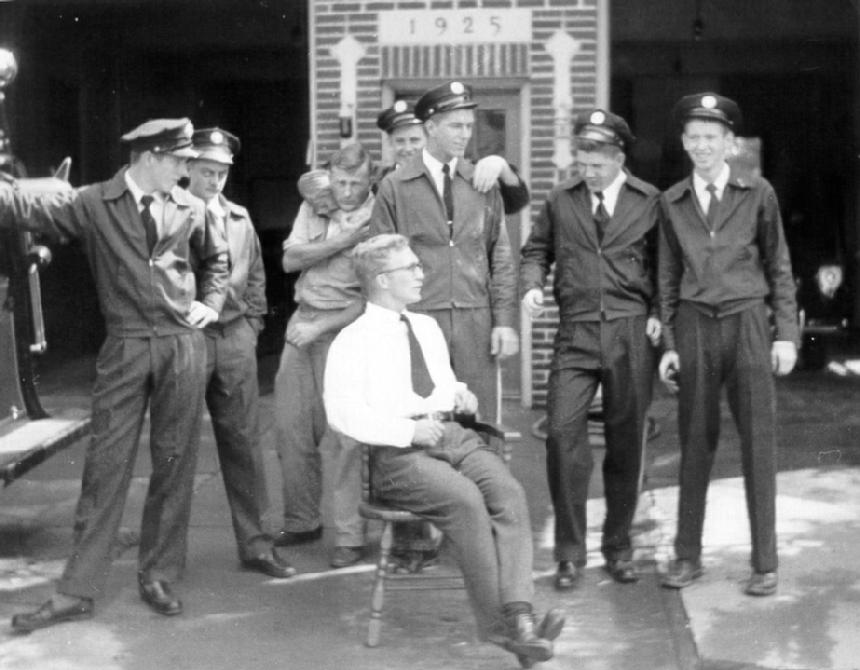 1954 - Paul Reutenauer with fellow Co. 5 volunteers horsing around before the Connecticut State Firemen's Convention Parade. Here we see five present and future Hamden career firefighters: Tom Doherty (standing 2nd from left), then Jack Laffin (already a "paid man"), Gil Spencer, Paul, and Ray Bantz. (Photo courtesy of Tom Doherty)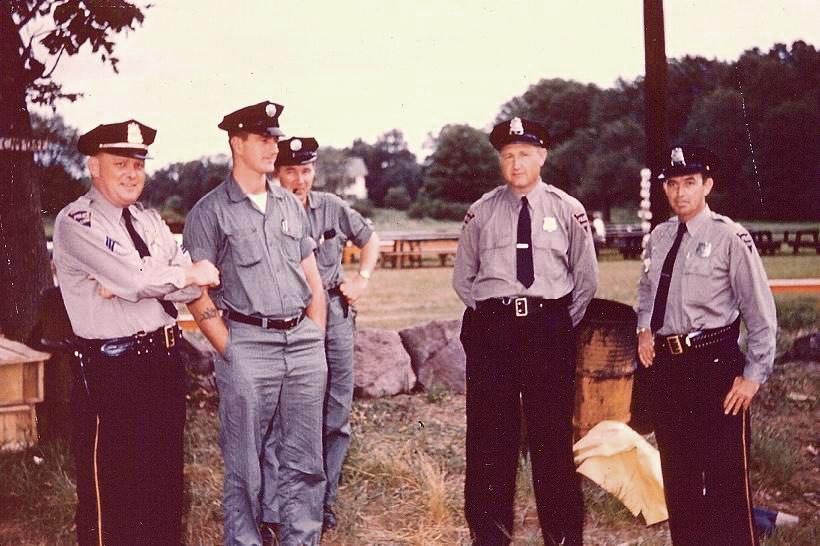 Photo is dated October 1962 - L-R: Sgt. Eddie Vincent (HPD), Paul Reutenauer, Milner Benham, Ben Nellums (HPD), and George Fee (HPD) - at Brooksvale Park (Photo by O.H. Johansson, New Haven)
This November 1963 photo was part of a "day-in-the-life" of a firefighter series published by The New Haven Register. Paul is shown keeping score while his buddies Gil Spencer, John Hoffman and Milner Benham (back to the camera) get ready for another hand of setback.
This photo from the mid-1970s was taken at the rear of Fire Headquarters. Paul is shown assisting fellow firefighter Carmen Amarante with the older model Scott 2A SCBA.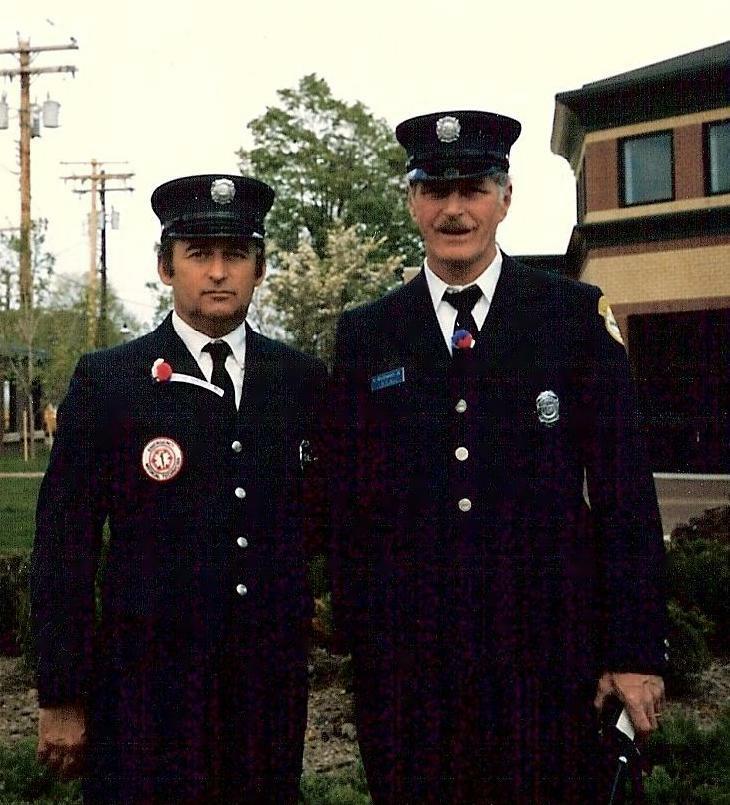 May 11, 1986 - Firefighters Jim Moore and Paul Reutenauer just before joining other department members in Hamden's Bicentennial Parade, which began at Skiff Street and proceeded north to the Town Hall, then west on Dixwell Avenue. (Photo courtesy of Jim Moore)
May 11, 1986 - Lieut. Howie Hurlburt, Jr., Firefighter Jim Moore and Firefighter Paul Reutenauer getting ready to step off in the 1986 Hamden Bicentennial Parade on Whitney Avenue (Photo courtesy of Jim Moore)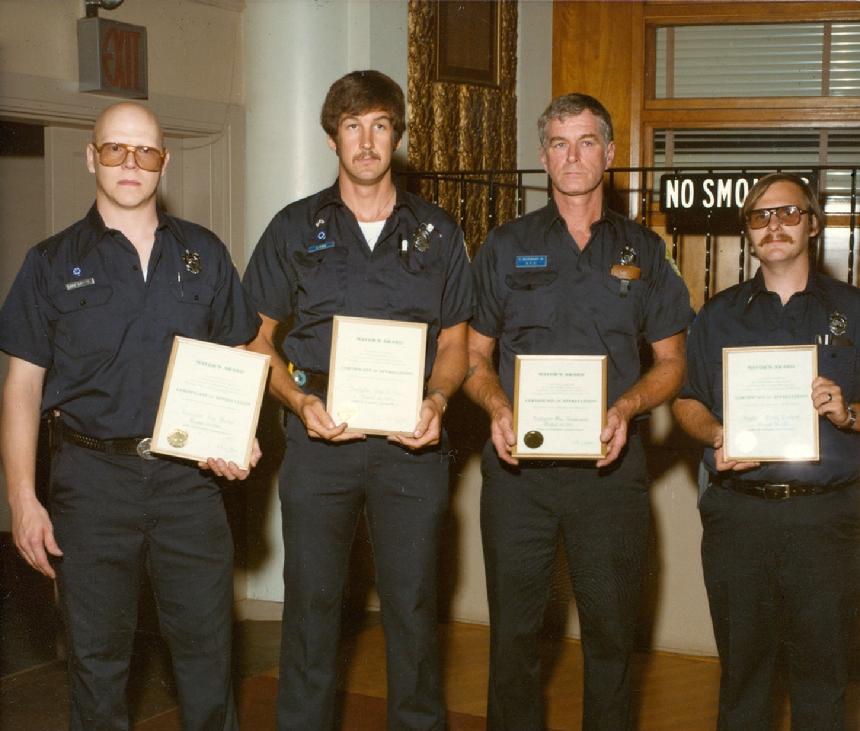 L-R: Ff. Carl Backus, Ff. John O'Dea, Ff. Paul Reutenauer and Ff. Clark Hurlburt (Photo courtesy of Dep. Chief Bob Surprise)
In August 1983, Hamden Firefighter/Paramedic Clark Hurlburt and Firefighter/EMTs Paul Reutenauer, Carl Backus and John O'Dea saved the life of retired Hamden police sergeant Louis Boyce, who was in anaphylactic shock following numerous bee stings. The four Hamden firefighters were subsequently presented with the Mayor's Award by Mayor Peter Villano.
Silent Tribute to an Old Friend
Hamden firefighters at attention in front of Station 5, in honor of Paul as his funeral procession passed by last Friday.
COPYRIGHT NOTICE

Unless otherwise cited or in the Public Domain,
all material on this website,
including all original photos, essays, articles and commentary published herein, are Copyright © 2009-2023 by the Hamden Fire Retirees Association, Inc., and may not be copied or republished in whole or in part without prior written permission of the Hamden Fire Retirees Association, Inc.

Official website of the Hamden Fire Retirees Association, Inc.
Website powered by Network Solutions®