Hamden Fire Retirees Association, Inc.
_____________________________________________________________________________________________________
_____
Massive Cold War Era Civil Defense Exercise at Groton Sub Base
On Sunday, May 19, 1957, a statewide Civil Defense exercise was conducted at the U.S. Submarine Base at Groton. 105 pumpers from all over Connecticut
included Hamden's 1954 Maxim, pictured below on a New Haven Railroad flatcar. This photo,
shot by I.A. Sneiderman, was
featured
with several others in the New Haven Evening Register the following day. This
original 8x10 photo
is from the archives of the HFRA.
HFRA Honorary Member Chan Brainard
donated these news articles to the HFRA, along with hundreds of other
HFD
articles from 1955 through
the end of the century.
CLICK on any of the articles below to enlarge them for easier reading.
Oct. 1968 - Ff. Bill Davin, Chief V. Paul Leddy, Commissioner Irving Saslow, and Lt. Jack Laffin pose in front of the '65 Mack at Headquarters to kick off Hamden's annual Muscular Dystrophy Assn. drive. (From the HFRA archives)
Website thanks to Sally Hines Rowe for providing this 1956 news photo from the New Haven Evening Register.
_____________________________________________________________________________________________________
_____
May 2013 - Platoon 3 at Station 2 - Ff/Paramedic Brett Rinehart, Lt. Adam Barletta, Ff. Cerrone Davis, Ff. Larry Deburra, and Ff. Mike Sperl posed this week next to the new Engine 2, a 2013 Smeal 1,250 GPM pumper.
This new pumper replaces the 1997 3D HME, which is now Engine 1, the Department's spare.
April 1988 - Platoon 2 at Station 2 - Ff. Tom Mikolinski, Ff. Tony D'Agostino, Ff. Jim Dunlop, Lt. Clark Hurlburt, Ff. Richard Greening, Ff/Paramedic Harold Prescher.
One of Hamden's First Career Firefighters Told It Like It Was
(
How 'bout a 168 Hour Workweek?)
The "three major fire losses" referred to in the above article were the December 7, 1964 Weather Vane fire, the Christmas Day 1964
fire at Reilly's, and the January 21, 1965 fire at radio station WDEE on Denslow Hill Road.
May 15, 1973 - Following civil service exams and the recent retirement of Dep Chief James Strain, Capt. Joseph McDermott was promoted to deputy chief, Lieut. Jack Laffin was promoted to captain, and Firefighter Walt Macdowall was promoted to lieutenant.
_____________________________________________________________________________________________________
_____
December 1964 - Icy Dog Rescue on Lake Whitney
Photo from the HFRA archives. Photographer unknown. CLICK to enlarge.

This photo

had been in the

HFRA archives for years, but it

contained

no IDs or date. A few months back, retiree John O'Hare allowed us to scan a few news articles of his. One of them included this photo, which was

published

in the December 11, 1964 edition of the

New Haven Journal-Courier.

John is shown in the bow of the Department's rowboat while Lieut. Danny O'Connell rows on an icy Lake Whitney just after

they rescued

a five-year old Labrador retriever named "Traze," belonging Chris Pedersen of 71 Augur Street.

According to the article, "Lt. O'Connell said Thursday night that the rescuers had to row about 200 feet out into the lake, where the canine was swimming in a hole in the ice.

"O'Connell said the boat was almost swamped when O'Hare attempted to lift the dog in. Once inside the boat, the grateful dog sat quietly until shore was reached."



M

aselli Fireplace Center


3547 Whitney Avenue


May 1, 1968



The quarried head of Sleeping Giant literally provides the backdrop for this photo. This early evening fire was
not a big one, but it was a nasty one that did a lot of damage to merchandise stored in the basement
of the Maselli Fireplace Center on the east side of Whitney Avenue, just north of West Woods Road.
On Saturday, May 5, 1973, Hamden Lieut. Gilbert Spencer and Firefighters Dave Howe, Ed Doiron and Tony Melillo assisted New Haven Fire Department Drillmaster, Capt. Charles Doll, with numerous live fire exercises for seventeen members of Co. 5 at the Hamilton Street training ground. Many of the exercises were documented by Ed Doiron in several dozen slides, some of which can be viewed by clicking on this photo.
As a bona fide member of the department, HFD Chaplain Owen Sanderson has always pitched in. This nasty ground cover fire in the West Rock area 35 year ago was no exception. The "almost antique" truck in the photo was Co. 7's 1935 Dodge, which was still in service in '78, and is still around today. But, like most of us who were active in 1978, the '35 Dodge is now retired.
The lower photo could be captioned, "Sometimes you just have to improvise."
Article courtesy of Gilbert Spencer
Telling Our Story on May 9th
The First 100 Years of Hamden Firefighters - the History, the Evolution, and Memorable Events
will be the subject of a Powerpoint presentation by your webmaster at the annual meeting of the Hamden Historical Society
NEXT Thursday evening, May 9th at 7 p.m. in the Senior Center Hall of the Miller Memorial Cultural Complex, 2901 Dixwell Avenue. Please enter through the rear entrance. No charge, and refreshments will be served. All - especially Hamden's fire retirees - are welcome!
_____________________________________________________________________________________________________
_____
Quick thinking by small child saved family
and
quick reaction by Supt. Mike Murray saved life of Ff. John Reynolds.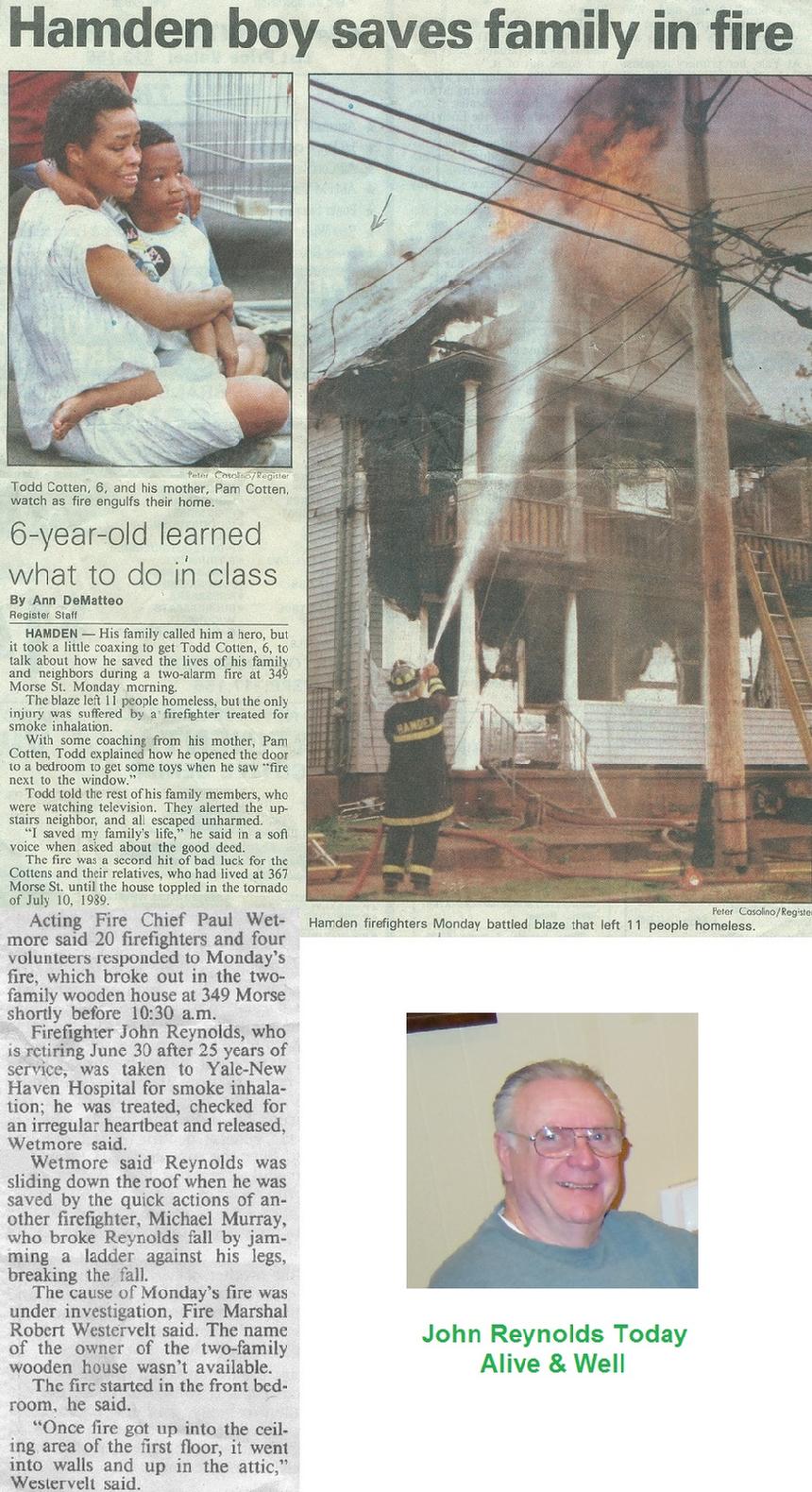 The New Haven Register, April 27, 1993 (Courtesy of Gil Spencer)
Fire service support for West Texas, TX this week. Please keep them in your thoughts and prayers.
(scroll slowly and read everything)
(Photo courtesy of Tom Doherty)
60 years ago someone snapped this photo of Hamden's "Emergency Squad" outside Fire Headquarters. This week, the special significance of this particular photo isn't the truck, it's the building in the background. Scroll down.
Website thanks to Lieut. Gary Merwede, who shot
the photos of the demolition earlier this week of 2384 Whitney Avenue, the building right next to Station 4. It is sad to see the disappearance of
a landmark that
held so
many fond memories
for those of us who worked at 4's ("Flo Alerts" anyone?).
Over the past century many different commercial establishments and
apartments occupied the building. It even survived a fire 41 years ago
in a fabric shop that occupied the same store that
later housed Conte's Jewelry Store. Early Centerville photos confirm that this building
was older than the town hall and even the old
Reilly's Restaurant
building that once stood on the other side, where Eli's stands today. Bye, bye!
Website thanks to Bob Freeman for yet another view of the mayhem next to 4's.
(Is that really a power shovel in the basement?)
Hamden's 1926 Maxim city service ladder truck near old Staion 3 on Putnam Avenue. This photo was provided to the archives many years ago by the late G. Donald Steele, who served as a volunteer at Co. 5 from the early 1960s until the 1980s.
_____________________________________________________________________________________________________
_____
The victims in Boston are in our thoughts and prayers.

Please keep them in yours.



The Bridgeport Telegram, Thursday, April 17, 1947 (CLICK to enlarge)

It has been a tough week.

The Boston Marathon bombing on Monday, an act of terror that will be avenged, brought us together once again as a country steeled with resolve. Now, a

few days later, our thoughts and prayers are

also

with the people of West Texas, Texas, following a devastating explosion in a fertilizer plant located there. Many lives were lost, including several members of the fire department.

This week's

Texas explosion was reminiscent of another horrendous Texas disaster, exactly 66 years earlier (April 16-17, 1947), when the freighter Grand Camp, loaded with ammonium nitrate, caught fire and exploded in the harbor at Texas City. It was

the worst industrial disaster in American history. Hundreds of lives were lost and the entire Texas City Fire Department was wiped out.

Click below

to

view

a 50th anniversary YouTube video account of

the

1947

Texas

City

disaster.



1972 - At Station 3, Joe Rahl (left), leaning on Doug Yocher's 1971 Chevy, watches as Ray Dobbs gives his 1972 Datsun 240-Z a bath. (Photo by Doug Yocher)
This May 1982 photo by future fire chief John Tramontano shows Asst. Supt. of Alarms (and future fire chief) Paul Wetmore, Sr. in the "bucket" of Car 53, a 1969 Ford.
CLICK TO ENLARGE

Department Bulletin - April 19, 1982 reveals lots of changes in 31 years.

The Hamden Fire Department Communications Bulletins, issued from 1982 until 1989, are among the Department's many time capsules. Of all the buildings mentioned in the

bulletin

issued

on

April 19, 1982, only

the new

Miller Library at 2901 Dixwell Avenue is still standing.

The

other seven buildings (and even one street) are but a memory.

Not

only is the apartment building at 10 Prescott Street gone, but so is the entire street. What was Prescott Street is

now part of the S.C.S.U. campus. 251 Leeder Hill Road was

replaced by condos. The building

at 1881 Dixwell Avenue was razed to make way for the shopping plaza located

just north of where

Home Depot is today.

Long after

the W.I. Clark Company

moved to Wallingford,

their old building at 2195 Dixwell Avenue

was

transformed

into a

roller skating facility

during

the "

D

isco E

ra."

A Wendy's

restaurant stands there today.

Chimney Square, at 1125 Dixwell Avenue, was a small group of businesses (and one very popular gin mill) that was originally

part of the Safety Electric Company, a large

complex

that ran from the corner of Putnam Avenue, south to

opposite Third Street.

The original Spring Glen School was razed several years ago and replaced by a new school.



Finally, the "old" Miller Library, mentioned in the final entry at the bottom, was torn down only a couple of months ago to make way for the new police parking garage.
_____________________________________________________________________________________________________
_____
The HOME page contains postings from the past FOUR weeks only.
All previous weekly updates, from April 1, 2011 on, may be viewed by going
to the menu t
ab "HOME (Archived)."
Articles about fires and other major incidents can be retrieved
from
the "Action!" tab.
Other articles may be retrieved by going to the "Past Articles" tab.
COPYRIGHT NOTICE

Unless otherwise cited or in the Public Domain,
all material on this website,
including all original photos, essays, articles and commentary published herein, are © Copyright 2009-2013 by the Hamden Fire Retirees' Association and may not be copied or republished in whole or in part without prior written permission of the Hamden Fire Retirees Association, Inc.

Official website of The Hamden Fire Retirees' Association, Inc.
Website powered by Network Solutions®