Regular weekly Friday website updates commenced on April 1, 2011.
_____________________________________________________________________________________________________
_____
The Office, 32 Lee Street


Wednesday, April 3, 1963

The well-known joke about this "night club" that once stood on the north side of Lee Street just off Dixwell, was that a guy could call his wife at home and say that he would be late for dinner because he was "still at 'The Office'."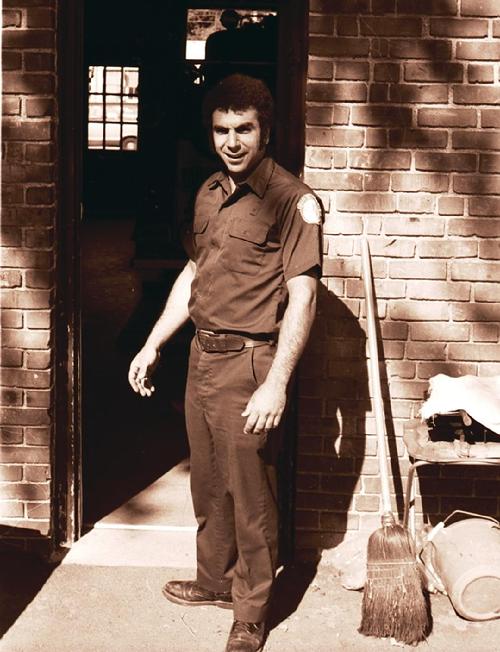 1978- Ff. Eddie DeFrancesco at Station 5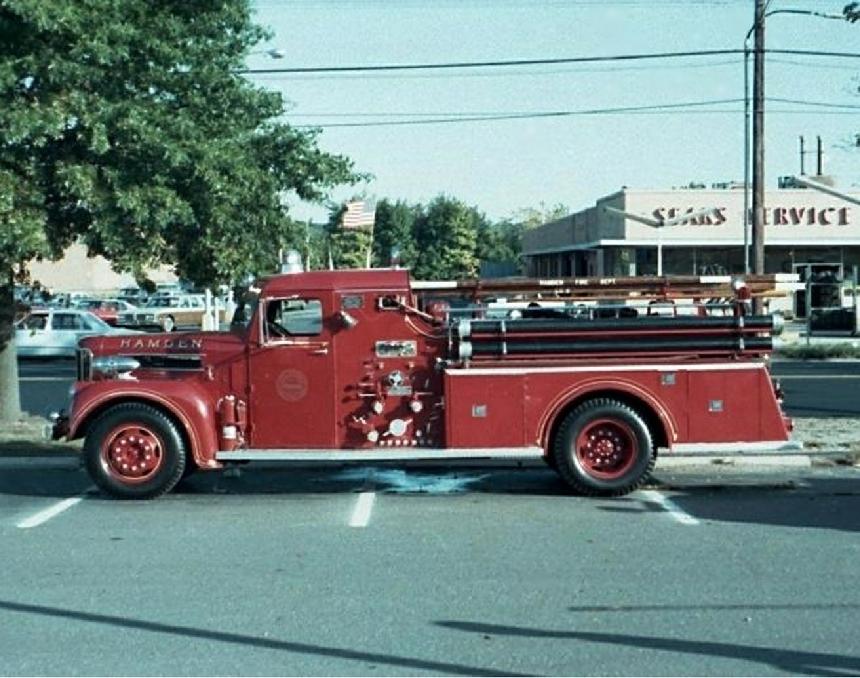 October 11, 1982 - Engine 15, the 1954 Maxim, at the Hamden Mart for Fire Prevention Demonstration. Looks new! (Ed Doiron, Jr.)
Station 4 in 1940 - Asst. Chief R.C. Spencer and Ff. Edward Kromer pose with the 1938 Diamond-T "Squad" and Engine 4, a 1939 Diamond-T pumper, in front of the newly-renovated bay doors that once faced north. The plaques above the doors have yet to be installed. Photo scanned from the 1940 Hamden Town Report, courtesy of the Hamden Historical Society.
_____________________________________________________________________________________________________
_____
| | |
| --- | --- |
| New Haven Journal-Courier, August 15, 1945 - CLICK to enlarge | On this 65th anniversary of the end of World War II, it is especially fitting to remember those Hamden firefighters who served in the U.S. military during World War II. For well over a generation, they represented the majority of the personnel who served on the Hamden Fire Department. "Bless 'em all!" |

Hamden's World War II Honor Roll, which stood on the site of the future Miller Memorial Library until 1951.
Lawrence Bellemore

Edward Bevins

Warren Blake

William Bossoli

Robert Callahan

Michael Cantarella

Raymond Carofano

Joseph Collins

Thomas Cummins

Francis Eitler

William Esposito

Salvatore Ferraro

Frederick Fletcher

Kenneth Harrington

David Herrmann
Burton Hillocks




William Hines

David Howe

Joseph Hromadka

Howard Hurlburt, Sr.

Samuel Jones
Stewart Keeler


Frederick Knudsen

John Laffin

Francis Leddy

V. Paul Leddy

Richard Lostritto

Eugene Maturo

Joseph McDermott

John McKee

Hugh McLean
Russell Norman




Daniel O'Connell
Robert O'Donnell
Joseph Rahl
Alfred Ramelli
George Reutenauer
Paul Rosadina
Vincent Roth
Mario Serafino
Arthur Smith
Richard Stacey
Emil Strain
James Strain
Luke Tobin
Sidney Trower
Raymond Vreeland
Robert Williams
Gerald Wolf



Please keep all of our troops, past and present, in your thoughts and prayers.
A notation regarding the Honor Roll listed in the 1942 Hamden Town Report reads,
"With no official list of names obtainable, it is regretted that names may, inadvertently, have been omitted."
The website's list was compiled from Town Reports and other sources. Corrections are welcome.


Originally posted on 5/30/10
1898 Photo of Hamden's First Fire Company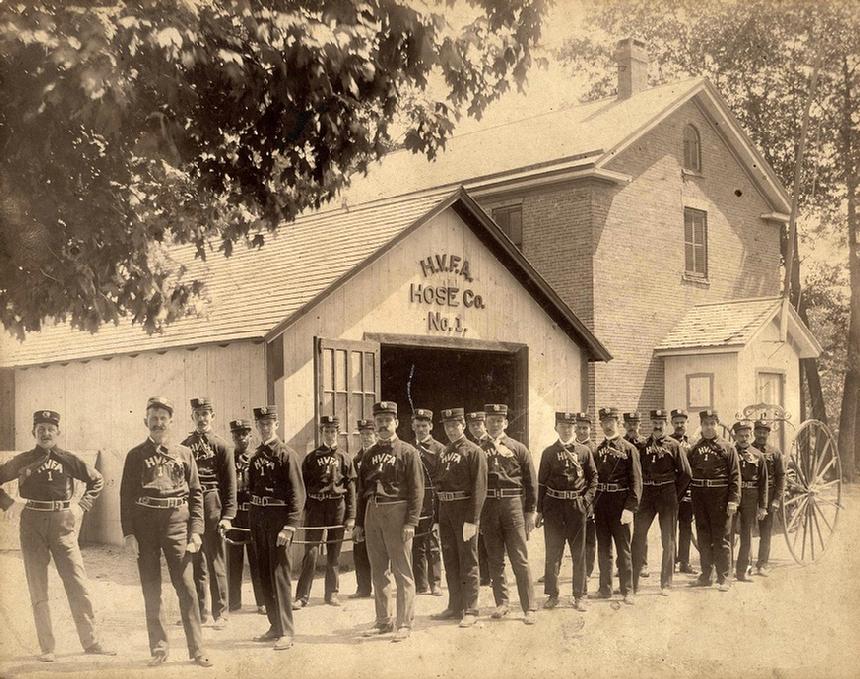 1898 - Highwood Hose Co. 1 (Photo courtesy of the Hamden Historical Society)
Identifications and notations provided by John Della Vechia, who donated this photo to the Hamden Historical Society: (L-R) - 1. Charles Pellert - 2. Sam Williams - 3. Doeppensmith - 4. George Madison (or maybe Joe Jackson) - 5. John Mautte - 6, 7, 8, unidentified - 9. Thomas O' Connell - 10. George Visel - 11. Paul Ert - 12. David Howe - 13. Robert O'Connell - 14 and 15 unidentified - 16. George Moore - 17. Charles Loller - 18. James Rogers - 19. Dennis Keeley - 20. Frank Butler - 21. Charles Groves.
The Highwood Fire company was organized in 1896 in the old Bicycle Club on Alstrum Street, which was then known as West Prospect. Brick building in rear is the old Morse St. School built in early 1800s. Last classes around 1902. Also it was a four room school house with two wooden ells, one on each side of building. Another notation with the photo, however, states, "The Highwood Fire Department was organized in December 1896, with its quarters on Alstrum Street beside the Highwood School."
| | |
| --- | --- |
| Saturday, May 5, 1973 - 37 years ago, Dep. Chief Training Officer Daniel Hume arranged for members of Co. 5 to spend the day at the New Haven Fire Training School on Hamilton Street. Career members Lieut. Gil Spencer and Firefighters Ed Doiron, Dave Howe and Tony Melillo assisted New Haven's Drillmaster, Capt. Charles Doll. (CLICK to visit the Training page and view 18 more photos.) | Wednesday, May 5, 2010 - Gil Spencer had three unexpected guests today, who missed him at the last meeting. Gil had to pass up the April 21st meeting at the Elk's. He was at the doctor's office finding out that he had suffered a fractured fibula several days earlier. Gil can stand and get around the house okay in his cast, but the doc tells him he has to take it easy for a while. (CLICK to enlarge) |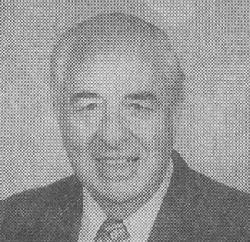 Pasquale "Pat" Barbato
Pasquale "Pat" Barbato
Was a Friend
to Hamden Firefighters



May 12 - The New Haven Register reported this morning the passing of Pasquale "Pat" Barbato. When he was a state senator in the late 1960s, Mr. Barbato played a major role in successful efforts by Hamden firefighters to get the Town to agree to a 42-hour work week.


In February 1967, the Hamden Paid Firemen's Sick Benefit Association formally requested a 42-hour work week from the Town. When the Town officials spurned efforts by the Association to discuss the proposal, State Senator Pat Barbato submitted a special act before the Cities and Borroughs Committee of the General Assembly that would allow the matter to be decided by Hamden voters in a November 1967 referendum. Mr. Barbato's efforts led directly to the adoption of the 42-hour work week for Hamden firefighters.

Mr. Barbato is survived by his wife, Helyn Callahan Ramelli Barbato, stepson Raymond Ramelli (HFD-retired), and several grandchildren and great-grandchildren. The condolences of the Hamden Fire Retirees Association go out to Mr. Barbato's family and friends.

CLICK on the photo for a view of today's Register article, and to read more about how Hamden firefighters finally won a 42-hour work week.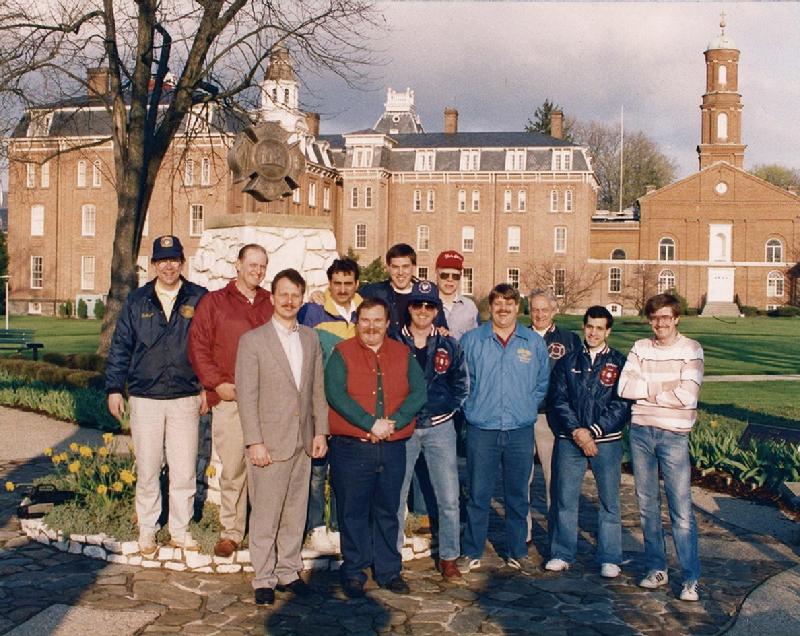 April 9, 1989 - The Hamden contingent to the Connecticut Fire Officers' Weekend at the National Fire Academy in Emmitsburg, MD. L-R: Dave Johnson, Gil Spencer, Don LaBanca, Bill Coppola, Clark Hurlburt, Ron Wetmore (Co. 7), Don Buechele, Carl Backus, Vic Mitchell (Co. 7), Tom Doherty, Bernie Amatrudo, and Dennis Harrison. Wetmore and Mitchell are also fire officers at the Milford and Sikorsky departments, respectively. Posted 5/3/10 (CLICK to enlarge)
CLICK to view Davenport Fire video

Davenport Residence Fire
125 Putnam Avenue
Wednesday, May 25, 1988

The Hamden Fire Department

was challenged to the max

twenty-two years ago this week, when fire broke out in the first-floor library at the Davenport Residence at 125 Putnam Avenue, sending smoke throughout the

eight story apartment building for the elderly.

CLICK on top photo to view a ten minute video that was produced by the

department's

training division

. Amateur videos, TV news videoes,

and actual HFD radio transmissions

illustrate

the extraordinary

efforts

put forth by Hamden's firefighters, as well as those of the Bethany, Cheshire, New Haven, and North Haven departments, from the time of dispatch until the fire was out and the building completely evacuated.

An effective incident command system, early calls for mutual aid, and the C-MED emergency medical disaster plan all

dovetailed perfectly to avert what would have been a major tragedy.

CLICK on the lower photo to view several news stories that were provided by the WTNH-8 and WFSB-3 news departments. The video begins with a scene from the final

episode

of

an

iconic 1980s NBC television series

that was being broadcast at the

exact moment

the Gamewell

alarm

was being transmitted

from the scene. A

few minutes later came

the news

bulletin during the 11 o'clock news on Channel 8.




CLICKI to view Davenport news stories
_____________________________________________________________________________________________________
_____
June 14, 2010 - The week marks the first anniversary of the Hamden Fire Retirees' Association's website. Thanks to the generous contributions of photos and stories from dozens of HFD retirees and other fans of the website, in this first year we published over 700 photographs and 110 articles about past and present members of the Hamden Fire Department. So far we have had over 14,000 hits. We are staying connected and preserving our past.
June 1982 - Photo by John Tramontano (CLICK to enlarge)

Gerry Dinneen joined the department in 1980. His contributions to the department during his brief career were considerable.

In 1982, before the advent of personal "camcorders," Gerry purchased his own video camera with a portable shoulder-pack VHS cassette recorder. He began taping various department-related activities, the first being a 1982 Halloween party at Co. 7.

On October 18, 1985, Gerry recorded the first Hamden Fire Department awards ceremony held during John Tramontano's tenure as chief, which inspired the department to acquire its own video equipment for making training videos and to preserve department events.

Gerry was a good firefighter and a great guy who was well liked by all. The department was stunned and saddened by Gerry's sudden death on Christmas Day 1985.

Posted 6/14/10




May 15, 2010


The Hamden Fire Department recently conducted a rural water supply drill with five other area fire departments.



Posted 6/16/10




CLICK photo to view video
WHERE ARE THEY NOW?
CLICK on the photos of the Hamden apparatus below
to see where they are today - and what they look like.

CAUTION: VIEWER DISCRETION IS ADVISED
| | | |
| --- | --- | --- |
| 1951 Maxim 750 GPM | 1968 S-Model Maxim 1000 GPM | 1984 Pierce Dash |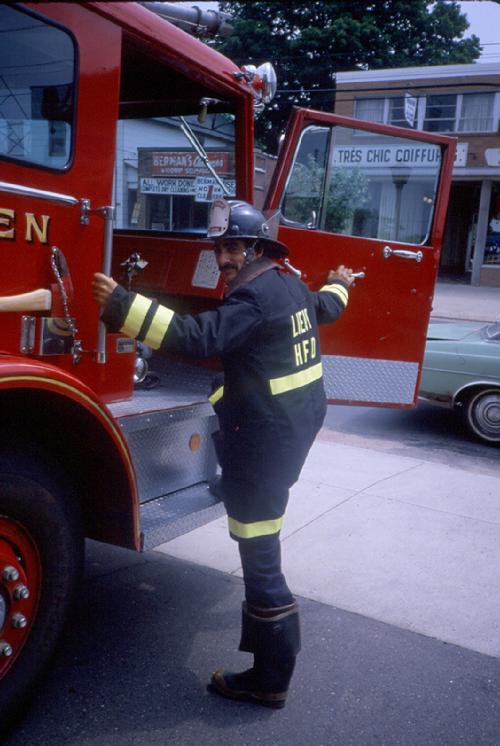 June 1982 - Lt. Bill Coppola steps up into Engine 4, the 1973 Maxim "foam truck" (Photo by John Tramontano)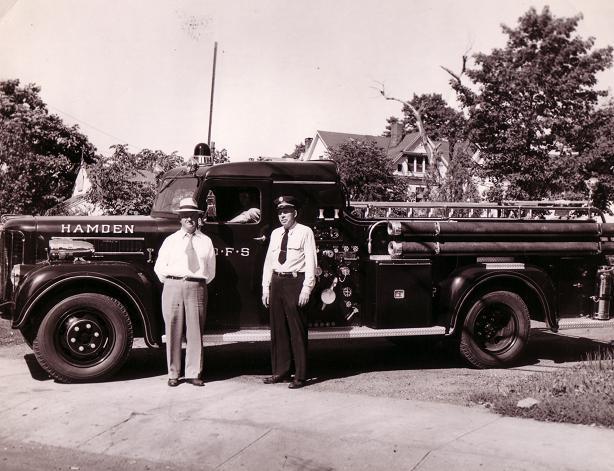 1951 Maxim 750 GPM Pumper - Hamden's First Postwar Apparatus (Photo courtesy of Chan Brainard)
Chief Raymond C. Spencer is pictured here with Pat Monahan of the O.B. Maxwell Co. and an unidentified driver. This exact location of this photo is unclear, but it is probably the driveway apron of Station 2. Station 2 would have been in the process of renovation in anticipation of the October 1951 closing of the Highwood station, and the Scott Street library is not built yet.
Records show that the 1951 Maxim 750 was delivered on August 7, 1951 but was insured as of the day before. See the COPY of the insurance letter below.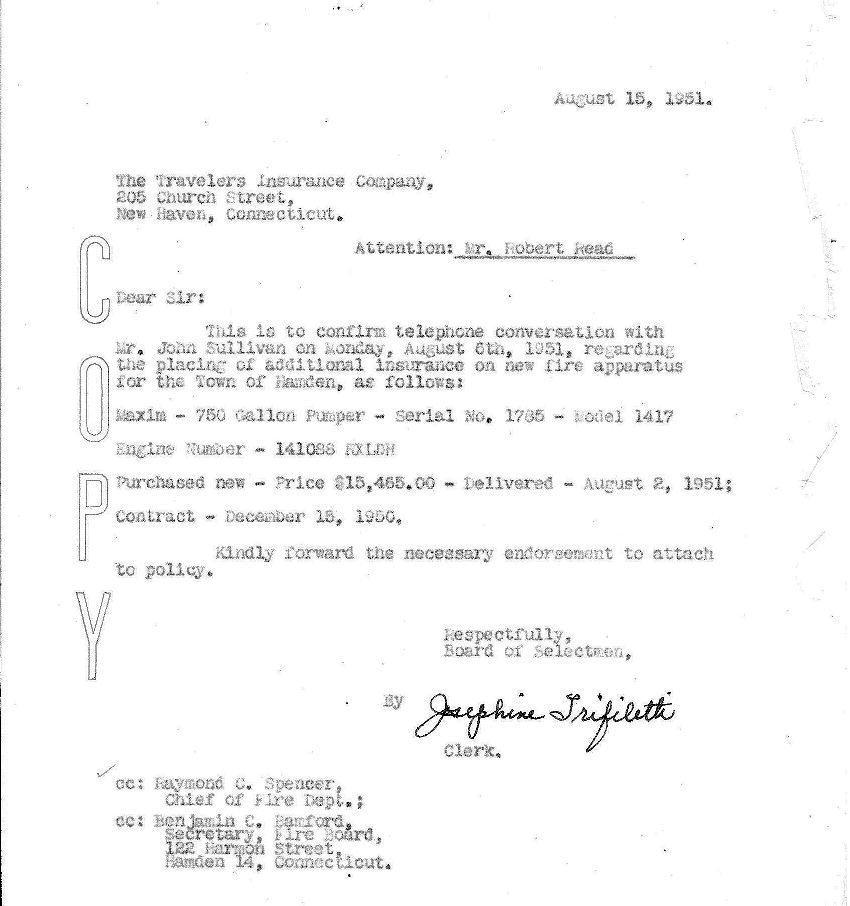 This letter courtesy of Paul Wetmore, Sr., when he was Supt. of Alarms and Apparatus (c. 1985-91)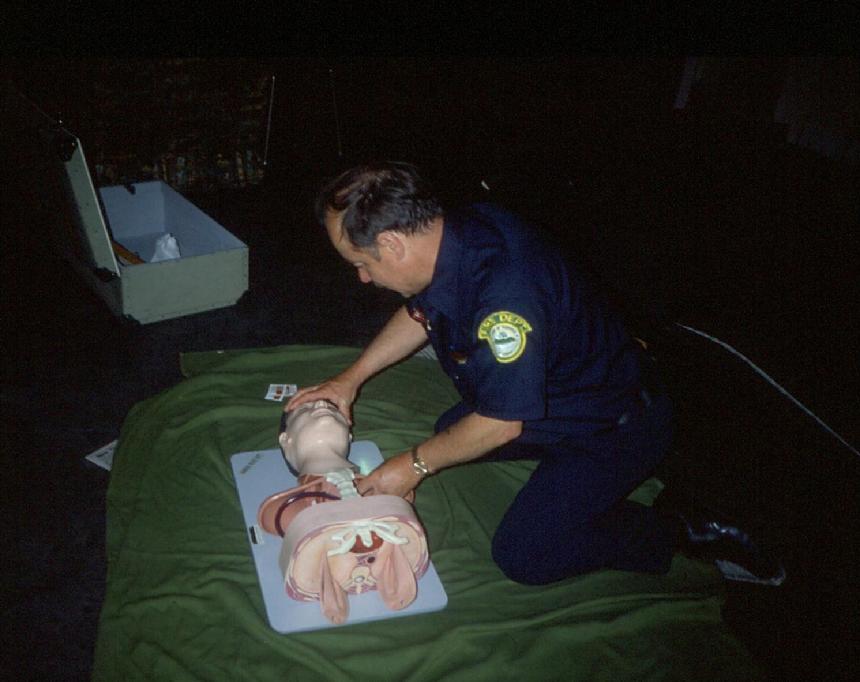 1982 - Ff. John Corbett preparing to demonstrate CPR skills (Photo by John Tramontano)
_____________________________________________________________________________________________________
_____
COPYRIGHT NOTICE

Unless otherwise cited or in the Public Domain,
all material on this website,
including all original photos, essays, articles and commentary published herein, are Copyright © 2009-2021 by the Hamden Fire Retirees Association, Inc., and may not be copied or republished in whole or in part without prior written permission of the Hamden Fire Retirees Association, Inc.

Official website of the Hamden Fire Retirees Association, Inc.
Website powered by Network Solutions®