WHERE ARE THEY NOW?
1951 Maxim

June 2010 - It has been nearly six decades since the delivery of Hamden's first postwar Maxim pumper, which served the department until the 1990s. It was initially assigned as Engine 2, but served later as Engine 3, Engine 5, Engine 9 and Engine 19 (Vol Co. 9).

The exact date that it was sold is not known, but it changed hands at least once. Hamden Firefighter Daryl Osiecki recently found it in Shelton, along with one of the two S-model 100 GPM Maxims delivered in October 1968.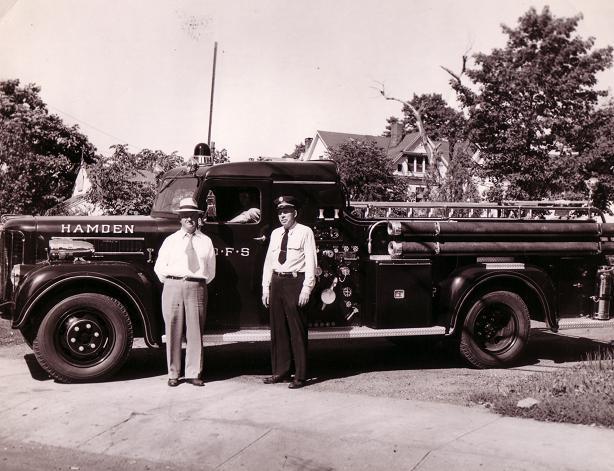 AUGUST 1951 - SHINY AND NEW! (Photo courtesy of Chan Brainard)
1951 Maxim on the scene in 1954 (Photo by Chan Brainard)
1951 Maxim - 1989
1951 Maxim: The Final Run
.
When the 1989 tornado hit on July 10th, all off duty career firefighters were requested to report for duty. The calls were made from the Emergency Operations Center by Town Clerk Nancy Hurlburt, making me probably the only firefighter ever ordered to duty by his mother.
Instructed to go to the nearest station, I reported to Station 9 along with Dave Strawhince and Paul Durkin. The only apparatus there was the spare 1951 Maxim, formerly Engine 59, once assigned to the now-defunct Vol Co. 9.
We jump-started the Maxim off of Dave's pickup truck, checked to see if it would pump and roll, then gave it a quick wash as there was so much dust you couldn't see out the windshield.
With a crew of Strawhince as the officer, myself as driver, and Durkin riding the tailboard, we put ourselves in service and were instructed to report to Station 4. From there, as "Engine 59" (as we used the nostalgic call sign) we responded to a few calls including a reported structure fire at Jimmy's in the Plaza.
We remained in service until the northend pieces came back in service. We then put the old girl away at 9s. She was sold a short while after. A good way to send her off, sorrily to a poor fate.
Clark D. Hurlburt
Asst. Chief (Ret.)
COPYRIGHT NOTICE

Unless otherwise cited or in the Public Domain,
all material on this website,
including all original photos, essays, articles and commentary published herein, are Copyright © 2009-2023 by the Hamden Fire Retirees Association, Inc., and may not be copied or republished in whole or in part without prior written permission of the Hamden Fire Retirees Association, Inc.

Official website of the Hamden Fire Retirees Association, Inc.
Website powered by Network Solutions®