Hamden Fire Retirees' Association
___________________________________________________________________________________
We will always remember our brother firefighters who made the supreme sacrifice, and the thousands of other innocent victims who lost their lives sixteen years ago on September 11, 2001.

Always keep them, their families and the FDNY in your thoughts and prayers.



___________________________________________________________________________________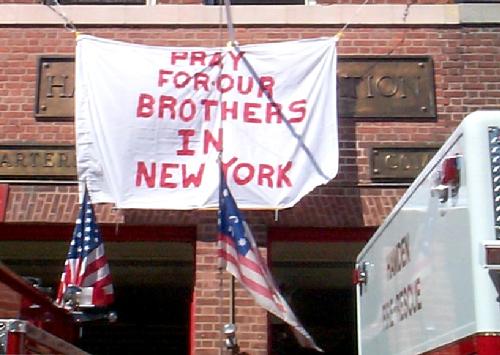 Hamden Station 4, Saturday, September 15, 2001
(HARTFORD, CT) - Governor Dannel P. Malloy today announced that U.S. and state flags in Connecticut will be flown at half-staff from sunrise to sunset on Monday, September 11, 2017, in remembrance of the nearly 3,000 men, women, and children who lost their lives in the 2001 terrorist attacks. Accordingly, since no flag should fly higher than the U.S. flag, all other flags, including state, municipal, corporate, or otherwise, should also be lowered during this same duration of time.
In addition, the Governor also announced that the Pearl Harbor Memorial Bridge in New Haven, informally known as the Q Bridge, will be illuminated in red, white, and blue lights beginning at dusk on the evenings of Sunday, September 10 and Monday, September 11, in recognition of the anniversary. Beacons capable of projecting light nearly six miles into the clear night sky will be lit until 1:00 a.m. during those nights.
"For the families and countless loved ones from Connecticut, our neighboring states, and throughout our nation who lost loved ones that day, no amount of time will fill the void in our hearts and no amount of time will ever cause us to forget," Governor Malloy said. "These many years later, the grief and sorrow we felt for our country and for our fellow Americans remains. On this day of remembrance, we honor the brave and selfless acts of first responders and civilians who committed extraordinary acts of heroism that day, putting their own lives in danger to protect others. And we pray daily for the men and women serving in the Armed Forces who are deployed overseas, and for those who have sacrificed their lives fighting the war on terror. As a country, we must remain resolute in the ideals that our nation stands for, and the freedom upon which our country was founded."
"We will never forget the men, women, and children who perished in the attacks that day, or the first responders who came to their aid, many losing their own lives," Lt. Governor Nancy Wyman said. "Today, as we do every day, we hope that the survivors and the 9/11 families are able to take strength from all of us as they remember and reflect. That dark day took many lives, but it also left many legacies, among them are resilience, kindness, and unity."
There are 161 victims with ties to Connecticut who were killed in the September 11, 2001 attacks. The State of Connecticut's memorial to the victims is located on a peninsula at Sherwood Island State Park in Westport, where people gathered on that day to observe the devastation of the attacks on Lower Manhattan across Long Island Sound. The site was also used in the following days and weeks as a staging area for Connecticut's relief efforts to New York City.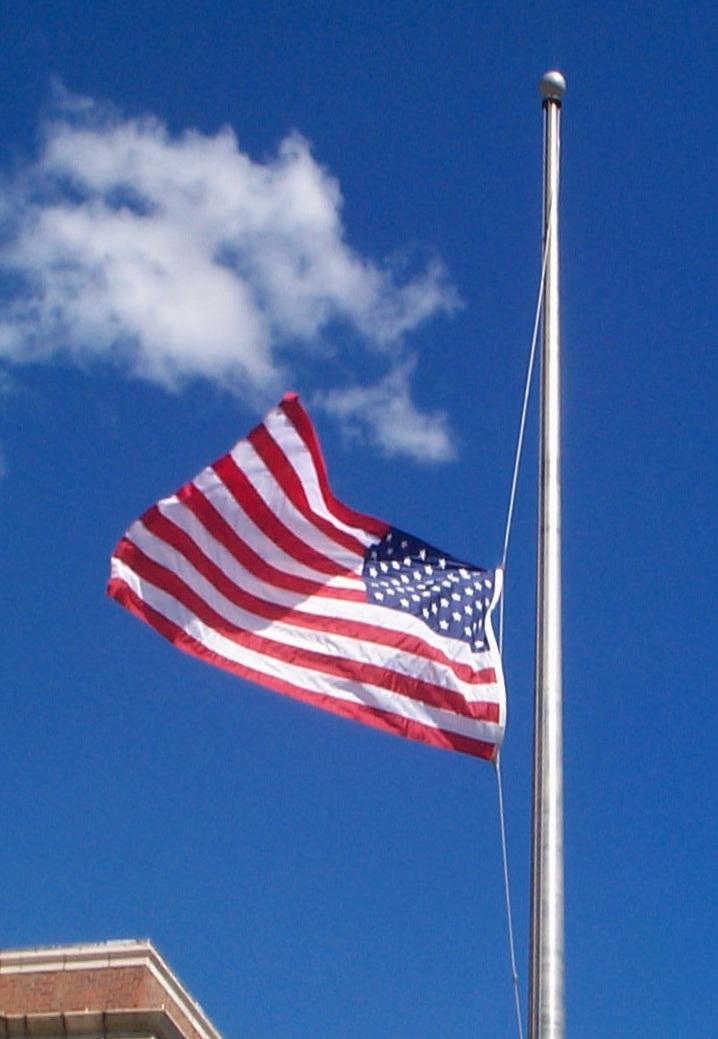 Town Hall - September 15, 2001
_____________________________________________________________________________________________________
_____
COPYRIGHT NOTICE

Unless otherwise cited or in the Public Domain,
all material on this website,
including all original photos, essays, articles and commentary published herein, are Copyright © 2009-2020 by the Hamden Fire Retirees Association, Inc., and may not be copied or republished in whole or in part without prior written permission of the Hamden Fire Retirees Association, Inc.

Official website of the Hamden Fire Retirees Association, Inc.
Website powered by Network Solutions®