We are in the process of archiving all weekly updates by the month. All of the weekly updates for this month are on this page.

Just scroll down to locate the desired update.
Hamden Fire Retirees Association, Inc.
All archived
website updates are now organized by year
,
making it
much easier to read the contents of each update. Just click the

ALL PREVIOUS UPDATES
tab on the top menu, and then click on the desired year.
We are presently working on a comprehensive alphabetized index of articles and individuals.
_____________________________________________________________________________________________________
_____
The website welcomes 2016
with some reflections on 2015, a year with lots of changes.
We lost three department alumni, two of them retirees with long careers. One was
our first African-American firefighter, the other a transformative figure who brought many positive changes to the department during his tenure as fire chief.
A 20-year veteran firefighter/paramedic and three battalion chiefs retired in 2015. The vacancies generated a near record
of ten officer promotions. Staff retirements in 2014 led to three appointments in '15, and the department's training officer
was re-appointed to that post after a promotion to captain put him back on the line for a few months. Seven new firefighters joined the department to fill vacancies created by retirements
in 2014 and early '15.
See "

Transitions

" below . . .
__________
The Executive Board and membership of the Hamden Fire Retirees Association, Inc. wish our active
members
of the Hamden Fire Department
and all of our other website visitors a Happy, Healthy and

SAFE

2016.
_____________________________________________________________________________________________________
_____
Check out the Hamden Fire Department Honor Guard featured in this Hamden High project!
_____________________________________________________________________________________________________
_____
1956 Dawns With a
Cold Weather Fire in
a
Spring Glen
Quinnipiac College Dorm
In 1956, this was Laurel Hall at 90 Ford Street

Cold temperatures and a frozen hydrant made things difficult for Hamden firefighters on the second day of 1956, when fire broke out in the second floor of Laurel Hall, a Quinnipiac College faculty dormitory up a long driveway at the corner of Ford and Waldon Streets in Spring Glen. Built in 1920, the building is currently owned by Connecticut Clinical Services of New Haven and valued at $1.17 million.

Originally known as Larson College, Quinnipiac College's main building was located at the corner of Whitney Avenue and Servoss Street. It is now an assisted living facility named Larson Place. The college moved to its present Mt. Carmel campus in 1962. Known as Quinnipiac University since 2000, the school now occupies a much larger chunk of Mt. Carmel than it did 54 years ago.



| | | |
| --- | --- | --- |
| The New Haven Evening Register | Laurel Hall was up this long driveway. | This hydrant on the corner was frozen. |
_____________________________________________________________________________________________________
_____
Until the adoption of a new town charter in 1966, the Board of Fire Commissioners approved all department assignments and transfers. At his first meeting
with the Board of Fire Commissioners following
his November 1960
appointment to head the department, Chief V. Paul Leddy requested that Rescue 1, the 1958 Travel-al,
be transferred from Humphrey Station No. 2 to Whitneyville Station No. 3, as
recommended
previously by
the department's battalion chiefs. The transfer
took
place with New Year
1961.
Rescue 1 had been assigned to Station 2 since it was placed in service in December
1958. Rescue 2, which was identical to Rescue 1, was placed in service at Headquarters in February of 1960.
The "trucks" referred to in the above article were the two International Harvester Travel-als that were Rescues 1 and 2. (This January 1961 New Haven Register article from the Brainard Collection)
The transfer of Rescue 1, which also included the reassignment of one
firefighter
to Station 3, distributed both rescue units more evenly within the town. The move also took advantage of the spare bay at the Whitneyville station, made available by the March 1960 disposal
of the spare 1930 Maxim. Another advantage of the move: While
at Station 2, Rescue 1 shared the north bay with Engine 2.
When the Whitneyville station closed in September 1970, Rescue 1 moved with Engine 3 to the new station at Ridge and Hartford Tpke. It
was removed from service and sold along with HQ's Rescue 2
in October 1971, when a new Rescue 1 modular unit on a Ford chassis was placed in service at Headquarters. When the department re-acquired a
second rescue in 1976, it was placed in service as Rescue 2 at the Humphrey station. Rescues 1 and 2 have been in service continuously at Stations 4 and 2 (respectively) ever since.
_____________________________________________________________________________________________________
_____
The department lost three alumni in 2015. Jerold Bradbury, who passed on May 16th, served on the department for several years in the mid-1960s before leaving for a position in the private sector. John Tramontano, a 34-year department veteran, passed on September 2nd. As Chief of the Department from 1984 to 1993, Tramontano instituted many new policies to address the new fire service challenges of the late 20th century. Sam Jones passed on October 29th, six days shy of his 90th birthday. Sam joined the department in 1961 as its first African-American firefighter and served nearly 30 years before retiring to Knoxville, Tennessee.
We also
were saddened in 2015
by
the passing of
Honorary Members Mae Bellemore (Larry),
Laura Wolf (Jerry) and Carolyn Ferraro (Sal "Cookie"), all widows of our deceased brothers. Last year we also learned of the 2012 passing of Honorary Member Bernice Stacey (Richard).
(CLICK on any of the above photos to visit the webpage acknowledging their passing.)
2015 Retirees
Four department members, including three battalion chiefs, retired in 2015. Together they served a total of 106 years. Firefighter/Paramedic Greg Pereira spent his entire twenty plus years of service as a paramedic before retiring at the end of February. Batt. Chief Don LaBanca came on the job in 1978 and was the department's most senior member when he retired at the end of April. When Batt. Chief Sam DeBurra came on the job he was already the Chief of the Madison Fire Department. Sam retired from Hamden at the end of June with nearly twenty-one years of service. Batt. Chief Bill Fitzmaurice came on the job in 1987. He served as the department's Training/EMS Officer for over ten years before his 2010 promotion to battalion chief. All four retirees are the HFRA's newest members.
| | | |
| --- | --- | --- |
| B/C Otlowski - Platoon 3 | B/C Couture - Platoon 4 | B/C Desroches - Platoon 2 |
In late May, Batt. Chief Rich Otlowski replaced Don LaBanca as commander of Platoon 3. Batt. Chief Gary Couture took over Sam DeBurra's Platoon 4 in July. Batt. Chief Ron Desroches now commands Platoon 2, where he got his start in 1987.
The first three of these new captains replaced the three gentlemen who made B/C. Capt. Barletta was promoted in December following Capt. Grasso's return to Staff as
Training Officer.
| | | |
| --- | --- | --- |
| Lieut. Osiecki | Lieut. Dowling | Lieut. Martin |
Lieut. Daryl Osiecki was promoted in May and was assigned to Station 2 on Platoon 1. Lieuts. Dowling and Martin were promoted last month. Lieut. Dowling was assigned to Station 2 on Platoon 3 and Lieut. Martin to Station 3 on Platoon 2.
Tim Lunn was appointed Deputy Fire Marshal in January. He replaced Brian Dolan, who was appointed Fire Marshal in late 2014. Also in January, Jim LaFond moved up to Superintendent of Apparatus, replacing Donny Buechele who retired in November of 2014. Glenn Tricarico moved into LaFond's Asst. Supt. position in February. Finally, when the department training offficer, then-Lieut. John Grasso, was promoted to captain in July, he was required to
return to
line duties
at
his new rank. In December, following a civil service examination administered to several candidates, Capt. Grasso was re-appointed head the department's training division.
On January 23rd, Hamden Town Clerk Vera Morrison administers the oath to recruit
Ff. Matthew Kellick, Ff./EMT John Paul Cristini, Ff./EMT Zachary Criscuolo and Ff./EMT Michael Colandrea.
Firefighter Ralph DiFonzo, Jr. and his son, Recruit Firefighter Ralph DiFonzo III, are flanked by
Dep. Chief Merwede and Chief Berardesca at the younger DiFonzo's March 5th swearing-in ceremony.
Recruit Firefighters Thomas Paranzino (April 20) and Zach Deutscher (July 6)
have their badges pinned on by their dads.
"Transition" photos by Nelson Hwang, Dave Johnson, Bob Mordecai, Daryl Osiecki and Kevin Shields
_____________________________________________________________________________________________________
_____
These five 2014 retirees were honored at Local 2687's annual Retirement Dinner on March 7th.
_____________________________________________________________________________________________________
_____
The website is celebrating today's
future HFD retirees with the
HFRA "Posterity Project,"
a collection of
photographs
of every current active
member of the department,
line and staff.
A new
photo will
be posted here each week.
Appropriately, the website's first "Posterity Project" photo of the New Year
is
Chief of Department David A. Berardesca,
who will complete his tenth year as Chief in 2016
.
_____________________________________________________________________________________________________
_____
More HFRA highlights of 2015 . . .
Several HFD retirees joined our active brothers in the line of march in today's Hamden Memorial Day Parade.
Pictured here during a brief parade rest at Dixwell and Colony are, in the lefthand file, Ff. Brian Leddy, followed by Ff. Tim Doyle. In the center are Lt. Jim Dunlop (Ret.) with Ff. Greg Pereira (Ret.) right behind.
At right is Ff. Austin "Augie" Williams (Ret.), who marched with the HFD for the first time in the 1969 parade. Behind Augie is Lieutenant-designate Daryl Osiecki, who will be sworn in tomorrow as Hamden's newest fire officer.
Once again, it was an honor to march with our active brothers to honor those who, for our country, gave "their last full measure of devotion."
Photo: Capt. D. Johnson (Ret.)
The members of the Hamden Fire Retirees Association thank former Hamden resident, Mr. Barry Edmonds of East Hampton, for donating to our archives
Humphrey Hook & Ladder
Fire Association badge #69 that had
been
issued
to his great-grandfather, Frederick William Edmonds. From examination of old Humphrey photos, the badge appears to be at least 100 years old.
Mr. Edmonds' generous gift completes a set of badges from each of
Hamden's Volunteer Companies 1 through 5.
The Association still hopes to acquire at least one badge for Companies 6, 7, 8 and 9.
Honorary Membership for Shirley Mangler
At the Association's recent summer meeting, HFRA President Bob Mordecai presented a certificate of membership to Shirley Mangler, who was unanimously voted to Honorary Memership at the April meeting.
Shirley, who is the wife of Hamden's longest continuously serving career member, Firefighter Harold Mangler (Ret.), has contributed to the Association's archives hundreds of
her photographs taken at scores of
Hamden Fire Department activities since the 1980s.
At left, Shirley with camera in hand at Hamden's Quinnipiac College adjunct fire station, "Engine 10," during the 1995 Special Olympics World Games. Shirley took scores of photos documenting the efforts of Hamden fire personnel during the Games.
The "Cab-Forward" is Back Home!
Purchased by three Hamdenites with strong ties to the HFD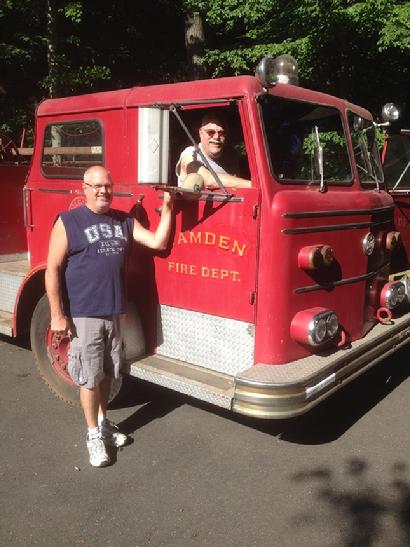 Co. 8's Dave Lockery and Co. 7's Vic Mitchell
It has taken twenty years, but the 1959 Maxim "cab-forward" is finally back home again.
For the first time in the history of the Hamden Fire Department a former piece of career fire apparatus has been purchased by present and former career and volunteer members for the
specific
purpose of restoring it to its original condition, which will eventually include a white paint job just like the one it received before its 1959 delivery.
Dave Lockery of Dunbar Hill Co. 8 had discovered the whereabouts of the piece. Last year, plans failed at assembling a consortium of investors to purchase the rig, mainly due to storage issues ("Where the hell are you gonna park it?"). The plan was finally realized last week when Lockery, Vic Mitchell,
a member of Mix District Co. 7 and a retired industrial fire officer, and one other fire department retiree each put up equal amounts of cash to purchase it. The three investors have formed an LLC to manage their goals of restoring and displaying "for historical purposes" the 56-year old pumper in parades and at musters.
Records indicate that this Maxim 750 g.p.m. pumper, Model No. F-2617-C,

was delivered to the Hamden Fire Department on June 29, 1959 and was assigned as Engine 2. In 1968, the 1965 Mack became Engine 2 and the "cab-forward" became Engine 1. When Engine Co. 6 ceased to be an active career engine company in 1974, the "cab-forward" was reassigned to Station 3 as the department's spare and designated as "Engine 6."
Despite being a spare piece, the pumper was repowered with a Detroit diesel engine in 1981. It was removed from service in January 1995 and sold to a private party.
As reported
in the July 7, 1959 Register newspaper article (above), Hamden's 1959 Maxim "cab-forward" was the first "F" model produced by the Maxim Motor Company
of Middleboro, Massachusetts. According to local fire department lore, Hamden got Maxim's
first "F" model because 44 years earlier Hamden's Whitneyville Volunteer Fire Association had purchased Maxim's first pumping engine. That was 100 years ago!
For now, the former Hamden pumper will be stored locally, but it is expected to be garaged nearby as restoration efforts begin. Look for it at the 2015 Engine 260 muster next month, but a decent restoration is still a long way off.
| | |
| --- | --- |
| Tom Doherty and Bill LaVelle. They both worked together in the early 1960s at Headquarters on old Platoon 1. | December 1967 - Ff. Bill LaVelle, flanked by Ffs. Hugh McLean and Gerry Wolf, as Chief Leddy looks on in the background. |
At Wednesday's meeting the Association welcomed its newest member, Bill LaVelle,
who
served on the
department during
the 1960s.
Bill was appointed on December 11, 1961 with Paul Wetmore, Sr.
and George Patten.
Welcome Bill!
_____________________________________________________________________________________________________
_____
COPYRIGHT NOTICE

Unless otherwise cited or in the Public Domain,
all material on this website,
including all original photos, essays, articles and commentary published herein, are Copyright © 2009-2021 by the Hamden Fire Retirees Association, Inc., and may not be copied or republished in whole or in part without prior written permission of the Hamden Fire Retirees Association, Inc.

Official website of the Hamden Fire Retirees Association, Inc.
Website powered by Network Solutions®