Hamden Fire Retirees Association, Inc.



Use "Previous Update" link to view the September 4th and earlier updates,

Use

"All Previous Updates" link to select any update back to 2009.





_____________________________________________________________________________________________________
_____
This week the HFRA website remembers our brother retiree, John R. Tramontano, who served as Chief of the Hamden Fire Department from April 28, 1984 until his retirement on January 31, 1993. Chief Tramontano passed away at his Gilford, New Hampshire home last week.
September 28, 1954 Meeting Minutes - Mt. Carmel Volunteer Fire Company
John Tramontano's entry into the fire service came 61 years ago when he was elected to membership in the Mt. Carmel Volunteer Fire Co. No. 5. The fire company's
secretary at the time was
Joseph Rahl. Joe would become a career member of the Hamden Fire Department in 1957, Tramontano two years later. Twenty years after he joined Co. 5, Lt. Tramontano's driver on Engine 4 would be Joe Rahl.
From The New Haven Sunday Register, May 8, 1955
Many of Hamden's volunteer firefighters were also members of Hamden's Civil Defense Fire Auxiliary, headed by Batt. Chief Paul Leddy. In this May 1955 photo, volunteer firefighter John Tramontano (arrow) is holding down a 2-1/2" line for the two hosemen as Battalion Chief Leddy looks on. Twenty-nine years later, Tramontano would succeed Leddy as Chief of the Department.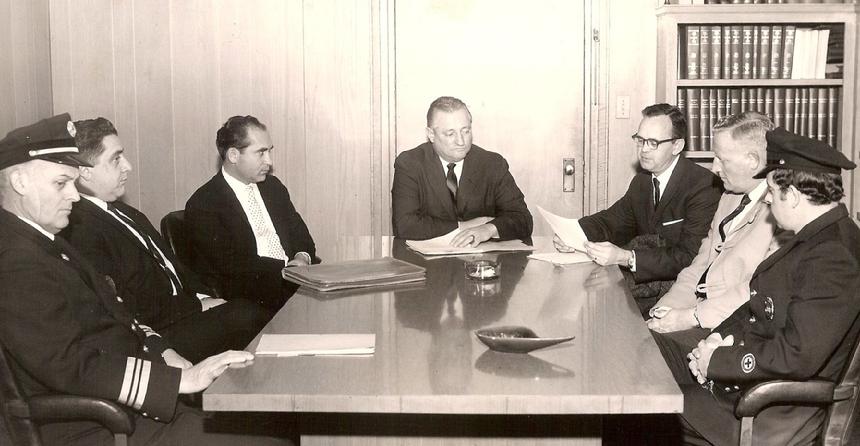 January 1968 - L-R: Chief V. Paul Leddy; Carmen Amarante; Joseph Greco, town attorney; Mayor William Adams; Fred Knudsen; Luke Tobin; and John Tramontano. Both sides working out the details of the 42-hour work week.
As one of the negotiators for the Hamden Paid Firemen's Sick Benefit Association, Tramontano helped to win a 42-hour workweek for Hamden's line firefighters. In this January 1968 photo, the town and fire department negotiators work out a plan for implementing the new workweek, to commence in October 1970.
Tramontano became president of the Hamden Paid Firemen's Sick Benefit Association in February 1969. The SBA was the bargaining unit for all non-management fire personnel until 1978.
The Hamden Fire Department has always been a huge supporter of the Muscular Dystrophy Association. In
the
March
1970 photo
above, Mrs. Clarence Manley of the New Haven County Chapter of MDA presented an MDA
Certificate of Merit to
Mayor William Adams,
Chief V. Paul Leddy
and Sick Benefit Association
President Tramontano for "their generosity to 1969 Firefighters Crusade for Muscular Dystrophy."
Tramontano was promoted to lieutenant on December 13, 1973. During the next few years he would be assigned to Stations 2, 3 and 4. In 1976, Lieutenant Tramontano was among the first eight department EMTs to
complete
paramedic certification training. He was assigned to the new Rescue 2 at Station 2, seen in the 1979 photo below.
Lieut Tramontano and Ff. Ralph Dievert, assigned to
Rescue 1,
conduct a blood
pressure clinic at Hamden High School during National Bicentennial observances in April 1976. Ff. Dievert is taking the blood
pressure of their shift commonder, Deputy Chief Francis "Chalky" Leddy.
Below, Lieut. Tramontano and his crew in front of Station 2 on a balmy spring day in 1980. L-R: Firefighters Dave Strawhince, Ralph Tomaselli, Ronnie Altieri, Howie Hurlburt, Jr., Ray Dobbs, Lieut. Tramontano, Firefighters Bill Mulcahy and Harry Cubbellotti. The ninth member of the crew, Ff. Joe Mulligan, off-duty that day.
In 1976, Tramontano commanded the department's first Mountain Rescue Team,
for high elevation rescues on Sleeping Giant.
In the years that followed, the team made many such rescues on Sleeping Giant and were frequently called to rescue individuals from high elevations in neighboring communities.
Over time
, Tramontano adopted variations of many of the team's mountain rescue tactics for performing
rescues in high-rise occupancies.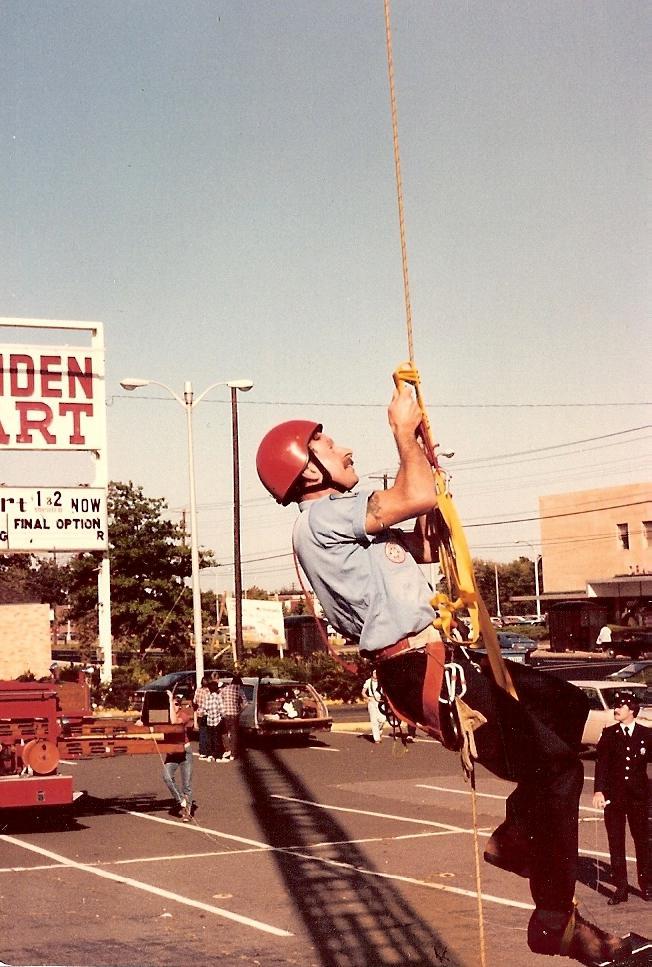 Tramontano demonstrates a rope climbing technique during the October 1982 Fire Prevention Demonstration at the Hamden Mart.
Deputy Chief / Training Officer
On April 15, 1981, Lieutenant John Tramontano was promoted to Deputy Chief Training Officer.
It was the start of a new era
for the Hamden Fire Department.
One of Tramontano's priorities was to begin fire certification training for all career and volunteer personnel.
State certification for Fire Fighter levels I, II and III by the Connecticut State Commission on Fire Prevention and Control was a fairly new concept. By networking with other area fire departments, Dep. Chief Tramontano tapped into the knowledge and experience of fellow career fire training officers. "Why re-invent the wheel when it's probably being done as well or better right in our own backyard."
The certification training started with Hamden's (then) four volunteer companies. Traditionally, volunteer training
was usually behind the curve compared with that of career personnel. State certification training allowed for a more level playing field among the two department divisions.
May 1981 - Firefighters Ray Reilly, Bob Chadwick, Bill Coppola, and Dave Johnson are pictured with Dep. Chief Training Officer John Tramontano following their promotions, which became effective June 1st.
Deputy Chief Tramontano's first challenge as training officer came in May 1981 when vacancies in half the department's complement of lieutenants were
filled by four firefighters, none of whom had been eligible when the previous promotions were made
eight years earlier. This was the first time any formal in-house training was offered to new company officers.
Shortly after his appointment as training officer, Dep. Chief Tramontano was instrumental in the formation of Central Communications, which combined the dispatch facilities and personnel of Hamden's fire and police departments under one roof. The move was necessitated chiefly by the introduction of 9-1-1 in Hamden and surrounding communities.
As training officer, Tramontano was
responsible for fire communications personnel and resources, including the training of dispatchers and maintaining the dispatch cards with the running assignments for each of the 600-plus streets in Hamden.
The coming of 9-1-1 and the creation of Central Communications
brought new dispatch procedures, including map book references on every dispatch and a pre-alert announcement to warn of the alert bell, which preceded all dispatch announcements
over station PA systems. "Attention, stand by for a dispatch" was meant to reduce stress on station personnel.
One of Tramontano's strong
points was his willingness to try new ideas. He didn't care where they came from, either. The map books actually were the brainchild of Firefighter-Paramedic Harold Prescher, then a recruit firefighter. Ff. Prescher drew all of the pages of the "1981 Edition," which Dep. Chief Tramontano copied and put into all
apparatus. Another new recruit in '81, Firefighter John Longo, suggested the "Attention" forewarning on each dispatch, an idea that undoubtedly kept personnel
pulse rates at a minimum when the alert bell struck in each station, especially at
night.
In February 1984, Mayor Peter Villano appointed Dep. Chief Tramontano to succeed V. Paul Leddy as Chief of the Hamden Fire Department, to become effective with Leddy's retirement at the end of April.
Chief V. Paul Leddy had led the department for nearly 24 years, doubling the size of the department, making it the third largest fire department in New Haven County
. By 1984,
80% of department personnel had
served under no other chief but Leddy, who would be
a very tough act to follow. Whoever got the nod would have some very big shoes to fill.
John Tramontano's appointment as chief
was not without controversy.

Despite Tramontano's eight years experience
as a company officer and three years as the department's training officer, a few politically connected individuals resented his somewhat
meteoric rise
through the ranks
. But many more
others, both
within and outside the department,
saw Tramontano as the only man with the experience, management skills and vision
to succeed Chief Leddy in an era that was far different than when Leddy took over the department a generation
earlier.
Department Reorganization
One of Chief Tramontano's first priorities was to adopt the "company concept," where every engine and truck company is led by a fire officer. He recognized that many more company officers would be
required to make that work.
November 2, 1984 - Lt. John Calamo, Lt. Robert Mordecai, Lt. Robert Viglione, Chief John Tramontano, Lt. Dennis Baker, Lt. Howard Hurlburt, Jr., Lt. Robert Kelo and Lt. David Strawhince
During his tenure as fire chief, Tramontano added two more company officers to each platoon, creating a more effective
and safer
span of control and more opportunities for career advancement than ever before.
Chief Tramontano is pictured above in November 1984
with
seven new lieutenants following their
swearing-in ceremony at Town Hall. Three of the new officers replaced three lieutenants

who had been promoted

to captain. The other four filled new slots for one additional
lieutenant on each platoon. It was the first time since
1963 that a new company officer had been added to each shift.
Four more new lieutenant slots were created in 1985.
Once all of the new company officers were in place, Chief Tramontano assigned
all of his company officers a specific responsibility. One
captain was responsible for all SCBAs,
another for maintaining
the inventory
and distribution
of
station supplies, an officer at Station 3 was responsible for hose inventory, two officers were placed in charge of Haz-Mat preparation, and so forth. All four captains were each
assigned to a different station
as the "house captain." He wanted every officer to have a role in the overall operation of the department.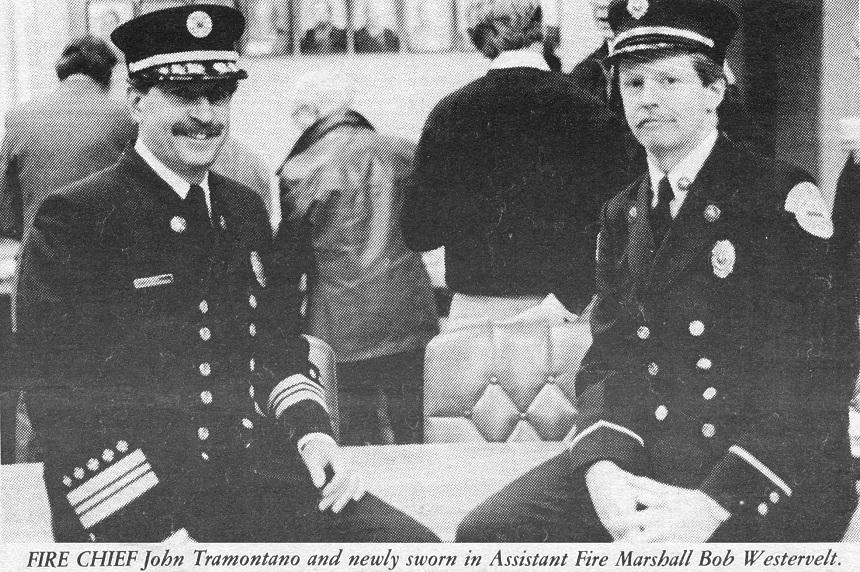 December 26, 1984 - Chief Tramontano and Asst. Marshal Bob Westervelt (Chronicle article courtesy of Gil Spencer)
Fire Marshal Bob O'Donnell had wanted an assistant for years, but the effort was always shot down by either the Mayor or the Council. Before 1984 was history, Chief Tramontano was able to get an Assistant Fire Marshal and a mechanic's position for the Shop in his first budget.
(L-R): Lieut. Donald LaBanca, Ff. Jim Moore, Dep. Chief Walter Macdowall, Chief Tramontano, Firefighters Wayne Lowry and Carl Backus.
Chief Tramontano believed in recognizing the extraordinary efforts of "the troops." Under his leadership, three town hall ceremonies were conducted to honor department members who distinguished themselves and the HFD during emergency situations.
The 1st Awards Ceremony took place on October 18, 1985, at which time the crew members of Engine 2, Platoon 3 were awarded the department's Medal of Honor for saving the life of a pregnant woman trapped on the third floor of a burning building on Edwards Street. Other awards ceremonies were held in 1987 and again in 1989.
The Legacy (to name only some):
Fire Fighter I certification required for all personnel, career and volunteer (1985)

"Incident Command System" and SOPs (1986)

Eight additional lieutenant slots - Officers on all engine companies (1984-85)

Assistant Fire Marshal, Mechanic and Hydrant Maintainer (1984-86)

Mountain Rescue Team (1976)

"I want your part-time job to be your full-time job." Man-for-man replacement on shift vacancies

Specific department-wide responsibilities for all company officers (1984)

Three Department awards ceremonies (1985, 1987, 1989)
Station 4 - December 13, 2014 - L-R: Lieut. Jeff Naples, Batt. Chief John Spencer, Ff. John Coughlin, Chief Tramontano, Ff. Brian Gagnon and Ff. Chip Talmadge
Retired Hamden Fire Chief John Tramontano stopped in at Station 4 while he was in town one weekend
last December. Lieut. Jeff Naples and his crew gave the Chief the grand tour. It was
the former chief's
first visit to 4's since renovations were completed
two years earlier.
R.I.P.
_____________________________________________________________________________________________________
_____
Photo Credits: Dennis Baker, Robin Chait, David Johnson, Michael Kurtz, Barbara Larsen,
Tara Tramontano Madison, Robert Mordecai,
I.A. Sneiderman, David Strawhince,
Domenic Vaccaro,
The Hamden Chronicle, the Hamden Historical Society and The New Haven Sunday Register
_____________________________________________________________________________________________________
_____
_____________________________________________________________________________________________________
_____
_____________________________________________________________________________________________________
_____
COPYRIGHT NOTICE

Unless otherwise cited or in the Public Domain,
all material on this website,
including all original photos, essays, articles and commentary published herein, are Copyright © 2009-2021 by the Hamden Fire Retirees Association, Inc., and may not be copied or republished in whole or in part without prior written permission of the Hamden Fire Retirees Association, Inc.

Official website of the Hamden Fire Retirees Association, Inc.
Website powered by Network Solutions®