Late on a bitter cold Tuesday afternoon, the personnel of Platoon 4 were looking forward to heading home after completing the first day of their three-day trick. At five o'clock it was already pitch dark when the bell hit for a reported structure fire at 295 Treadwell Street, the Treadwell Industrial Park.
Engine 2, Engine 1, Truck 2, Rescue 2 and Car 30 were on the first alarm.
Lt. Dan O'Connell arrived on Engine 2 and gave a signal "10-8" for a working fire. Fire in the 20,000-square foot building at the western end of the complex had gotten into the void between the ceiling of the second floor and the roof and began spreading
laterally across the width of the building.
Deputy Chief Francis "Chalky" Leddy arrived shortly thereafter in Car 30 and called for a second alarm, which brought Engine 3, Engine 4, Truck 1,
and Rescue 1.
Contrary to the last paragraph in the news article below, all of the department's running assignments provided for a third alarm, which was called when Chief V. Paul Leddy arrived on scene, bringing Engines 5 and 9 to the scene along with volunteer Cos. 8 and 7. Cheshire responded on a mutual aid request to provide additional Scott bottles and other support.
Attempts to confine and compartmentalize the fire proved to be a nightmare.
Adding to firefighters' difficulties
was
a frozen yard hydrant inside the complex. Although the Chief considered the building "a total loss," only the top floor was destroyed. On a Sunday morning eight years later, fire did considerable damage to another building on the opposite side of the complex.
Originally posted 1/5/2018
Two news accounts of the January 4, 1983 general alarm fire at the Treadwell Office Park. Interviews with Chief V. Paul Leddy and several occupants. See quick glimpses of pump operator Paul Frodel and Art Heriot.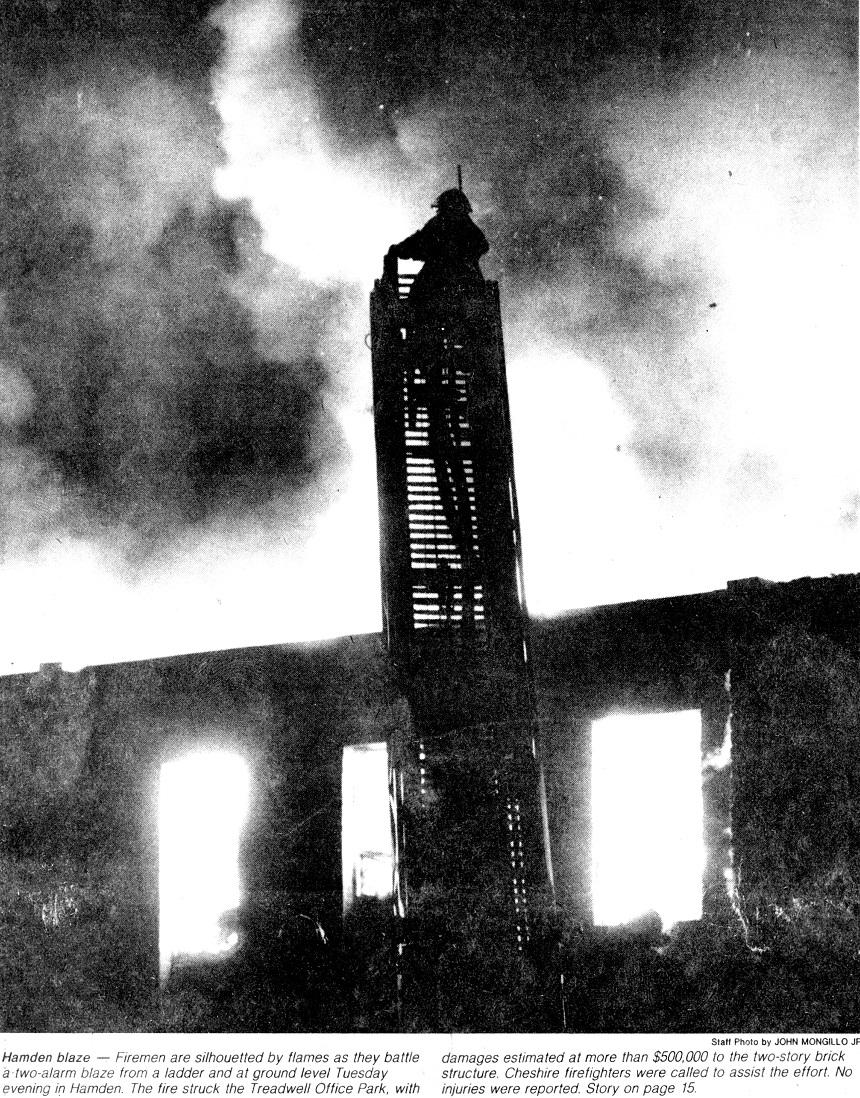 New Haven Journal-Courier, Wednesday, January 5, 1983
COPYRIGHT NOTICE

Unless otherwise cited or in the Public Domain,
all material on this website,
including all original photos, essays, articles and commentary published herein, are Copyright © 2009-2023 by the Hamden Fire Retirees Association, Inc., and may not be copied or republished in whole or in part without prior written permission of the Hamden Fire Retirees Association, Inc.

Official website of the Hamden Fire Retirees Association, Inc.
Website powered by Network Solutions®