Tech Plywood, 1047 Dixwell Avenue
Wednesday, October 18, 1972
Platoon 4 was finishing its third day. The initial call came in right after 5 p.m. Robert "Ace" Callahan was the dispatcher at Headquarters. The first alarm brought Engines 1 and 2, Ladder 1, and Rescue 1.

The Tech Plywood Company was only a short distance up Dixwell Avenue from Station 2. As soon as the apparatus cleared the fire station they could see the flames. The second alarm brought Engine 3, Engine 6 and Truck 2, all out of new Station 3.

In the photo below, the men on the right are moving the 2-1/2" lines to one side to make way for Truck 2, which Doug Yocher (in the foreground) is directing toward the driveway. The driver backed the truck in along side the building. The truck crew attached the ladder pipe to the top fly of the aerial, raised the aerial, charged the ladder pipe, and began deluging the flames. The main concern was City Fuel, the exposure immediately south of the fire building.

Doug recalled that the radiant heat was so intense on the firefighters manning 2-1/2" lines on the ground, that some of their bunker coats caught fire. But a quick repositioning of the ladder pipe stream took care of that.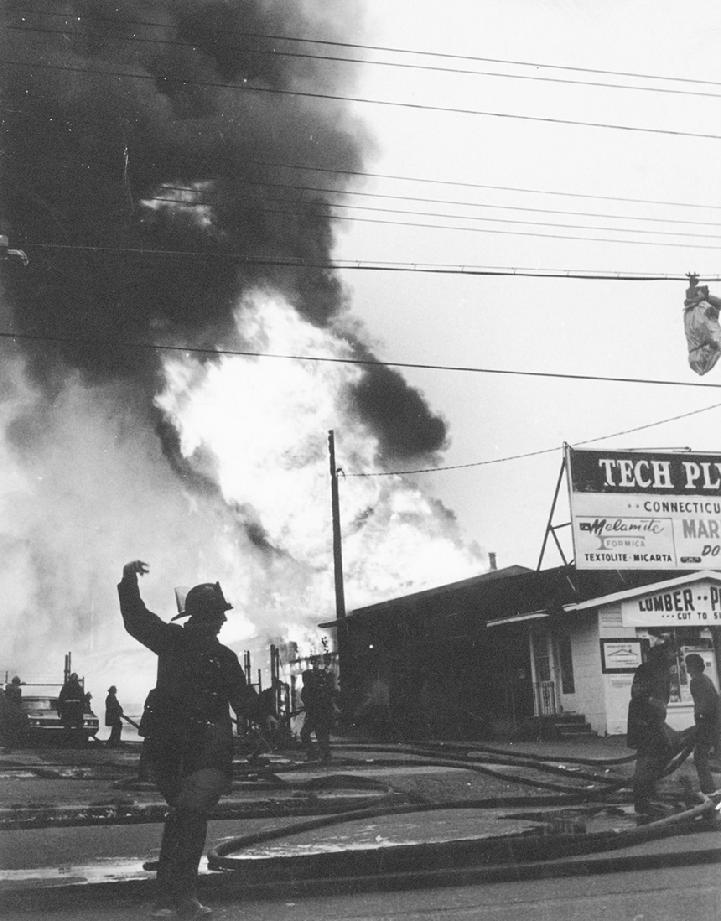 October 18, 1972 - Tech Plywood Co, 1041 Dixwell Avenue (Photo by John Mongillo, Jr.)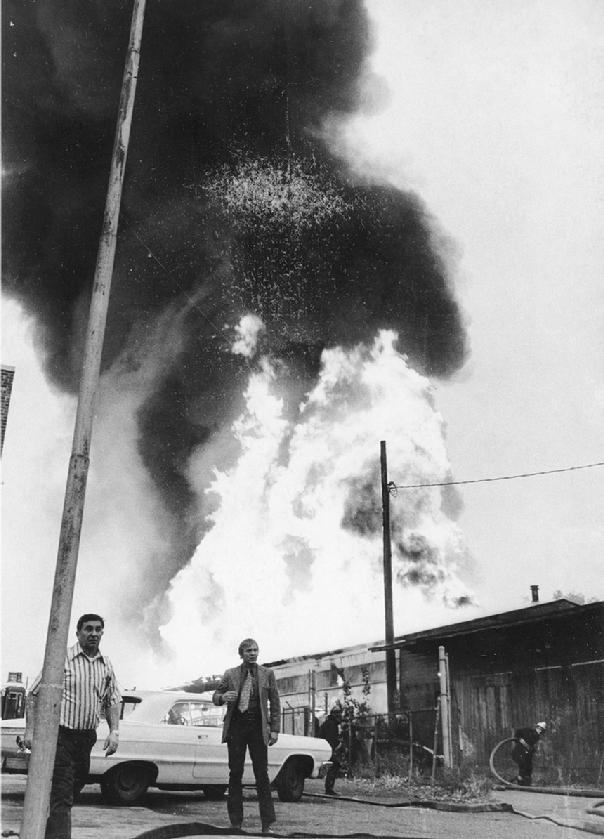 October 18, 1972 - Tech Plywood Co., 1041 Dixwell Avenue (Photo by John Mongillo, Jr.)
COPYRIGHT NOTICE

Unless otherwise cited or in the Public Domain,
all material on this website,
including all original photos, essays, articles and commentary published herein, are © Copyright 2009-2013 by the Hamden Fire Retirees' Association and may not be copied or republished in whole or in part without prior written permission of the Hamden Fire Retirees Association, Inc.

Official website of The Hamden Fire Retirees' Association, Inc.
Website powered by Network Solutions®