COPYRIGHT NOTICE

All material on this website, not otherwise in the Public Domain, including all original photos, essays, articles, descriptions and commentary published herein, are © Copyright 2010 by the Hamden Fire Retirees' Assn., and may not be copied, republished or transmitted in any form whatsoever without prior written permission of the Hamden Fire Retirees' Assn.
Support and Staff Vehicles
1930 - Mt. Carmel's "Fire Patrol" Wagon on a 1921 Packard Chassis

This c. 1930 photo. courtesy of Gilbert Spencer, is of a truly unique piece. Built on a 1921 Packard Twin-6 chassis, this "Fire Patrol" wagon carried an ample supply of soda acid extinguishers and had plenty of room for personnel in the back. The name on the side suggests that this piece may have been meant to carry personnel during working fires anywhere in town to check extension due to flying brands.
Supt. of Alarms & Apparatus Clem Wetmore is pictured here with Chief Raymond C. Spencer's 1951 Pontiac Chieftain Deluxe "Eight" two-door sedan at the Repair Shop in back of Station 2. This car listed for $2,026 without an AM radio and heater. The four-speed hydromatic transmission added $159 to the price.

Pontiac and Packard were the last American cars to offer "straight-8" engines (eight cylinders in a row). Straight-8 engine production for both makes ended with the 1954 models. Straight-8s ran very smoothly, but lacked the torque of V8s. Hamden police also drove Pontiac Eights in the early 1950s.

Chief Spencer's '51 Pontiac was eventually traded in for a brand new 1956 Pontiac with a V8 engine.

Posted 2/3/12




Chief Spencer's 1951 Pontiac Chieftain Straight-8 - Supt. Clem Wetmore at Repair Shop behind Station 2
March 5, 1962
The year after the Deputy Chiefs (shift commanders) received a brand new 1961 Ford sedan, Chief V. Paul Leddy was issued a brand new white 1962 Rambler sedan, purchased from Goodman Motors for $2,971.50. The new car replace the 1956 Pontiac that was originally issued to former chief, Raymond C. Spencer. This was when the department was still in it's short-lived "white" period, which lasted from 1958 until 1965. Department records indicate that this car was junked by 1971.
Pictured (L-R) are Chief Leddy, Fire Commission President Elton Wetmore, and Stewart Goodman, of Goodman Motors in Hamden, which continued to sell American Motors autos until the 1970s.
Posted 7/22/11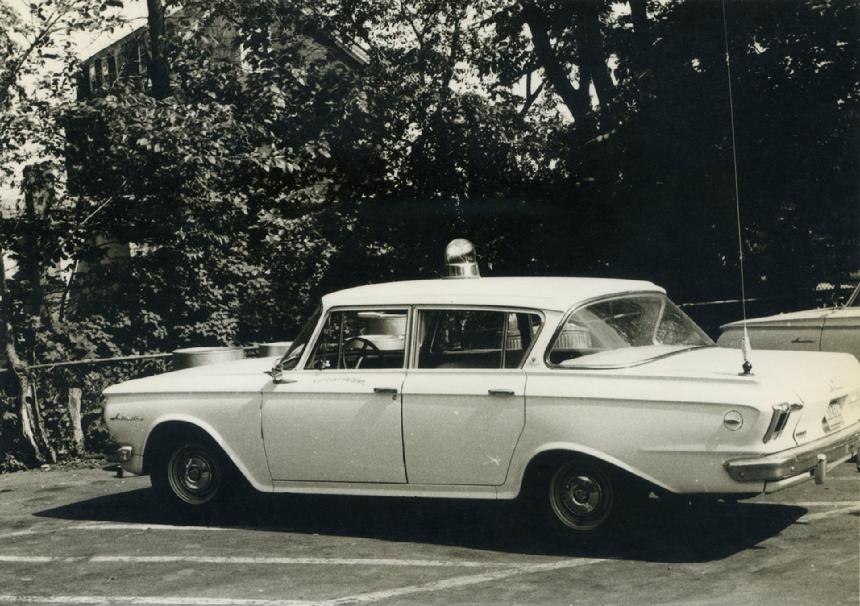 Car 40 - 1962 Rambler - A better photo
In February 1965, a brand new Chevy Biscayne was purchased from a brand new Hamden dealership, Partyka Chevrolet, for $2,180.42. The car was assigned to Chief V. Paul Leddy as Car 40. The Chief's car designation was eventually changed to Car 1 in 1983.
From The Hamden Chronicle, March 10, 1966 (Article courtesy of Chan Brainard)
Deputy Chief Everett Doherty poses in front of Headquarters next to Car 30, a brand new 1966 Ford station wagon. This was when the shift commanders had the title "Deputy Chief" and their car designation was "Car 30." When Hamden Fire Department car numbers were changed to the present designations in 1983, Car 30 became Car 3.

This would be the last time the Hamden Fire Department would purchase an all white vehicle, ending a practice that had begun in 1958. Less than six months after this photo was taken, Dep. Chief Doherty retired after nearly 40 years of service.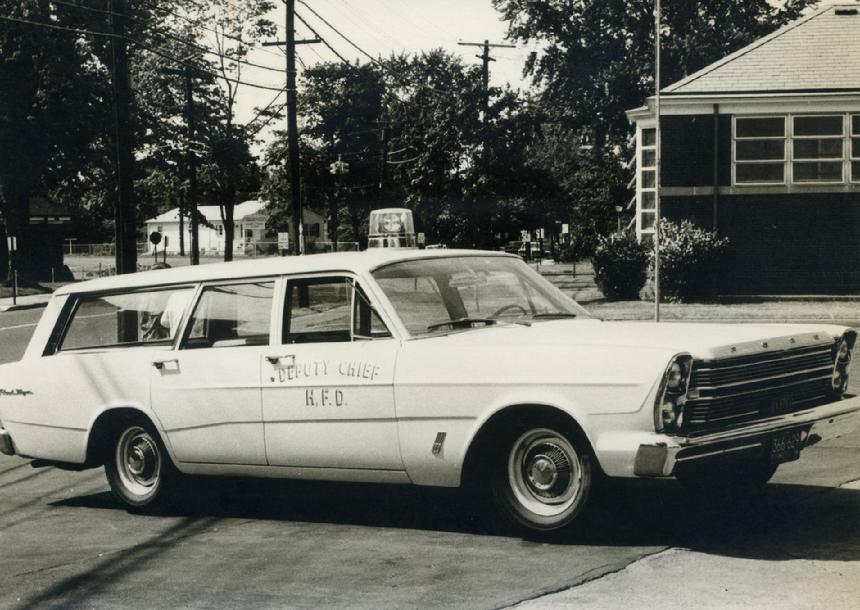 This new 1966 Ford wagon replaced the 1961 Ford sedan used by the Deputy Chiefs. (Photo courtesy of Chan Brainard)
Two bids for a new deputy chiefs' car were opened at the December 13, 1965 meeting of the Hamden Board of Fire Commissioners. A bid of $2,435.68 was turned in by Bradford Ford (now Bob Thomas Ford), $150.06 lower than the bid received from Partyka Chevrolet. The Commission voted unanimously to purchase the Ford wagon, which is pictured above shortly after its delivery.
The relationship between Chief V. Paul Leddy and the Board of Fire Commissioners was generally a very good one. However, the selection of the color white for the new Deputy Chiefs' car
may have been the Fire Commission's final attempt at asserting its authority over the chief, who, unlike the Board, vehemently opposed any color but red for Hamden's fire apparatus. The new town charter that took effect
just
three weeks later on January 1, 1966 greatly curtailed the Fire Commssion's power, giving the fire chief the authority to make almost all departmental decisions that previously required their approval. Five fire chiefs later, the Hamden Fire Department has yet to purchase another all-white vehicle.
The white '66 wagon eventually became the Superintendent's car when the Deputies got a new 1970 Ford wagon - a RED one. Several years later the '66 wagon was sold to a private party for $25.
1979 Chevy C-30 that was once Rescue 1, with a new utility body from New Haven Body on State St. (Photo courtesy of Tim Sullivan)
April 1985 - This 1982 Ford wagon was Car 3 from 1982 to 1987.
| | |
| --- | --- |
| 1980 Plymouth Volare Wagon started out as Car 51*, and was assigned to D/C Training Officer Ken Harrington during his final month on the job. Eventually went to Hydrant Maintainer. *Staff car designations changed in 1983. Car 51 became Car 4. | Car 5 - 1984 Chevette assigned to Marshal Bob "Bubby" O'Donnell (where's the wind-up key?) Connecticut did not issue front license plates from 1980 until 1988. |
Civil Preparedness Vehicle - CP #2 (Photo courtesy of Clark Hurlburt)
COPYRIGHT NOTICE

Unless otherwise cited or in the Public Domain,
all material on this website,
including all original photos, essays, articles and commentary published herein, are Copyright © 2009-2023 by the Hamden Fire Retirees Association, Inc., and may not be copied or republished in whole or in part without prior written permission of the Hamden Fire Retirees Association, Inc.

Official website of the Hamden Fire Retirees Association, Inc.
Website powered by Network Solutions®