Rite Box Co.
2317 Whitney Avenue
Thursday, June 20, 1963
Mongillo Photo
Mongillo Photo
Thursday, June 20, 1963 - Fire at the Rite Box Company, 2317 Whitney Avenue.
The firefighter with the "5" on his helmet appears to be Mt. Carmel volunteer Russell Smith. The firefighter directly behind Smith in the soft hat has been identified as Mike Paulson, a volunteer for North Haven's West Ridge Co.
Russ Smith joined the paid department five months later in November 1963.
The Rite Box Company was down a long driveway off the east side of Whitney Avenue, a few hundred feet south of Dixwell. It was among several other small industrial and commercial buildings that were located approximately where the Hamden Center One is today.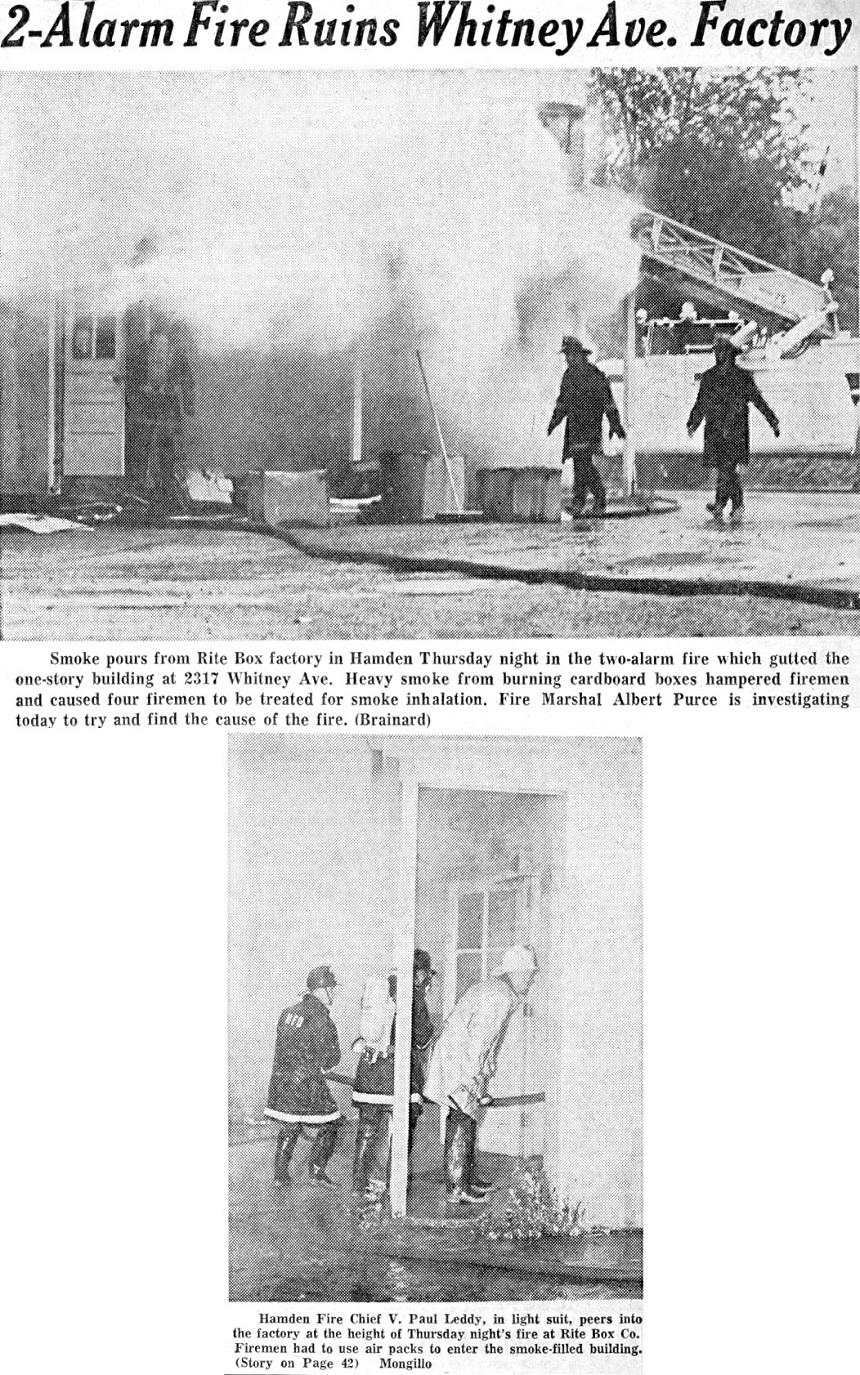 © The New Haven Register - Friday, June 21, 1963 (Articles courtesy of Chan Brainard and Gil Spencer)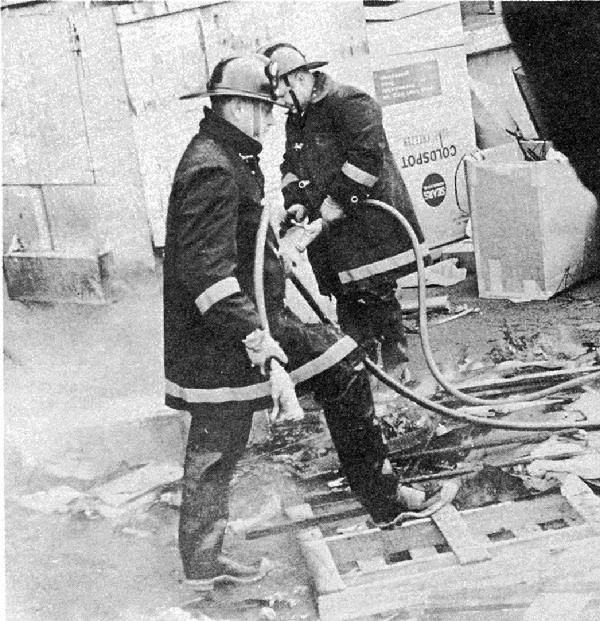 June 20, 1963 - Photo by Bill Brainard, courtesy of Chan Brainard
Rite Box, June 20, 1963 - Firefighters Burt Hillocks (foreground) and Dave Howe overhauling with booster lines. Dave served from January 2, 1948 until his retirement in June 1984. He passed away in 1989. Burt served from September 11, 1950 until retiring in February 1981 at the rank of captain. Burt passed away last September at the age of 91.
1965 aerial view of Centerville - East side of Whitney Avenue, south of Dixwell. Nos. 2305 and 2313 are still standing. Nos. 2311, 2315 and 2317 and the other buildings near them were razed in the early-1980s to make way for the two Hamden Center highrises and the parking garage.
COPYRIGHT NOTICE

Unless otherwise cited or in the Public Domain,
all material on this website,
including all original photos, essays, articles and commentary published herein, are Copyright © 2009-2022 by the Hamden Fire Retirees Association, Inc., and may not be copied or republished in whole or in part without prior written permission of the Hamden Fire Retirees Association, Inc.

Official website of the Hamden Fire Retirees Association, Inc.
Website powered by Network Solutions®