________________________________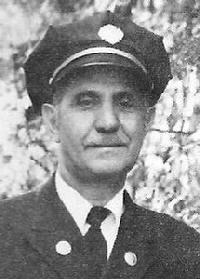 Supt. Lostritto - 1983
Superintendent of Alarms & Apparatus (1968 - 1985)
________________________________
Superintendent Richard "Richie" Lostritto
(1926 - 2022)

On Friday, May 27, 2022, the members of the Hamden Fire Retirees Association were shocked and saddened by the passing of retired HFD Superintendent of Alarms & Apparatus Richard "Richie" Lostritto, who died peacefully at his home with his family beside him.
At the time of his passing, Richie was the Association's oldest living member and the Hamden Fire Department's last surviving veteran of World War II, in which he served in the Pacific theater.

Richie joined the Hamden Fire Department in September 1950, and was appointed Asst. Supt. of Alarms and Apparatus in 1965. Following the 1968 retirement of Clem Wetmore, Richie was appointed Superintendent, the position he held until his December 1985 retirement.
With his assistant, future Hamden Chief Paul Wetmore Sr., Richie was responsible for overseeing the maintenance of a fleet of apparatus, including ladder trucks, pumpers, and staff vehicles from numerous manufacturers. He also maintained the department's radios and other communications hardware, as well as the maintenance of Hamden's immense Gamewell telegraph alarm system consisting of dozens miles of cable, tape registers, alarm bells and the related hardware, which was required for redundancy in the transmission and reception of fire alarms. He did it all very well.
Blessed with a heart of gold and a terrific sense of humor, Richie was a friend to all who knew him. Until a few years ago, he was a regular attendee at HFRA meetings. Although unable to attend more recently, Richie always remained interested in HFRA and HGSRA activities.
A Mass of Christian Burial was celebrated June 1st in St. Barnabas Church, North Haven with the burial following at All Saints Cemetery.

Riche leaves his wife of 70 years, the former Margaret DeRosa, and sons Richard Jr. and Paul Lostritto, and a large extended family that included his nephew, retired HFD Firefighter Jim Koutsopolos, his niece Judy Frodel, grand-nephew, retired HFD Lieut. Jeff Pechmann, and great-grand nephew Cheshire Firefighter Dennis Pechmann.

Most of the photos below can be enlarged by clicking on them.
On Christmas Day 1964, Harry Cubbellotti and Richie were both on Ladder 1, the 1958 Maxim "Junior" aerial truck, when they were dispatched to Reilly's Restaurant for a reported structure fire. In a 2009 interview Richie recalled that when he and Harry got to the top of Mix Avenue they could see lots of black smoke rising in the distance. "Well, I guess we can forget about Christmas dinner," said Richie. Yep.
New Haven Register - Nov. 1968

1967 - Running new cable beneath Dixwell Avenue: When Clem Wetmore was still Superintendent, he and Asst. Supt. Lostritto were assisted by three on-duty firefighters, Bob Slater, Bill LaVelle, and Paul Wetmore Sr., who would go on to become the Asst. Supt., then Supt. and eventually Chief of the Department.

An alert Hamden High student "caught" Richie testing Box 817 in front of the school in this 1967 photo that found its way into the Class of 1967 "Venture" year book.
| | |
| --- | --- |
| In the 1980s, there was an extra duty list of line firefighters who worked extra in the Shop. When Richie donated this 1982 photo years ago, he said it was one of his favorites. He and Asst. Supt. Wetmore always liked it when it was Bob Mordecaiís turn to work in the Shop because Bob was a licensed electrician, a big plus when maintenance on the alarm system was needed. (Great perm, Bob.) | 4/9/1976 - Richie at the Shop. The guy in back looks like CETA employee Jim Beirne. |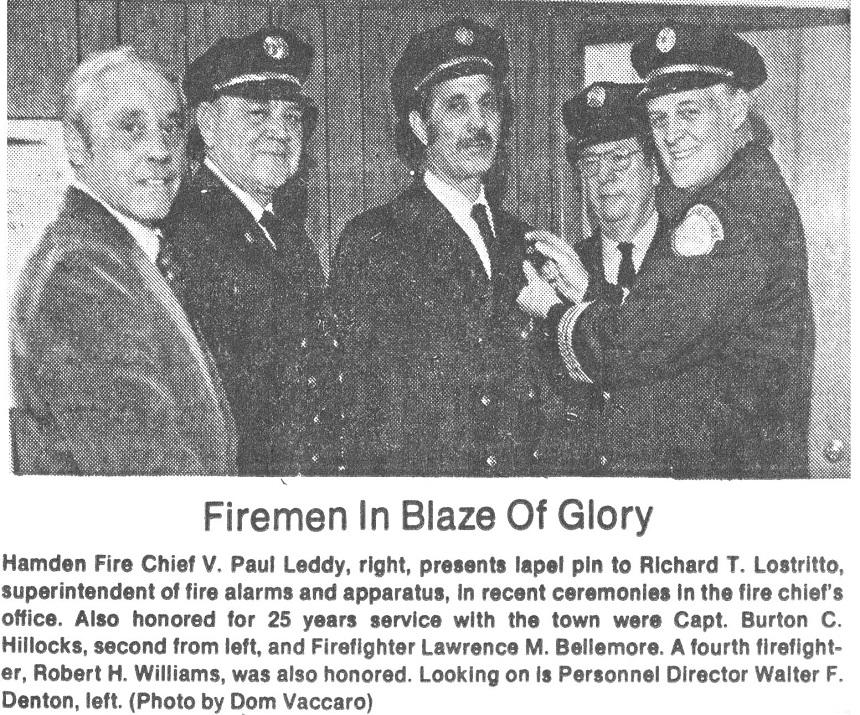 The New Haven Register, Thursday, September 25, 1975
Sadly, a nearly forgotten town tradition was the 25-Year pin, presented to employees logging a quarter century on the job. Here in September 1975, Richie and his fellow 1950 recruits, Capt. Burt Hillocks and Ff. Larry Bellemore, are presented with their 25-Year pins by Chief V. Paul Leddy. Another member of that Class of 1950, Robert "Whitey" Williams, is not pictured.
| | |
| --- | --- |
| 1982 - Richie was a master auto mechanic, a veritable magician when it came to repairing vehicles of all descriptions. Here, he's tuning up the 1974 Malibu wagon that was the shift commanders' car until 1977. | Richie demonstrating his prowess in bocce before one of our earlier meetings at the Elks Hall. |
_____________________________________________________________________________________________________
_____
COPYRIGHT NOTICE

Unless otherwise cited or in the Public Domain,
all material on this website,
including all original photos, essays, articles and commentary published herein, are Copyright © 2009-2023 by the Hamden Fire Retirees Association, Inc., and may not be copied or republished in whole or in part without prior written permission of the Hamden Fire Retirees Association, Inc.

Official website of the Hamden Fire Retirees Association, Inc.
Website powered by Network Solutions®