Mt. Carmel Railroad Station Burns
Wednesday, November 7, 1962
Major fire destroys local 19th century landmark
Mt. Carmel Railroad Station Burns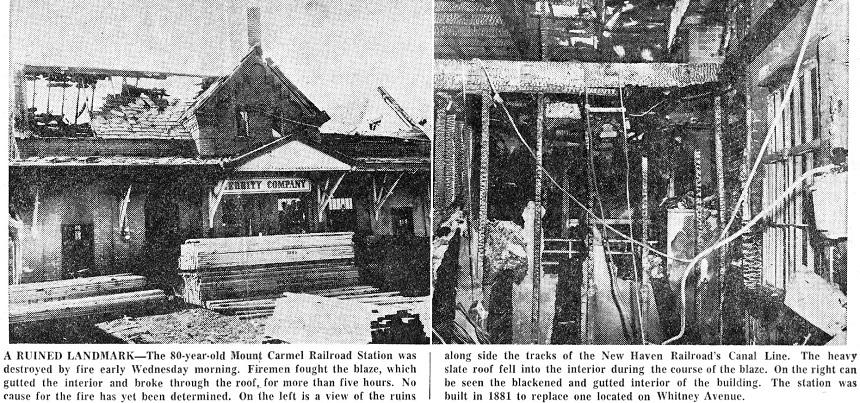 The New Haven Register, Thursday, November 8, 1962
1963 - Co. 5's R.K. Spencer Receives Life-Saving Award for RR Station Fire - CLICK to enlarge

Rescued Firefighter Tells His Story

One of the volunteer firefighters from Co. 5 in Mt. Carmel was Bill Scott. A few years later, Bill would become a Hamden career firefighter for a brief time. Bill sent an email to the website last year in which he recounted his experiences as the injured firefighter that night at the railroad station fire.

Bill wrote,

"Late one night, roughly 50 years ago, the old railroad station north of the fire house on Whitney Ave. caught fire. Many volunteers showed up including myself. I ended up on the roof with others to punch holes for ventilation. Unfortunately for me, I was standing beside the old chimney when it decided to fall, which it did, on top of me.

"My fellow volunteers rushed to my aid and brought me over to a ladder to get me down. Somehow though, they missed the ladder and dropped me off the roof. At this point I was pretty groggy and didn't argue when I was loaded into the back of an ambulance, driven by the notorious Murrays, John and Pinkey. If I'd had my wits about me, I would have called a cab.



Bill Scott
"Bobby Feinn, who rode with me, told me later he thought we would both die that night going 90 MPH down Dixwell Avenue.
"I stayed a couple of days in the hospital with a concusion. My roommate was a guy being guarded by a cop. He was there because he'd been shot by a blind woman while attempting to steal her chickens.
"My recovery was aided by some friends (volunteers of course) who came to visit with a case of beer and pizza. The hospital staff didn't think this was such a good idea and the party ended quickly. My missadventure ended well, but the highlight of that evening I feel is that one volunteers received an award from the state for my rescue even though I bounced a little on the way down."
Originally posted 11/16/12
COPYRIGHT NOTICE

Unless otherwise cited or in the Public Domain,
all material on this website,
including all original photos, essays, articles and commentary published herein, are Copyright © 2009-2021 by the Hamden Fire Retirees Association, Inc., and may not be copied or republished in whole or in part without prior written permission of the Hamden Fire Retirees Association, Inc.

Official website of the Hamden Fire Retirees Association, Inc.
Website powered by Network Solutions®