Friday, November 29, 2013 - Well into the fifth year as editor of the HFRA website, an honor I have thoroughly enjoyed, I wish for the first time to indulge in some personal observations, the reason for which will become evident. - DGJ
Lt. Howard Hurlburt, Jr.
And on a personal note . . .
Last week I was stunned and deeply saddened when I received an email from fellow HFRA member Clark Hurlburt. His older brother Howie had died overnight. I was aware from Clark that Howie had been dealing with some health issues of late, but I was not prepared for the news in that email.
Howie and I had worked together in the early 1980s when I was a very green pain-in-the-ass lieutenant at 4's and Howie a seasoned paramedic. We were part of a great crew, and although we always did our jobs we also had lots of laughs along the way. But Howie's passing last week evoked far stronger emotions in me because our ties went back much further than our working relationship as members of the HFD.
Howie and I had known each other since we were ten. We met at Legion Field, that playground at the end of James Street where Mt. Carmel and Centerville grammar school kids peacefully co-existed on those hot summer days long before backyard swimming pools and video games. Howie was a Centerville kid from Highland Avenue, and I a Mt. Carmel kid from Carmel Street.
Every summer the town hired teenage part-timers to organize various playground activities to keep the local kiddies out of reform school. My first memory of Howie was when the two of us joined several other kids our age in a pickup softball game against Putnam Avenue kids on their turf. We crammed ourselves into the '54 Ford station wagon driven by that year's playground part-timer. Parental permission slips in those days? Hell, no. (Lawyers had yet to advertise on TV.)
When I was in Boy Scouts in the early 1960's, Howie Hurlburt, Sr. was a Quinnipiac Council advisor for the First Aid merit badge. Thus, Howie, Jr. and I became friends again.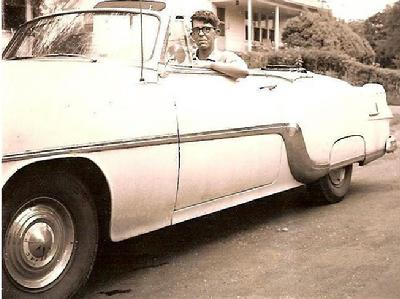 1966 - "Lug Nuts" member, friend of Howie, and future webmaster
As teenagers, Howie and I and some of our friends organized a car club, the "Lug Nuts." If any one of us needed roadside assistance - a common occurrence with the cars we drove then - one of the other members would respond with a can of gasoline or jumper cables. But the "Lug Nuts" club was really just an excuse to hang out at the Mobil station in Centerville and work on our cars.
One afternoon in March of
1966
I accompanied Howie on a mission to Sweed's auto junkyard in Wallingford. Howie needed a hood for a 1960 Plymouth. Sweed's had one, but they wanted five bucks for it and Howie was five bucks short.
On our way to Sweed's, Howie pulled onto the front ramp of the Mt. Carmel fire station. His dad was working there that day. I waited in the car while Howie went inside.
Two minutes later he came out of the firehouse with the five bucks.
As he got back in the car
Howie shoved a card in my hand. It was an application to join the Mt. Carmel Volunteer Fire Company, where young Howie had been a member for the past year. "What the hell," I thought, "this could be interesting." After several quorum-less meetings, my application finally took "the usual course" and I was admitted.
Over the course of the past four-and-a-half decades I have often thought about how that one chance episode changed everything for me. I think about my loves, my children, the friends I have met through the fire service, and everything I have done as a career (and more) since 1966. They all resulted from that little card being shoved into my hand that day – the reason I will always be grateful to my old friend, Howie.
Rest in peace, my friend. And thank you!
COPYRIGHT NOTICE

Unless otherwise cited or in the Public Domain,
all material on this website,
including all original photos, essays, articles and commentary published herein, are Copyright © 2009-2023 by the Hamden Fire Retirees Association, Inc., and may not be copied or republished in whole or in part without prior written permission of the Hamden Fire Retirees Association, Inc.

Official website of the Hamden Fire Retirees Association, Inc.
Website powered by Network Solutions®