New Engine 3 Now in Service
Firefighter Dave Beaton did the honors of
backing Hamden's newest
pumper onto the ramp of
Station 3 for the first time.
Only the 7th motorized apparatus since 1915 to be assigned as Engine 3, this brand new Smeal pumper became part of the HFD's rolling stock on Monday morning, July 25, 2016.
According to Batt. Chief Ron Desroches, who was on the specifications committee, the truck was built by Smeal on a Spartan Gladiator chassis, with a 10' roof. It is equipped with a 1,500 GPM pump and carries 750 gallons of water, 40 gallons of Class A foam, and is also equipped with a brand new Holmatro hydraulic rescue tool.
It carries 1,000 feet of 5" LDH and 600 feet of 3" supply lines.
There are
600' of 1-3/4" attack lines: One crosslay has 300', another 200', and there are 100' on the front bumper. There is also a 200' 2-1/2" attack line up top.
The pumper was purchased through New England Fire Equipment & Apparatus Corp. of North Haven for $474K.
(L-R): Cmmr. James O'Brien, Cmmr. Richard Reilly, Chief David Berardesca,
Cmmr. Henry Candido,
Cmmr. Eric Curtis, Jr. and Dep. Chief Gary Merwede
Hamden Board of Fire Commissioners
Commissioners Eric Curtis, Jr., Henry Candido, Richard Reilly and James O'Brien
Capt. Brion Tierney, Lieut. Rich Lennon, Ff. Kurt Vogt, Ff. Dave Beaton, Ff. Steve Postemsky and Ff. Brian Gagnon
At 0918 hours, retired Capt. Dave Johnson was asked to radio Central, officially placing Engine 3 in service.
Developing specifications for the new pumper began in 2014 under then-Superintendent of Apparatus Don Buechele (left), pictured here in front of Tower 1 with present Supterintendent James LaFond.
Rider's
side compartments
Retired Supt. Don Buechele noted that one of the best suggestions during the development of specifications was this dual access compartment for medical equipment, placed away from the exhaust pipe, between the front and rear cab doors. Personnel may access the compartment, either from inside the cab (left) or from the outside, right above the right front wheel.
Hi-side compartment on the driver's side.
| | |
| --- | --- |
| Driver's side behind rear wheels | |
| | |
| --- | --- |
| Driver's area. Ff. Beaton says, "It drives like a Cadillac!" | Rear seating, driver's side - Seats four! |
A veritable mobile office for responding personnel.
A far cry from the days of riding the rear step.
_____________________________________________________________________________________________________
_____
And now, the other six Engine 3s . . .
This 1999 HME pumper served exclusively as Engine 3 for 17 years (1999 to 2016). It will now become a spare.
This 1973 Maxim 1000 GPM Telesqurt also served exclusively as Engine 3 - from 1974 to 1999.
This 1968 Maxim 1000 GPM S-Model served as Engine 3 from 1968 to 1974. Later as Engine 1 and Engine 5.
1951 Maxim 750 two-stage centrifugal pump served as Engine 3 from 1952 to 1968. Later assigned to Stations 5, 7, and 9.
1928 Maxim 750 GPM rotary pump, served exclusively as Engine 3 from 1928 to 1952.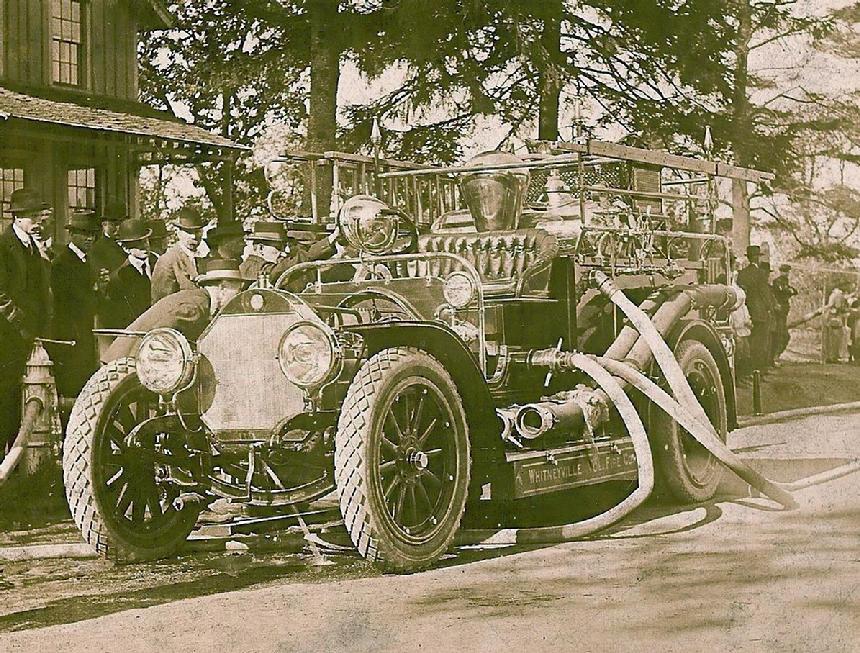 1915 Maxim on a Thomas Flyer chassis, e/w a 500 GPM rotary pump. Served exclusively as Engine 3 from 1915 to 1928.
COPYRIGHT NOTICE

Unless otherwise cited or in the Public Domain,
all material on this website,
including all original photos, essays, articles and commentary published herein, are Copyright © 2009-2021 by the Hamden Fire Retirees Association, Inc., and may not be copied or republished in whole or in part without prior written permission of the Hamden Fire Retirees Association, Inc.

Official website of the Hamden Fire Retirees Association, Inc.
Website powered by Network Solutions®