Remembering "J. Edward O'Hare"
Once when he worked at Station 9 with then-Capt. Gil Spencer, John O'Hare answered the 8 a.m. roll call, "Station 9, Capt. Spencer, Jones, Rahl, and J. Edward O'Hare." When Gil asked him what the "J. Edward" was all about, John simply replied, "If the chief can 'V. Paul Leddy,' I wanna be known as 'J. Edward O'Hare'." We're not sure that John even HAD a middle name - but that was John (or should we say, "J. Edward").
In the previously posted articles and photos below, we remember a true HFD legend, Firefighter John O'Hare, who passed away this past weekend at the age of 95. Space does not permit all that could have been written about John, but what is shown below is a pretty good sampler:
May 1954 - Firefighter John O'Hare working a non-Hamden pumper at fire school (Photo courtesy of Local 2687)
Hamden Firefighters and their Numbered Badges
Fire department badges everywhere sport

certain insignia which designate the rank or position of the bearer. In all departments, including Hamden's, lieutenants have one bugle (horn), captains have two, and chief officers have three,

four

or

five (depending). The

insignia on a firefighter's badge is

usually the traditional "scramble" or "cluster," consisting of a helmet, pike pole, axe, bugle, and ladder.

Hamden's fire officer badges have always had their bugles. However, for nearly a half

century the badges of

Hamden's firefighters

were numbered. When numbered badges were introduced in the early 1940s,

the

numbers only went as high as No. 20. By the early 1980s,

they went as high as

No. 105

.

You could usually tell how long a guy had been with the department by looking at his badge number - the lower the number, the greater the seniority.

Every year or so

as

veteran

firefighters retired,

the Chief collected al

l

the badges and

then

reissued them, with almost everyone

receiving

a lower badge number. If no one ahead of you retired, you kept your present number. New hires

would eventually be assigned

the

higher

badge numbers that were

collected from

the

previous group of rookies

.

The most

junior member of the department had the highest badge number, which, by 1982, was No. 105.

The most senior firefighter of the department always wore the coveted badge No. 1.

Joe Marchitto (AKA Joe Marcks) was

Hamden's first firefighter to wear badge No. 1. During the decades following Ff. Marchitto's retirement, the distinction of wearing badge No. 1

went to

Firefighters Frank Nolan, Art Norman, Robert Reutenauer, Clem Kammerer, Walt Thomas, Mario "Bucky" Serafino, Wilbur Baker, Art Smith,

Fred Fletcher, Dave Howe, and Hugh McLean.

After Ff. McLean retired in 1987,

Hamden Fire Department

badge No. 1 was assigned for the last time to

Firefighter John O'Hare. The badge

was

presented

to O'Hare

following his retirement on October 31, 1991.

Hamden's

numbered badges

disappeared shortly

thereafter, when the department

ordered

new non-numbered

generic

shields

that

looked more like a cop's badge. Fortunately,

HFD's badges were redesigned

in recent years

and

now more closely resemble

the original badges. But, alas, there

are no

numbers.




Ed. Note - 7/26/22: The tradition of Badge No. 1 being issued to the most senior firefighter was resurrected in November 2016, when Chief Dave Berardesca issued "Badge No. 1" to Firefighter Maurice "Jay" Connolly, the department's most senior firefighter at the time. The honor has since been conferred upon Firefighter Kurt Vogt, Firefighter Don Paczowski and, with the latter's recent retirement, Badge No. 1 will soon be issued to Firefighter Paul Anderson.




John O'Hare was the last holder of Badge No. 1
The only badge ever to be retired was No. 14. The last
man to wear it was
Firefighter Alfred
Ramelli, who passed away January 1, 1972
after having been stricken on duty on Christmas Eve 1971.
In addition to
according
well-deserved
recognition to veteran firefighters, badge numbering had a practical advantage.
There was never a problem with lost badges. Whatever your badge number, you
had to produce it when the Chief
came
to collect
it for the next reissuing.
Those traditionalists among us fondly remember
the days when a senior firefighter could
take some tacit pride in his
low
badge number. After all, not everyone longed
to have
bugles on his badge - right?
HFRA Home Page - October 28, 2016
The website wishes Hamden fire retiree John O'Hare a happy 90th birthday today. John served on the department from November 1953 until October 1991, when he reached the mandatory retirement age. He has been an active member of the HFRA since it was organized and has conributed numerous photos and memorabilia to the archives.
During his thirty-eight years on the job, John led numerous off-duty department activities. From the 1950s until the early 1980s, John was coach of one of the department's softball teams, in later years as either catcher or pitcher. In the early 1960s, he c
haired several annual balls. In the 1970s, John
was the toastmaster at all the annual dinners before Mark Pratt took over the job.
| | | |
| --- | --- | --- |
| | This August 1961 benefit softball game between Hamden fire and police. L-R: O'Hare and B/C Everett Doherty from the HFD. Dan Liston, Chief Bob Thatcher and Jack Sarracco from the HPD. (HFD was runner-up) | |
1961 Annual Hamden Firemen's Ball Committee
Wayne Butterworth, Milner Benham, Gilbert Spencer, John O'Hare (Chairman),
John Hoffman, John Tramontano and Paul Reutenauer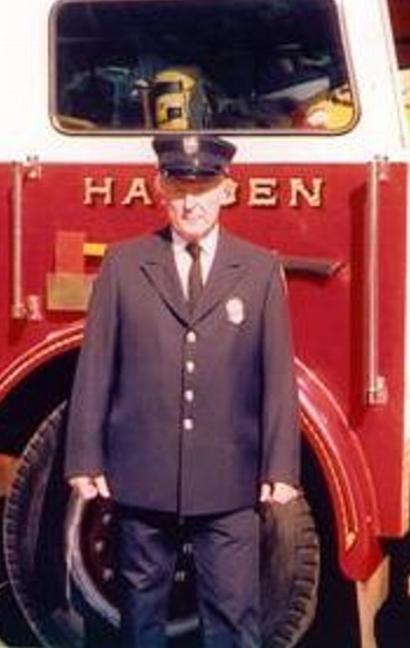 October 1991 - Station 9 - Last day on the job
John recently commented on his first day on the job. Walking into Station 2 that first day in 1953, recruit firefighter O'Hare didn't know anyone and no one knew him. Firefighter Art Smith was sitting at the watch desk. Smith looked up. "May I help you, sir?"
O'Hare told Smith he was the new fireman. "You want Lieutenant Hume," barked Smith as he pointed toward the kitchen. "He's in there." Reflecting on that snapshot moment, John chuckled and said that it was the only time in his 38 years on the department that anyone called him "sir."
Any memorable moments? Too many to count. John's good friend was Art Heriot, truly one-of-a-kind. John and Art worked together at old Station 3 on Putnam Avenue. One day for a change of pace,
John strolled from the fire station up to
the little luncheonette a few doors away to get something for lunch. There were no portable radios in those days, but if there was an alarm
he'd hear the siren signalling him to rush back.
While staring down at the array of meats in the deli case,
John heard a familar voice from over the counter. "Can I help you?"
John looked up. Behind the deli counter wearing an apron was none other than Art Heriot.
"What the hell are you doing here?" asked John.
Art replied, "I always help out here during lunchtime."
That was Art
.
John loves to tell the story of the annoying guy - not a firemen - he knew from his part time job. We'll call him "Bob." Bob enjoyed pestering John to find out where he lived, something John was not about to reveal.
One day, Bob called the firehouse. John was on vacation. He got Art Heriot instead.
A few days later Bob ran into O'Hare at his part time job. "Aha," he declared, "I called the firehouse, John. Now I know where you live!"
John just stared nervously at the guy. "Really?"
"I know for a fact," Bob continued, "that you live on the first floor of the Mary Wade Home."
O'Hare just shook his head laughing, "I know who you've been talking to."
| | |
| --- | --- |
| March 10, 1957 - Station 6 | October 1976 - Station 3 |
At Station 6 on Merritt Street, John shot

this photo of his toddler daughter perched on

the 1930 Maxim, which was already an antique.




Clockwise from lower left: O'Hare, Doug Yocher,

John Reilly, Art Heriot and Bill Davin.

Photo snapped by Capt. Jack Laffin.



December 1964 - Icy Dog Rescue on Lake Whitney
Photo from the HFRA archives. Photographer unknown. CLICK to enlarge.

This photo

had been in the

HFRA archives for years, but it

contained

no IDs or date. A few months back, retiree John O'Hare allowed us to scan a few news articles of his. One of them included this photo, which was

published

in the December 11, 1964 edition of the

New Haven Journal-Courier.

John is shown in the bow of the Department's rowboat while Lieut. Danny O'Connell rows on an icy Lake Whitney just after

they rescued

a five-year old Labrador retriever named "Traze," belonging Chris Pedersen of 71 Augur Street.

According to the article, "Lt. O'Connell said Thursday night that the rescuers had to row about 200 feet out into the lake, where the canine was swimming in a hole in the ice.

"O'Connell said the boat was almost swamped when O'Hare attempted to lift the dog in. Once inside the boat, the grateful dog sat quietly until shore was reached."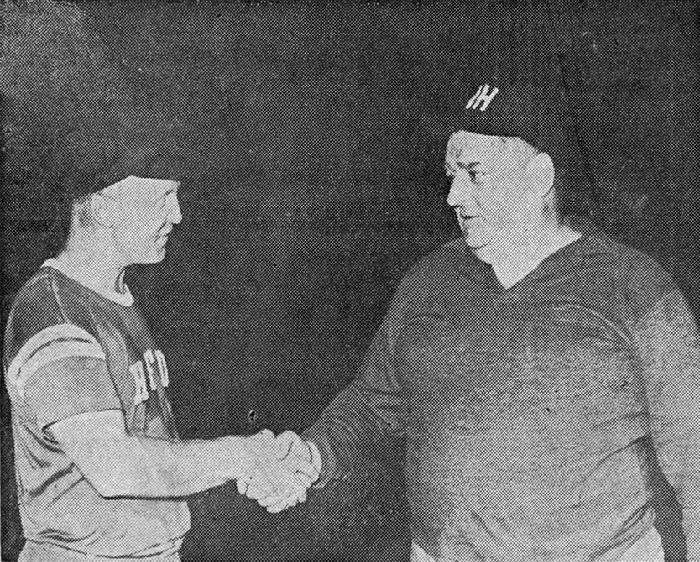 August 31, 1962 - New Haven Fire Department Capt. Walter Suski congratulates Hamden's John O'Hare, captain of the HFD softball team, following Hamden's 11-10 victory at Blake Field. Paul Wetmore's hit drove in the winning run. John led the team into the late 1970s.
_____________________________________________________________________________________________________
_____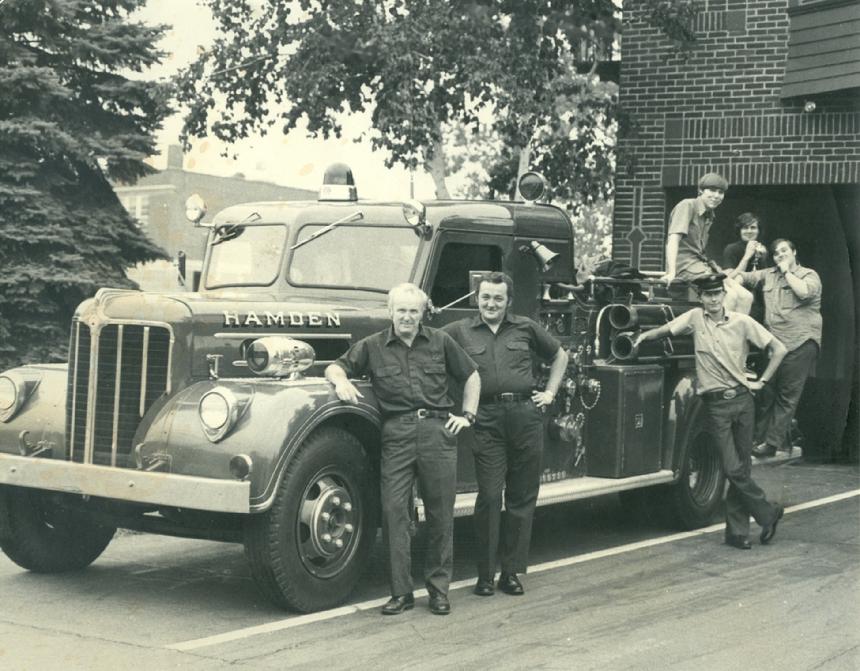 Station 5 - 1973 (Photo courtesy of John O'Hare)
Engine 5 - 1952 Maxim 750 g.p.m. pumper

L-R (standing): John O'Hare, Joe Mulligan, and Co. 5 volunteer Steve Blennerhassett - (on truck): Co. 5 volunteers Bill Chalmers, Paul Moody and Clark Hurlburt

This 1973 photo was taken two years before the building annex was constructed on the north end of the building. In 1976, Truck 1 was relocated to Station 5, and the upstairs was renovated to accommodate the four firefighters who were assigned to Engine 5 and Truck 1.

In 1985, Station 5 became a two-man house once again when Truck 1 was moved to Station 9. Station 5 became a three-man house when an officer was assigned there in the late 1980s.

The old Mt. Carmel School can be seen in the background. It closed the year after this photo was taken, and was razed in 1981 to make way for an assisted living housing project.
This 1953 item about a now-legendary Hamden fireman (before he was a Hamden fireman) appeared
in
Chronicle editor Francis "Bud" O'Connor's weekly column, "The Melting Pot." (The photo is ours.)
For several years The Hamden Chronicle was voted the best weekly in New England.
Tom Doherty and John O'Hare
Member Update
Tom Doherty and Dave Johnson paid a visit to brother retiree John O'Hare today at his home in Orange. Having retired at the maximum age in October 1991, John is our second oldest retiree. Richie Lostritto is six weeks older. At 94, they both are the last two living retirees born before 1930. But you'd never know it because they are both still very sharp and possess the same great sense of humor they had when they were on the job.
John acknowledges that he has "slowed a bit" due to some back issues that have plagued him lately, but he still gets out and about.
John and Tom reminisced about their days working part-time at the golf course for the Parks & Rec Dept. And of course there were a few Fred Fletcher stories from John's days working with Fred at Station 5 some fifty years ago, when it was a little less politically correct than it is today (try "a lot" less . . . ).
But the high point of the visit was remembering the legendary Art Heriot, a master of dialects, a true comic genius, and an outstanding firefighter. The statute of limitations having been up decades ago, the three listened to a CD containing Art's classic off-duty crank phone call to Leonard Pipe. Employing a perfect Italian dialect with the hapless manager, Art tries to get an estimate to fill his son-in-law's in-ground swimming pool with "con-creek, to make it safe for the kids." (It goes downhill from there.)
Art Heriot
Then it was Art's call to apply for a job as truck driver. Using a flawless Irish brogue, Art convinced the guy on the other end of the phone, himself a genuine son of the Auld Sod, that he would make a fine employee despite just getting out of jail.
To suggest that Art's conversation with the poor fellow bordered on the ridiculous would be an understatement. But the guy was buying the whole thing. Finally, when asked his name, without missing a beat Art replied, "John O'Hare." That was Art.
Anyway, what was to have been a twenty-minute stop to say "hi" turned out to be more like 90 minutes. Thanks, John, for letting your fellow retirees know that you're doing just fine and for sharing a lot of great stories and a few laughs. We need to do that a lot more these days.
Posted 5/14/21
Firefighter John O'Hare
(1926 - 2022)

It is with deep regret that we report the passing yesterday evening, July 24th, of retired Hamden Firefighter John O'Hare (95). He died at home with his wife Rita by his side.
John came on the job in 1953 and served until he reached age 65 at the end of October 1991. He was an active member of both the HFRA and HGSRA and was a regular meeting attendee until his health began to deteriorate about two years ago.
Friends and family are invited to call on Thursday, July 28, 2022 from 9am to 10am at the Cody-White Funeral Home, 107 Broad St., Milford, CT 06460. A Mass of Christian Burial will be celebrated at 11am on Thursday, July 28, 2022 at Holy Infant Church 450 Racebrook Rd., Orange, CT. Interment will follow at Orange Center Cemetery, Orange Center Rd., Orange. In lieu of flowers, memorial contributions may be made to Hamden Fire Retirees Association, PO Box 185605, Hamden, CT 06518. To leave online condolences, please visit www.codywhitefuneralservice.com.
Please keep Rita and the rest of John's family in your thoughts and prayers at this sad time.
COPYRIGHT NOTICE

Unless otherwise cited or in the Public Domain,
all material on this website,
including all original photos, essays, articles and commentary published herein, are Copyright © 2009-2023 by the Hamden Fire Retirees Association, Inc., and may not be copied or republished in whole or in part without prior written permission of the Hamden Fire Retirees Association, Inc.

Official website of the Hamden Fire Retirees Association, Inc.
Website powered by Network Solutions®