Hoffmeister Barn on Wintergreen Avenue

Tuesday, January 25, 1955
From the January 26, 1955 edition of the New Haven Evening Register (courtesy of the New Haven Free Public Library microfilm collection)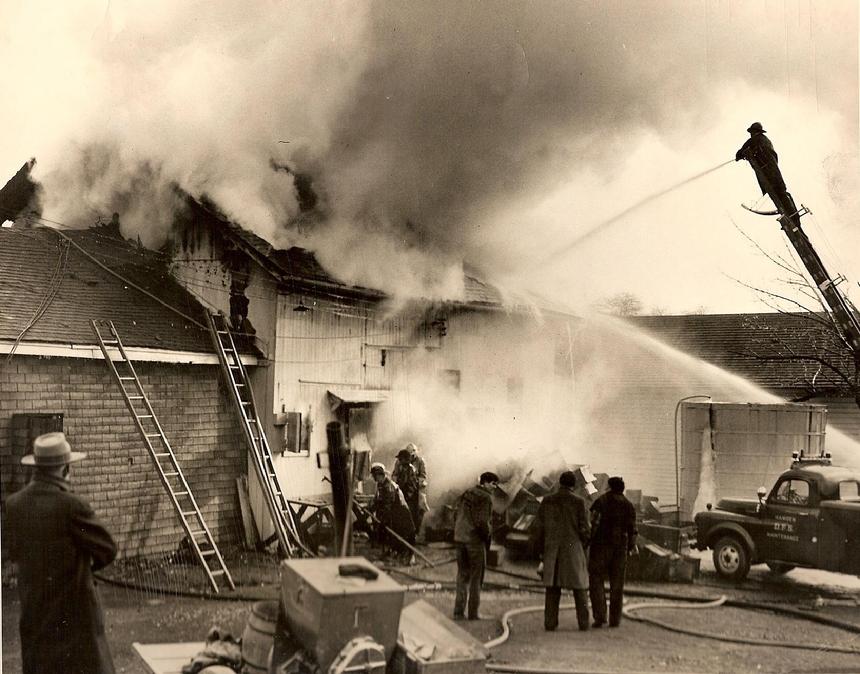 Ff. Ken Harrington is atop the ladder of the 1952 Dodge maintenance truck.
We posted this photo back on June 17, 2011, asking if anyone knew when or where it was taken. After Tom Waite,
Jr's January 1955
photos of the Hoffmeister barn fire were posted on this website, former Dep. Fire Chief Clark Hurlburt recognized certain features on the barn
that matched our mystery photo.
Whoever took the mystery photo is not known, but Waite's photos of the same fire are posted below.
(Photo by Thomas Waite, Jr.)
January 25, 1955 - Firefighter Bill Hines pumping the new 1954 Maxim 750 pumper from the hydrant at Wintergreen Avenue and Pleasant Drive, not Geen Hill Road, as the article stated (Green Hill does not intersect with Wintergreen).
Bill Hines was promoted to lieutenant the following year and was still an active department member when he passed away in May 1979 following a brief illness.
Hamden's brand new Maxim was less than four months old. #3 Pleasant Drive is seen in the background.
| | |
| --- | --- |
| 3 Pleasant Drive today | 57 years later - Hydrant that Engine 4 pumped from |
COPYRIGHT NOTICE

Unless otherwise cited or in the Public Domain,
all material on this website,
including all original photos, essays, articles and commentary published herein, are Copyright © 2009-2022 by the Hamden Fire Retirees Association, Inc., and may not be copied or republished in whole or in part without prior written permission of the Hamden Fire Retirees Association, Inc.

Official website of the Hamden Fire Retirees Association, Inc.
Website powered by Network Solutions®