Empire Kitchens
1188 Dixwell Avenue
Thursday, December 30, 1965
According to newspaper accounts, a gas heater in the third floor apartment sparked this two-alarm fire on the second to last day of 1965. The third floor occupant went to turn on the heater shortly after 7 p.m., found it enveloped in flames and fled the building. Fortunately, the second floor apartment occupants were away.
The first floor housed Empire Kitchens, Inc., which suffered extensive water and smoke damage.
Responding on the first alarm were Engine 2, Engine 3, Ladder 1, Rescue 1 and Car 30 (Dep. Chief Joe Hromadka).
Chief V. Paul Leddy reported that flames were coming through the roof when the first apparatus arrived from Station 2,
only a short distance away.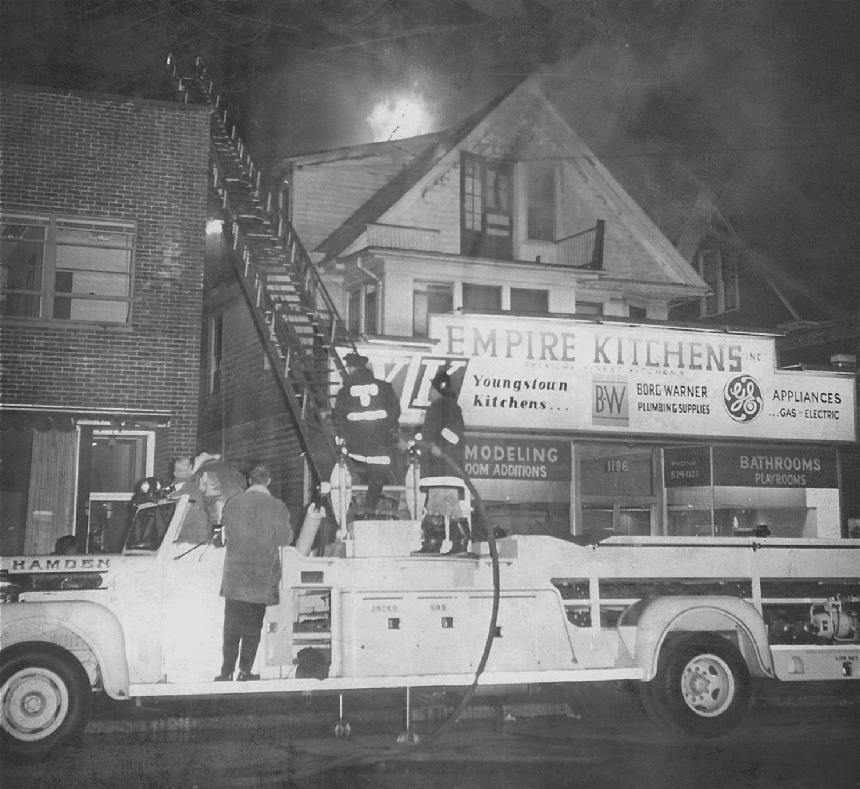 December 30, 1965 - 2nd Alarm - Empire Kitchens - 1188 Dixwell Avenue
The fire
went immediately
to a second alarm, which brought Engine 6, Engine 4, Rescue 2, and Car 40 (Chief
Leddy). Engine 5, with Ffs. Bucky Serafino, Gerry Wolf and Co. 5 volunteers covered in at Station 4. Volunteer Cos. 7 and 8 covered Station 2. Volunteer Co. 9 covered Station 5.
The fire was brought under control in about an hour.
Today, it is illegal to have a gas or
kerosene space heater in a multiple family occupancy.
From the New Haven Register, "Two firefighters were injured fighting the blaze. Lt. Joseph McDermott fell throuygh the third floor to the second floor and was being xrayed at the Hospital of St. Raphael late Thursday night. Fireman Stanley Brown was treated at the scene for cuts from flying glass."
COPYRIGHT NOTICE

Unless otherwise cited or in the Public Domain,
all material on this website,
including all original photos, essays, articles and commentary published herein, are Copyright © 2009-2022 by the Hamden Fire Retirees Association, Inc., and may not be copied or republished in whole or in part without prior written permission of the Hamden Fire Retirees Association, Inc.

Official website of the Hamden Fire Retirees Association, Inc.
Website powered by Network Solutions®