Chief V. Paul Leddy - 1960-1984
On November 19, 1960, Raymond C. Spencer retired after serving 18 years as Hamden's first paid fire chief. He was succeeded by Batt. Chief V. Paul Leddy.
V. Paul Leddy joined the Hamden Fire Department in November 1941. Following service in the U.S. Army during the Second World War, he returned to his firefighter position in 1946. He was promoted to lieutenant in 1949, and captain two years later. In 1954, all
department captains were designated as battalion chiefs. In 1955, Batt. Chief Leddy was appointed Hamden's Civil Defense Director, and five years later he became Chief of Department.
The Hamden Fire Department experienced its greatest expansion during Leddy's nearly 24 years as chief. The number of Hamden Fire Department personnel grew from 67 to 125, two new fire stations were built, an additional engine and
truck company were
added, and paramedic (ALS) emergency medical service was introduced.
Chief V. Paul Leddy retired on his 65th birthday, April 27, 1984, and passed away April 29, 1994.
Originally posted 11/19/10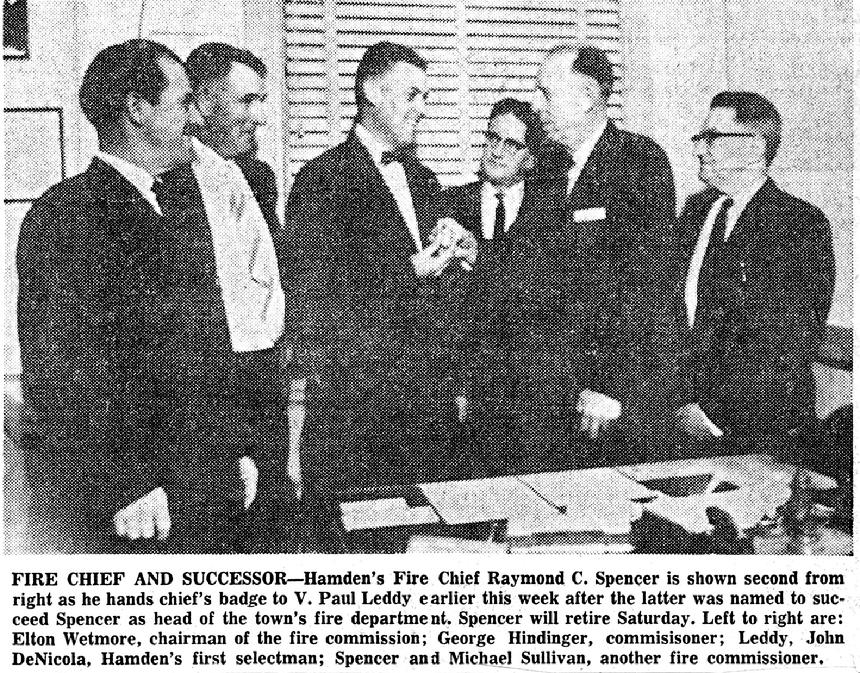 The New Haven Evening Register, Thursday, November 17, 1960
| | |
| --- | --- |
| Photo dated March 16, 1962 - Station 2 | Nov. 1968 - With Mayor William Adams |
1969 - Public Education in elementary schools has been a priority since the beginning. Dep. Chief Daniel Hume, Lt. Kenneth Harrington and Chief Leddy are pictured here during a classroom visit.
| | |
| --- | --- |
| 1969 - Pictured with Sick Benefit Assn. President and future Hamden fire chief John Tramontano, Mrs. Audrey Manley, and Mayor Adams during MDA Drive. | March 1974 - New Delivery |
| | |
| --- | --- |
| Dec. 1, 1984 - Newly retired, Chief Leddy poses next to one of two Pierce Dash pumpers that were in the works before his retirement. | "Somebody call the fire department!" - 1990 - Mortgage burning at Co. 5. L-R: Chief John Tramontano, Co. 5 Captain Karl Olson, Mayor John Carusone, former Mayor Lucien DiMeo and Chief Leddy. Co. 5 had taken out the mortgage for construction of the 1975 Station 5 annex during the DiMeo administration, when Leddy was chief. |
October 1962 (Vaccaro Photo)
COPYRIGHT NOTICE

Unless otherwise cited or in the Public Domain,
all material on this website,
including all original photos, essays, articles and commentary published herein, are Copyright © 2009-2023 by the Hamden Fire Retirees Association, Inc., and may not be copied or republished in whole or in part without prior written permission of the Hamden Fire Retirees Association, Inc.

Official website of the Hamden Fire Retirees Association, Inc.
Website powered by Network Solutions®