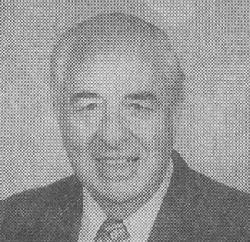 Pasquale "Pat" Barbato
Pasquale "Pat" Barbato
Was a Friend
to Hamden Firefighters


May 12 - The New Haven Register reported this morning the passing of Pasquale "Pat" Barbato. When he was a state senator in the late 1960s, Mr. Barbato played a major role in successful efforts by Hamden firefighters to get the Town to agree to a 42-hour work week.
In February 1967, the Hamden Paid Firemen's Sick Benefit Association formally requested a 42-hour work week from the Town. When the Town officials spurned efforts by the Association to discuss the proposal, State Senator Pat Barbato submitted a special act before the Cities and Borroughs Committee of the General Assembly that would allow the matter to be decided by Hamden voters in a November 1967 referendum. Mr. Barbato's efforts led directly to the adoption of the 42-hour work week for Hamden firefighters.
Mr. Barbato is survived by his wife, Helyn Callahan Ramelli Barbato, stepson Raymond Ramelli (HFD-retired), and several grandchildren and great-grandchildren. The condolences of the Hamden Fire Retirees Association go out to Mr. Barbato's family and friends.
CLICK on the photo for a view of today's Register article, and to read more about how Hamden firefighters finally won a 42-hour work week.
Posted 3/12/10
COPYRIGHT NOTICE

Unless otherwise cited or in the Public Domain,
all material on this website,
including all original photos, essays, articles and commentary published herein, are Copyright © 2009-2022 by the Hamden Fire Retirees Association, Inc., and may not be copied or republished in whole or in part without prior written permission of the Hamden Fire Retirees Association, Inc.

Official website of the Hamden Fire Retirees Association, Inc.
Website powered by Network Solutions®