Hamden Fire Retirees' Association
___________________________________________________________________________________
We will always remember our brother firefighters who made the supreme sacrifice, and the thousands of other innocent victims who lost their lives fifteen years ago on September 11, 2001.

Always keep them, their families and the FDNY in your thoughts and prayers.



___________________________________________________________________________________
The Fallen of FDNY -
God Bless Them All!
___________________________________________________________________________________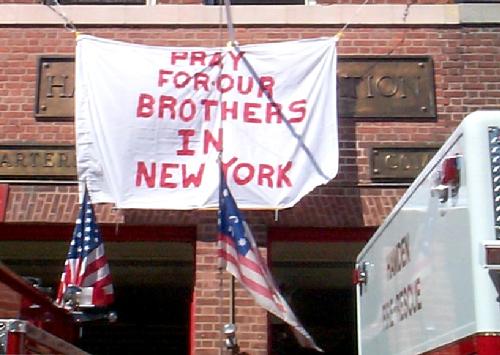 Hamden Station 4, Saturday, September 15, 2001
From Governor Dannel Malloy: All U.S. and State of Connecticut flags will fly at half-staff from sunrise to sunset Sunday, September 11, 2016, in remembrance of the nearly 3,000 men, women, and children who lost their lives in the 2001 terrorist attacks. Accordingly, since no flag should fly higher than the U.S. flag. All state, local, municipal, corporate, and other flags should also be lowered during this same duration of time.
In addition, the Governor also announced that the Pearl Harbor Memorial Bridge in New Haven - informally known as the Q Bridge - will be illuminated in red, white, and blue lights beginning at dusk on the evenings of Saturday, September 10, and Sunday, September 11. Beacons capable of projecting light nearly six miles into the clear night sky will be lit until 1:00 a.m. during those nights.
"The terrorist attacks of 2001 shook our entire nation, and here in Connecticut hundreds of family members and countless friends lost loved ones - innocent men, women, and children whose lives were forever impacted by senseless acts of hate. No amount of time will ever cause us to forget. With each passing year, we mourn those whose lives were taken all too soon, and we renew our resolve to celebrate the indomitable will and spirit of our nation, which cannot be broken," Governor Malloy said. "We also take this day as an opportunity to honor first responders - firefighters, police officers, and EMS workers - who constantly put the lives of others before their own, as we witnessed on that day fifteen years ago. And we pray for the brave men and women of the United States military who have dedicated their lives to defending our values and protecting our nation.
Lt. Governor Nancy Wyman said, "September 11 is a guidepost in our national history - a day of remembrance and of unity. We will never forget the thousands of citizens who perished in the attacks, or the resilience of the American people who rebuilt shattered lives and smoldering landscapes. The brave men and women who responded by putting on a uniform, the tireless emergency workers from across the nation who delivered equipment and another set of helping hands, the medical providers, the educators, the philanthropists, and the everyday people who waited for hours to donate blood. The legacy of those we lost is furthered by the millions of citizens who commit good acts and civic service in memory of a terrible moment in history and in service of a better tomorrow."
There are 161 victims with ties to Connecticut who were killed in the September 11, 2001 attacks. The State of Connecticut's memorial to the victims is located on a peninsula at Sherwood Island State Park in Westport, where people gathered on that day to observe the devastation of the attacks on Lower Manhattan across Long Island Sound. The site was also used in the following days and weeks as a staging area for Connecticut's relief efforts to New York City.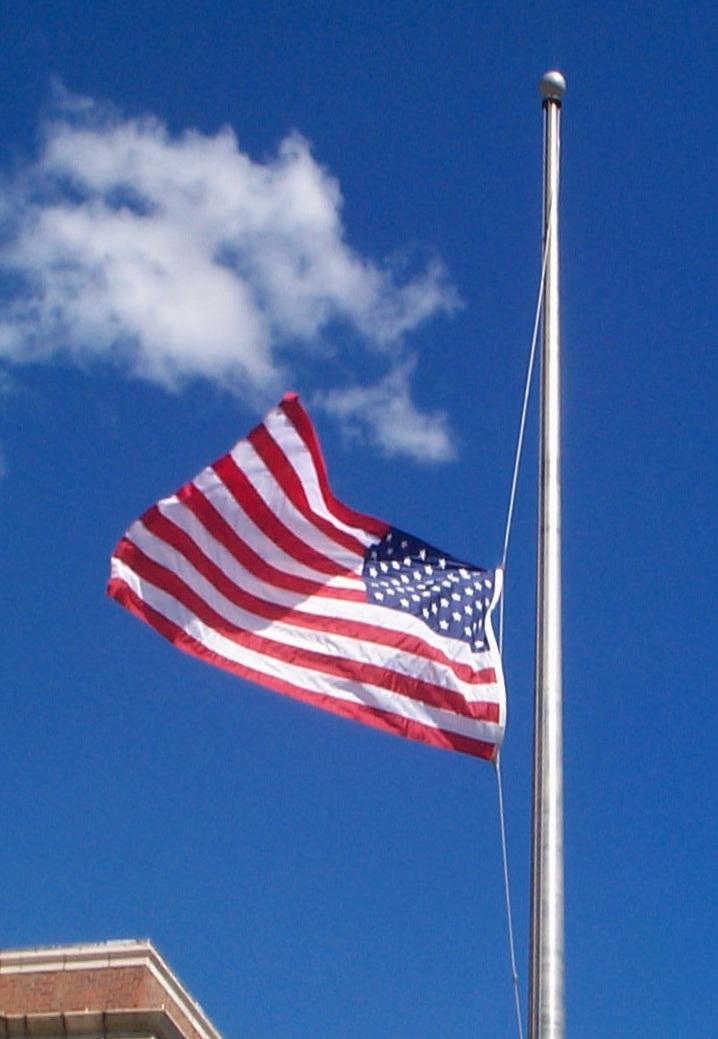 Town Hall - September 15, 2001
_____________________________________________________________________________________________________
_____
COPYRIGHT NOTICE

Unless otherwise cited or in the Public Domain,
all material on this website,
including all original photos, essays, articles and commentary published herein, are Copyright © 2009-2022 by the Hamden Fire Retirees Association, Inc., and may not be copied or republished in whole or in part without prior written permission of the Hamden Fire Retirees Association, Inc.

Official website of the Hamden Fire Retirees Association, Inc.
Website powered by Network Solutions®