Bassett's Getty Service Station
3050 Whitney Avenue


Wednesday, September 9, 1987
Mechanic touched off
blaze that enguled service station,
then blamed department for "not doing more" to save
building.
Photos courtesy of D/C Bob Surprise and Clark Hurlburt. News articles courtesy of Gil Spencer.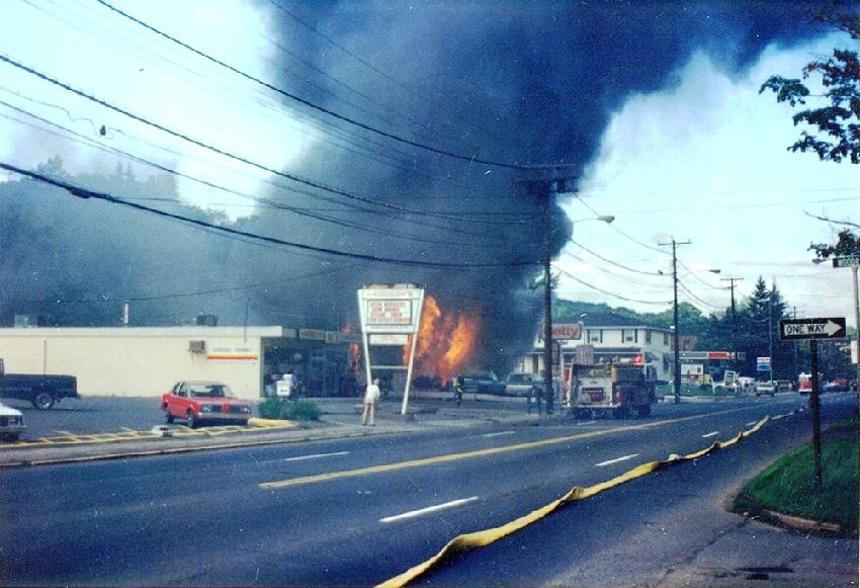 3050 Whitney Avenue - September 9, 1987
On Wednesday, September 9, 1987, a mechanic carelessly operating a torch underneath an automobile, ignited a gasoline fire in Bassett's Getty Service Station at 3050 Whitney Avenue. The building was fully involved within minutes. Miraclulously, no one was injured.

T

he mechanic later

acknowledged that

he attempted

to extinguish the fire for several minutes.

Once the fire department was notified,

Engine 5 was on the scene

in two minutes. With the vacated service station fully involved, the two lone firefighters assigned to Engine 5 wisely directed an

inch and three-quareter

hand

line at Harrison's Ace Hardware, the closest exposure to the fire building, until

additional apparatus arrived. The

hardware store remained undamaged.

The photo above was shot just as an attack line from Engine 4 was being stretched to extinguish the fire inside the garage and office areas, approximately five minutes after

the

department

was

first

notified

. Engine 9 can be seen coming down Whitney Avenue,

just north of Home Place. The LDH supply line,

stretched earlier

from the hydrant at Woodruff and Whitney by Engine 5,

would be connected and charged within a minute or two.




This article from the 9/10/87 edition of the New Haven Register could have been subtitled, "The best defense of a reckless act is to blame the fire department for the result." (CLICK to enlarge)
After determining that no lives were at stake in the fire building, the first priority was to protect the hardware store. The LDH dropped by Engine 5 has been connected to Engine 4 and is about to be charged.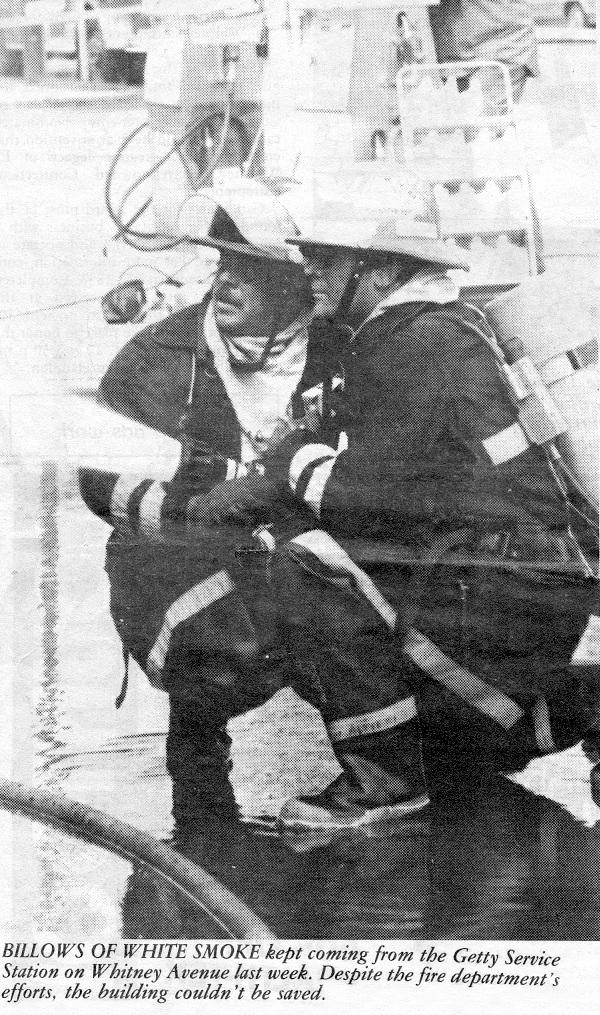 Firefighters Tony D'Agostino and Ron Altieri
CLICK to enlarge images below.
The Hamden Chronicle, Wednesday, September 16, 1987
CLICK to enlarge

Political machinations - not a rare phenomenon in Hamden - played an unfortunate and unwarranted role in

subsequent and rather outrageous accusations made by the owner of the gas station, whose brother sat on the Legislative Council.

The owner claimed that it took firefighters 20 minutes to put water on the fire. Additional

criticisms were

launched

by

Councilman Paul Bassett (R-1), brother of the station owner. The department's performance was vigorously

defended by Chief John Tramontano in an open letter to Legislative Council President Robert Miller (R-9),

published in the The Hamden Chronicle.

Ironically, Councilman Bassett had opposed earlier efforts by Tramontano to make Engine 5 a three-man engine company. Read the articles.




CLICK to enlarge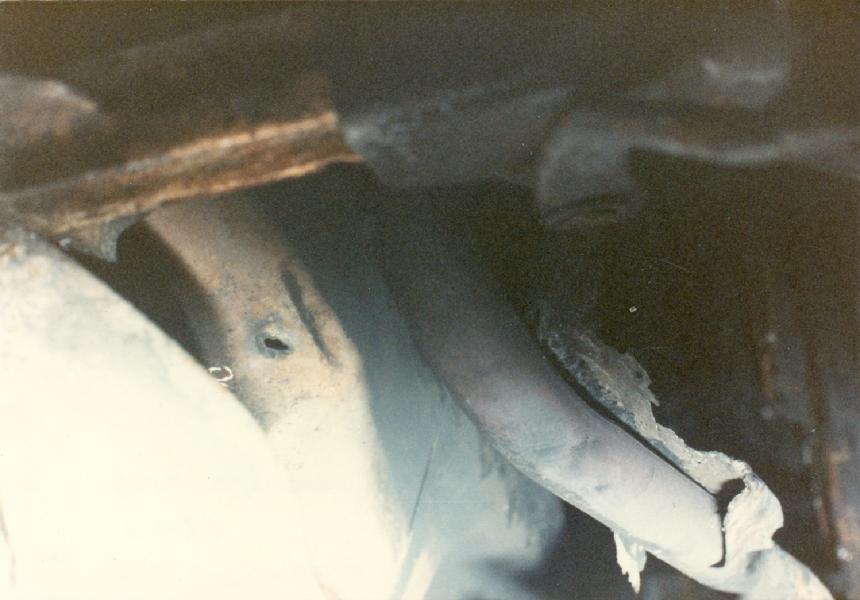 The Culprit - a hole burnt in the gasoline tank by the mechanic's torch
BP Convenience Store
3050 Whitney Avenue


Thursday, September 20, 2012

The Hamden Fire Department DID save the building at 3050 Whitney Avenue, which was opened in 1948 (see article below).

Yup, it's still around! Instead of an automobile "service station," as it was in 1987, it is now a convenience store that also sells BP (British Petroleum) gasoline. Compare the 2012 prices to those in 1987!

Posted 9/21/12




Today - 3050 Whitney Avenue - CLICK to enlarge
Bossoli's Flying-A Service
3050 Whitney Avenue


Thursday, October 28, 1948

Future Hamden Firefighter Opens Service Station in the Same Building

Thirty-nine years before Bassett's Getty Service Station went up in smoke, Bill and Charles Bossoli of Mount Carmel opened a Tydol Flying-A service station in the same building.

In a video interview conducted in November of last year, Bill Bossoli admitted that their business enterprise was very short-lived because too many of their customers were also their friends, some looking for freebies and "good deals," which the good Bossoli Bros. were loath to deny.

Two years later, Bill Bossoli decided that he wanted more stable employement, in a field which he had enjoyed as a volunteer firefighter since 1938. On September 11, 1950, Bill joined seven other recruits who were sworn in as brand new Hamden firefighters. Bill, who is now a very sharp 93 years of age, left the department in 1956.

Posted 9/21/12




CLICK to enlarge (Hamden Historical Society)
COPYRIGHT NOTICE

Unless otherwise cited or in the Public Domain,
all material on this website,
including all original photos, essays, articles and commentary published herein, are Copyright © 2009-2022 by the Hamden Fire Retirees Association, Inc., and may not be copied or republished in whole or in part without prior written permission of the Hamden Fire Retirees Association, Inc.

Official website of the Hamden Fire Retirees Association, Inc.
Website powered by Network Solutions®