27 Edwards Street
Saturday, February 9, 1985
Pregnant woman trapped on top floor rescued from certain death by firefighters
© 1985 - The New Haven Register - B&W newspaper photos by Kirby Kennedy and John Mongillo, Jr. (newspaper photo courtesy of Jim Moore)
Five firefighters were injured while fighting this two-alarm blaze in a three family house at 27 Edwards Street. Several occupants were rescued, including a 23-year old woman who was trapped on the third floor.
According to The Hamden Chronicle, "Firefighters Wayne Lowry, Carl Backus and James Moore reached the third floor through the front staircase of the building and broke down the locked door behind which the woman, Donna Williams, was trapped."
The extreme cold and icy conditions made this an especially trecherous job for the 35 firefighters who were on the scene. News accounts stated that near zero temperatures and very high winds brought the wind chill to minus 35 degrees.
Several inch and three-quarter lines were stretched up the front and rear stairways for an interior attack that kept flames from the unburnt portions of the building. A master stream from the ladder pipe of Truck 1, subbing for
the
out-of-service
Truck 2,
successfully protected an adjacent building only a few feet from the fire building. Thirteen residents were relocated through the Red Cross.
Joe Ciscone, a veteran of the East Haven Fire Department, was on the scene that day and took some amazing photos. We are very grateful to Joe for allowing our website to post his photos, which are copyrighted © 2009 by Joe Ciscone.
A total of 17 of Joe's photos of the Edwards Street fire, as well as 25 photos of the French-Italian fire
two weeks
earlier, are all available for purchase from Joe's website.
The Hamden Chronicle, February 13, 1985 - The injured firefighter in the above photo was John O'Dea.
©1985 The Register Publishing Co. - February 10, 1985 edition of The New Haven Register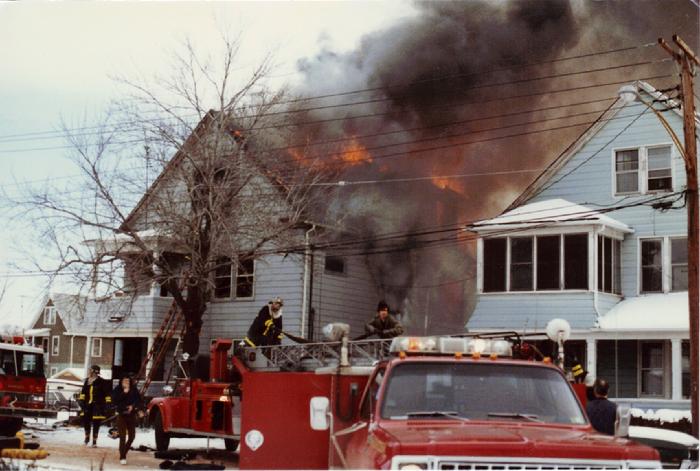 Photo by Joe Ciscone - (c) 2009 Joe Ciscone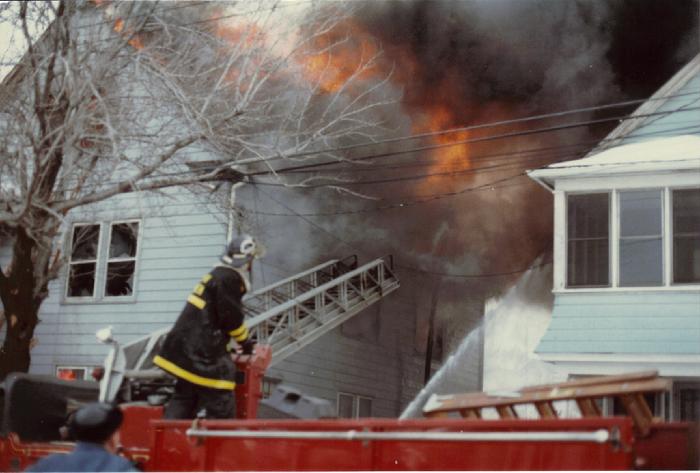 Photo by Joe Ciscone - (c) 2009 Joe Ciscone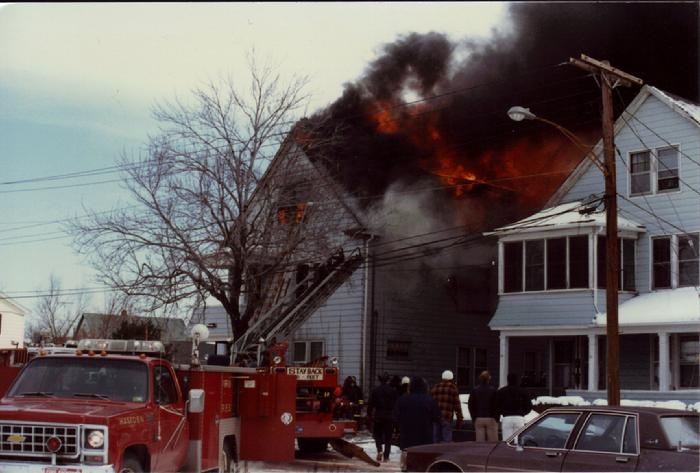 Photo by Joe Ciscone - (c) 2009 Joe Ciscone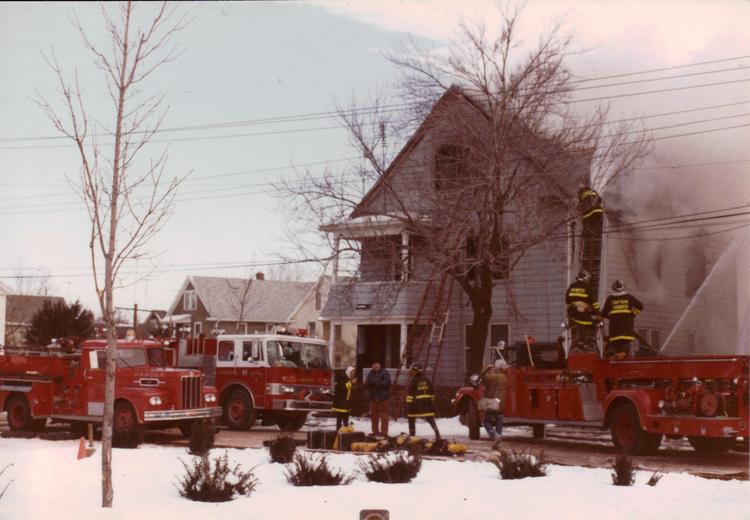 Photo by Joe Ciscone - (c) 2009 Joe Ciscone
The day of this fire Truck 2, Hamden's 1970 Maxim 100' aerial, was out of service for repairs. Truck 1, at right in the above photo, was Hamden's 28 year old Maxim "junior" aerial. It was actually still in service at Station 9, but ran out of Station 3 while Truck 1 was being repaired.
Later in 1985, the older truck would become a spare and the 1970 truck, re-designated "Truck 1," would become Hamden's sole active ladder company. Both trucks were removed from service by 1990.

Unless otherwise noted, all photos on this webpage are © Copyright 2009 by Joe Ciscone.
COPYRIGHT NOTICE

Unless otherwise cited or in the Public Domain,
all material on this website,
including all original photos, essays, articles and commentary published herein, are Copyright © 2009-2022 by the Hamden Fire Retirees Association, Inc., and may not be copied or republished in whole or in part without prior written permission of the Hamden Fire Retirees Association, Inc.

Official website of the Hamden Fire Retirees Association, Inc.
Website powered by Network Solutions®