Hamden Fire Retirees Association, Inc.
_____________________________________________________________________________________________________
_____
Chatham Colleagues Fete Mike Ambriscoe at Retirement Dinner
Surprise Visit from Hamden Colleagues
Chief & Mrs. Mike Ambriscoe
Mike Ambriscoe's more than twelve years' service as Chief of the Chatham Fire Department on Cape Cod was recognized by his fellow firefighters and
Chatham municipal leaders
last Friday evening at a gala
retirement testimonial dinner at the Wequassett Banquet Hall in East Harwich. Mike hit the mandatory retirement age
last month. Despite protestations from just about everyone,
including the Town Manager, Mike had to retire by the end of the month.
In a region where area fire departments have close working relartionships, many present and former area fire chiefs praised Mike's contributions
, not only to his own department,
but to the regional fire service. Under Mike's leadership, the Chatham Fire Department department was able to acquire new pumpers, the department's first aerial ladder truck and a brand new fire headquarters.
In remarks following the praise and mild roasting from his colleagues, Mike emphasized that his biggest priority was training. After praising his fellow department members and other municipal colleagues, Mike saved a final
tribute
for his wife, Evelyn, for her support
and encouragement for
his decision to apply for the chief's position at Chatham.
Mike Ambriscoe joined the Hamden Fire Department in April 1979. He was promoted to lieutenant in 1985, captain in
1988 and battalion chief in 1993. Retiring in 2004 following 25
years
of
service,
Mike was looking for a chief's position in a smaller
department in a municipality with a town manager. Chatham was looking for a fire chief with command level experience and impeccable credentials. It was a perfect fit.
The Hamden visitors, who were invited by the Chatham organizers,
were a total surprise to Mike. Several of them told Mike's Chatham colleagues they will now experience the same sense of loss that the HFD experienced when Mike retired from Hamden in 2004.
The retirement dinner for Chief Michael Ambriscoe was a fitting testament to an outstanding fire
department leader and colleague. Mike's fellow members at the HFRA wish him a long, happy and healthy retirement.
_____________________________________________________________________________________________________
_____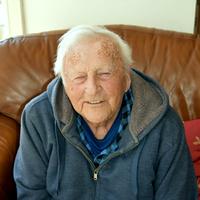 Ret. B/C Jack Laffin last Friday
A trip to
Mike Ambriscoe's retirement dinner on Cape Cod was the perfect opportunity to drive a few miles further to visit an old friend, Jack Laffin, at his daughter Kate's home in Provincetown.
Jack is amazing. Though he's been retired since the first day of 1990, Jack still looks and sounds a
lot like the Jack Laffin we all knew back in the day. He admits to having "slowed down a bit," but he is a very sharp 92 years of age.
Although his eyesight is not what it once
was,

Jack still keeps up with what goes on with
his
fellow retirees. D

aughter Kate shares the weekly website updates with him
each Friday.
Jack says that he thinks of his former colleagues all the time and wanted the website to
convey
his warmest regards to all the retired

and
active

members of the Hamden Fire Department.

Visiting with him again last Friday afternoon was a real treat. Thank
you, Jack!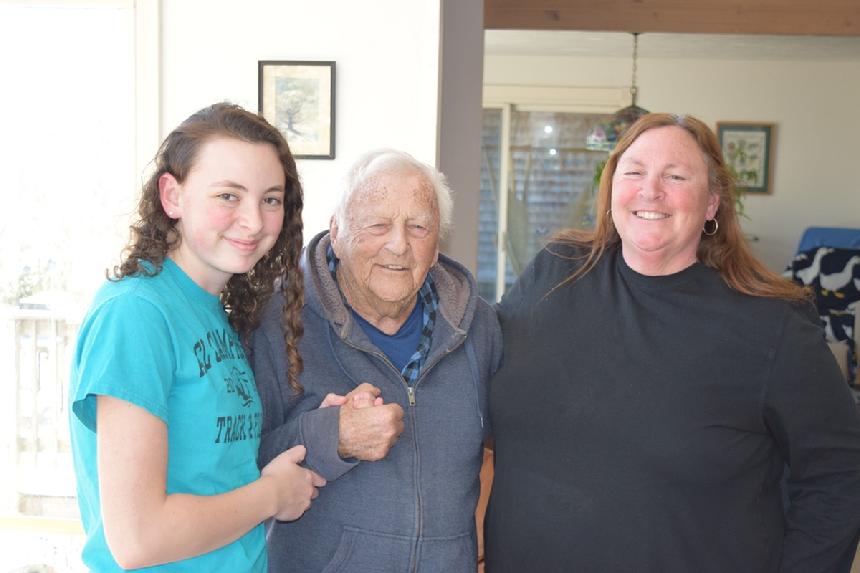 Jack is flanked by granddaughter Christine and daugher Kate Burns.
_____________________________________________________________________________________________________
_____
(The website thanks the Fire Chief's Office and Dep. Chief Gary Merwede for providing
all the information and photos that appear in the current news items below.)
Photos courtesy of HFD Local 2687
Auto-in-Lake Rescue Caps Crazy Week for HFD
This past week was one for the books, which included at least four structure fires. However, one of the more bizarre incidents occurred
Thursday April 20th, when Hamden Firefighter-Paramedics
Zach Criscuolo and William Heiney rescued the female motorist who drove her
late model van into Lake Whitney from Waite Street.
According to a WTNH News Channel 8 report last evening, Ff. Criscuolo was able to break the driver's window. Then he and Ff. Heiney were then able to
maneuver the driver into an ever-reducing air pocket
inside the car until she was safely extricated
from the vehicle.
Ironically, as the driver was being rescued, other Hamden fire personnel were dispatched to her nearby residence for a working structure fire.
Thursday's mishap was not the first time that a vehicle
went
for a dip in
Lake Whitney. The c. 1968 photo below shows numerous onlookers watching as a 1965 Chevy Impala was being pulled from the Mather Street side of the lake.
Smoking the Cause of Two Blazes
On Saturday April 15th and Tuesday April 18th,

the Hamden Fire Department responded to two fires that resulted

from discarded smoking materials. While the Hamden Fire Marshal's office has determined that both incidents were accidental and no injuries were reported, both residential properties sustained exterior damage.

On Sunday April 15th (photo inset left), the HFD responded to 20 Millpond Road for a reported structure fire. First responding crews were able to extinguish the fire before it extended to the interior of the home.

The National Fire Protection Association (NFPA) produced a smoking-material-related fires report in July 2013, which analyzed United States fire statistics, and the 90,000 smoking-material fires reported.

In 2011, an estimated 17,600 smoking-material home structure fires caused 490 civilian deaths (19% of all home structure fire deaths), 1,370 civilian injuries and $516 million in direct property damage. The other 72,400 smoking-material fires in 2011 were mostly outdoor fires (60,200 fires in trash, vegetation and other outdoor combustibles)

On Tuesday morning, April 18th,

at approximately 3 a.m. (photo inset, lower left), the HFD responded to 34 Second Street for a three-family home with the exterior on fire. Fortunately, this fire was also extinguished quickly and residents were evacuated without injury.

As a public service announcement and reminder, smoking materials should always be discarded into non-combustible containers designed specifically to help prevent accidental fire extension. Even when away from structures, discarded cigarettes can cause substantial damage to vegetation, wooded areas, and automobiles.

With the onset of Spring, brush fire season in New England has started. Special care should be taken with all outdoor fires. For questions relating to appropriate distances for fire pits, barbeques, or other set-backs, please contact your local Fire Marshal.

Hamden residents can call 203-407-3181 or 203-407-3182 for additional information.



_____________________________________________________________________________________________________
_____
Tuesday Fire in QU's Whitney Village Apartments
On Tuesday April 18, 2017 at 6:24 pm. the Hamden Fire Department was dispatched to a reported kitchen fire, in the Whitney Village Quinnipiac University student housing complex located at 3075 Whitney Avenue. The first notification call to Hamden Central Communications came from the Quinnipiac security office.
Engine 5 arrived on scene at 6:26 pm., and transmitted a report that students were already evacuating the building into the parking area. Light smoke was showing in the interior hallways and stairwell leading to the second-floor apartment. Captain Ed Evers reported a sprinkler activation in the kitchen of apartment six. Hamden firefighters confirmed the fire had been extinguished and checked for extension into the walls and attic area.
Salvage work to contain the damage from water run-off and ventilation of the building followed. Quinnipiac security and maintenance personnel were on scene to assist students. In all, three students in three residential apartments were displaced due to water damage. All were successfully relocated by the university. There were no injuries reported.
1981 Prefire plan for 3075 Whitney Avenue - CLICK to enlarge

Hamden Fire Marshal Brian Dolan determined the fire ignited as a student resident was cooking on the stove top. The student attempted to control the fire with a hand-held

extinguisher, but was unsuccessful. The resident in apartment six notified the building Resident Assistant (RA) of the fire, who in-turn notified QU security and fire department, and assisted with the safe evacuation of students.

Residential sprinkler systems, such as the one in place at this location, are an effective means of fire control and help to minimize structural damage. When combined with an audible and monitored alarm system, residents have timely notification of incipient fires and a greater chance of safe building evacuation. The Hamden Fire Marshal's office and the Quinnipiac Safety Department work together in an on-going basis to maintain and inspect these important systems.

For additional information or questions, please contact the Hamden Fire Marshal's office at 203-407-3182.



_____________________________________________________________________________________________________
_____
The Hamden Chronicle, April 17, 1952 (Hamden Historical Society)
65 years ago this past week, a four-year old girl was "rescued" from the rungs of a chair as she was watching TV.
There are two rather surprising revelations in this article. First, that the family had a television since 1947 - pretty good!
Second, if you read the article carefully, you'll note that legendary Hamden career firefighter Ralph Rosson, who was a fixture at the Whitneyville fire station on Putnam Avenue, was assisted by volunteer George Pleu, Jr. Very interesting, because this confirms there were active Whitneyville
Co. 3 volunteers as late as 1952.
Regarding the small article that followed, Thayer Jones was one of Hamden's volunteer assistant fire chiefs before the fire
department was reorganized
under
paid officers 75 years ago.
_____________________________________________________________________________________________________
_____
What was perhaps the worst fire department disaster in U.S. history until September 11, 2001
occurred 70 years ago this past week, when a horrendous explosion at Texas City, Texas
killed
hundreds and
wiped out an entire fire department.
Click on the photo below to enlarge
the
4-17-1947
front
page
of
the Bridgeport Telegram.
And also . . .
_____________________________________________________________________________________________________
_____
_____________________________________________________________________________________________________
_____
COPYRIGHT NOTICE

Unless otherwise cited or in the Public Domain,
all material on this website,
including all original photos, essays, articles and commentary published herein, are Copyright © 2009-2021 by the Hamden Fire Retirees Association, Inc., and may not be copied or republished in whole or in part without prior written permission of the Hamden Fire Retirees Association, Inc.

Official website of the Hamden Fire Retirees Association, Inc.
Website powered by Network Solutions®