Hamden Fire Retirees Association, Inc.
_____________________________________________________________________________________________________
_____
Winter HFRA Meeting Devoted to Understanding Benefits
January 15 - Helping

Hamden's guardian services retirees to better understand their retirement benefits was the focus of the

29th meeting of the Hamden Fire Retirees Association, held yesterday morning at Hamden's Elks Lodge.
The Executive Board of the HFRA also invited Hamden Police Department retirees to the
ninety-plus
minute Q&A session, conducted by representatives from Social Security, Anthem/Blue Cross and Hamden Personnel. About fifty retirees attended.
A complimentary continental breakfast was provided by the HGSRA. The staff of the Elks, headed by Brian Forsyth, did an outstanding job preparing the hall and refreshments for the meeting.
President Bob Mordecai opened the meeting with the Pledge of Allegiance and a moment of silence in memory of
HFRA brother retiree Sam Jones and Honorary member Carolyn Ferraro, who both passed since the fall meeting. He then called for a motion to dispense with all business until the April meeting, pay the usual bills and adjourn for the Q&A session to be conducted by our guests. Motion made, seconded and passed by acclamation.
Anthem representative Karen Mordecai explaining medical benefits
Folloowing adjournment Bob introduced Rob Rodriguez of the Social Security Administration, who presented a very informative powerpoint demonstration on Social Security and Medicare benefits. Many of Hamden's guardian services retirees were employeed in other jobs which qualify them for Social Security benefits, and many in attendance were nearing or over 65, when Medicare kicks in.
Following Rob Rodriguez's presentation, Karen Mordecai from Anthem and Kathy Walsh from Hamden Personnel fielded many questions regarding benefits and reimbursements.
The entire session was videotaped. We hope to compile the major points of the presentations into a short video for private viewing on YouTube. We'll keep you posted.
The April meeting will be an evening meeting on Tuesday, April 12th.
Kathy Wash (Personnel), Karen Mordecai and Scott Millea (Anthem), Pres. Bob Mordecai, and Rob Rodriguez (SSA)
_____________________________________________________________________________________________________
_____
Firefighter Craig Smart
Smart Named Elks Firefighter of the Year
The HFRA congratulates veteran Hamden Firefighter Craig Smart, the Hamden Elks 2016 Firefighter of the Year.

Firefighter Smart, a veteran of the United States Marine Corps, has been with the department since February 2000. He is a member of the Connecticut Urban Search and Rescue Team
and is presently the regular S
quad driver
at Station 4 on Platoon 4.
Smart will be honored at a dinner at the Elks Lodge on Saturday night January 30th, along with Police Officer of the Year Mark Gery and Citizen of the Year Mimsie Coleman.
Social Hour/Hors d'Ouevres - 6 to 7 p.m.
Awards Presentation to follow
Tickets are $20 per person until January 25th ($25 thereafter) and may be purchased through the Hamden Elks Lodge (203-248-2224), Phil Wilson (203-248-6800) or Carl Amento (203-444-1782).
All proceeds will benefit the Hamden Elks Charities.
_____________________________________________________________________________________________________
_____
Hamden's 1926 Maxim City Service Ladder Truck
Photo courtesy of Matt Lee (with a lot of help from Walt McCall and Chan Brainard)
The Hamden Fire Retirees Association thanks reknowned fire apparatus authors
Matthew Lee and Walter McCall for
this outstanding
pre-delivery photo of Hamden's 1926 Maxim ladder truck.
A few years back, Honorary HFRA Member Chan Brainard emailed the website after seeing the photo in Walt McCall's Illustrated Encyclopedia of American Fire Engine Manufacturers (2009). After re-reading
Chan's
email last week, we contacted Mr. McCall, who has contributed to the website in the past. He informed us that the photo actually belonged to fellow fire apparatus author Matt Lee, whom he then contacted on our behalf.
Within a few days Mr. Lee emailed the Association with this excellent 600 dpi scan of the Maxim ladder truck photo, with two hard copies also on the way to us
in the mail.
Only known photos till now
The ladder truck was delivered along with a 500 GPM Maxim pumper in March 1926, at a total cost of $12,500. Both pieces were assigned to Highwood Station No. 1 at Dixwell and Morse. The pumper replaced Highwood's 1918 Stewart chemical truck that was then reassigned to Mix District Volunteer Co. 7. The ladder truck replaced the Highwood company's hand-drawn ladder truck, built by the company in 1907-08.
Until now, the only known photos
of
the truck (at right) were taken in 1939
on the ramp of old Station 3
and
while
it was parked out on Putnam Avenue, perhaps the same day.
There are also
two news photos of
the truck following the 1941 trolley accident that totaled it.
You can't do any better than a factory photo and we are very pleased to have this one.
Thank you Matt, Walt and, of course, Chan for bringing it to our attention.
HFRA website visitors may be interested in these books by Matt Lee and Walt McCall. CLICK on the photo
below
to visit Amazon for more information on how to purchase these and other books by these gentlemen.
_____________________________________________________________________________________________________
_____
The website is celebrating today's
future HFD retirees with the HFRA "Posterity Project," a collection of
photographs
of every current active
member of the department, line and staff.
A new
photo will
be posted here each week.
Featured in this week's photo is
Station 2's crew of
Platoon 4.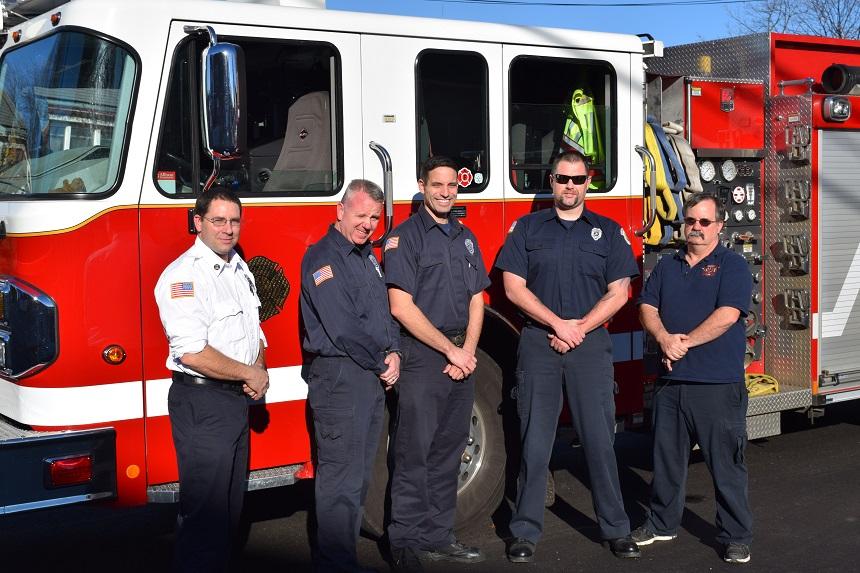 Photo taken on a balmy November 16, 2015
Left to right: Captain Paul Kobbe, Firefighter/Paramedeic Brian Gilson, Firefighter Zach Deutscher, Firefighter/Paramedic Shane Schaffer and Firefighter/Paramedic Don Paczowski
_____________________________________________________________________________________________________
_____
COPYRIGHT NOTICE

Unless otherwise cited or in the Public Domain,
all material on this website,
including all original photos, essays, articles and commentary published herein, are Copyright © 2009-2021 by the Hamden Fire Retirees Association, Inc., and may not be copied or republished in whole or in part without prior written permission of the Hamden Fire Retirees Association, Inc.

Official website of the Hamden Fire Retirees Association, Inc.
Website powered by Network Solutions®