Hamden Fire Retirees Association, Inc.
_____________________________________________________________________________________________________
_____
Ff. Harrington in 1951
Remembering Ken Harrington
Kenneth Harrington
was born in 1919. If you heard him speak more than two sentences you knew he was a native of Maine. After serving in Europe during WWII,
Ken came on the job in May 1949. In the 1950s, he served as the part-time Asst. Supt. of Alarms & Apparatus under
Supt. Clem Wetmore.

He was promoted to lieutenant in 1963 and captain in 1970. In 1974, he was
appointed
Deputy Chief Training Officer.
Although his official retirement date was March 31, 1981, Deputy Chief Ken Harrington's last day on the job
was 35 years ago tomorrow - October 31, 1980.
From the 1967 Hamden Town Report
Lieutenant Ken Harrington is flanked by Dep. Chief Training Officer Dan Hume and Chief V. Paul Leddy in this 1967
photo stressing fire prevention
with Hamden elementary school kids.
Harrington succeeded Hume as the department's training officer in 1974.
Ken hailed from Maine, his pronounced "down east" accent providing proof of his northern - "naw-thun" - New England roots.

John Mongillo, Jr. photo from the 1968 Hamden Town Report
Above, Firefighter Charlie Carlson, Lieut. Harrington and Firefighter Joe Shields take a well deserved
break to warm up during
a
bitter
cold January 1968 fire at Mt. Carmel's Fleming Company at Ives and Broadway.
At left, Firefighters Joe Yoga and Sam Jones join Lieut. Harrington at the kitchen table at old Station 3 in this 1969 slide taken by Ed Doiron.
This 3/4 view of Deputy Chief Harrington at Station 5 on his last day on the job, Friday, October 31, 1980, is the ONLY photo we have of him while he was the training officer. Anyone?




This photo of Ken was taken exactly 52 weeks later on Friday, October 30, 1981,

when he and retired D/C Joe Hromadka (hidden) were in the alarm room. Ff. Jimmy Koutsoplous is at right.



Ken Harrington passed away October 6, 1988. His widow, Rita, is an Honorary Member of the Hamden Fire Retirees Association. Those who knew Ken Harrington remember a really nice guy with great sense of humor, who really knew his stuff. He is missed.
_____________________________________________________________________________________________________
_____
This week 31 years ago . . .
L-R: Firefighters Brian Forsyth, Ernie Braun, Danny Murphy and Carmen Amarante.
On November 3, 1984, Station 9 became a four-man house when Truck 1 was transferred there from Station 5, where it had been stationed since 1976. The experiment lasted one year, after which Truck 1 became "Truck 2," becoming the department's spare aerial
truck until it was sold in 1989. We are informed that the truck was resold several years ago to a party in Virginia.
_____________________________________________________________________________________________________
_____
Alice Peck*

In 1969, Station 9 firefighters worked

by themselves -

but they weren't alone.



Little Red Schoolhouse in West Woods
Born in 1881,
Alice Peck was a
Hamden schoolteacher. For forty years
Miss Peck taught West Woods
children
in the
little red
one-room
schoolhouse, built in 1909
at the corner of Johnson and Still Hill Roads. She left the historic
schoolhouse when she retired from teaching in 1950
, but some believe that Miss Peck was still hanging around
the neighborhood
long after that.
Miss Peck's little red
schoolhouse closed in June 1954, when a
brand new elementary
school
named for her was built
up the street. But t
he old schoolhouse that Miss Peck had
taught in for so many years
did not remain vacant for very long.
In 1956,
the citizens of northwestern Hamden
organized the West Woods Volunteer Fire Association
and acquired
Miss Peck's former schoolhouse
for their quarters. They even added a new wing
in
1958 to house
their
fire apparatus.
In
1967 the town decided that
a
new fire station was needed
for West Woods
. In
early 1968,
the old schoolhouse-turned-firehouse was moved
to the rear of the property so that a
new fire station could be built
right where the old school
had stood for nearly sixty years.
| | |
| --- | --- |
| 1958 - Old schoolhouse converted into fire station | 1968 - New location - Bay converted to meeting room |
1968 - New Station 9 on same site as old schoolhouse
During the summer and fall of 1968,
the department's new Station 9 went up on the site of the old schoolhouse. Dedication ceremonies were held on Sunday, December 8, 1968. Firefighters Warren Blake, Gil Spencer and
Gene Maturo
were the first personnel assigned to the new station,
on
Platoons 1, 2 and 3, respectively.
The first couple of months were fairly uneventful for the three firefighters - boring, in fact.
So boring, that
in late December the dispatcher actually forgot to include Engine
9 on the running assignment
when sending apparatus to
a Todd Street house fire.
In February 1969 things began to get a lot more interesting.
At this point it should be made clear that Station 9 was kept locked at night, from 10 until 7 the next morning. A key to the building was hidden inside the Gamewell Box 158, mounted on the front of the building, so personnel could get back inside
on those very rare occasions when the engine was dispatched to a call during the night. But between 10 p.m. and 7 a.m., Station 9 was locked up
tight. Only the lone firefighter assigned there could let anyone in.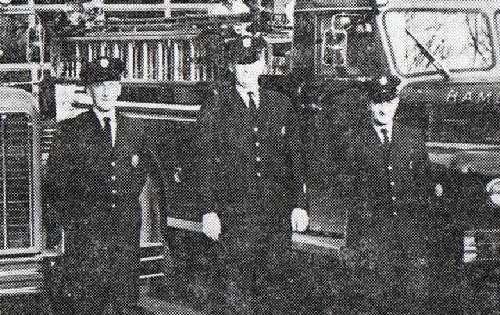 1968 - Firefighters Blake, Spencer and Maturo
On their respective shifts, Firefighters Blake, Maturo and Spencer
bunked in the officers' room, which is located right off the main hallway to the dayroom. Late on the first of his four nights in a row, Gil Spencer was
the only
person
in the fire station. Before hitting the sack, he made his usual
check of the fire station.
The building
was locked.
Spencer retired to his bunk.
Suddenly, Spencer was startled by sounds coming from outside the officers' room. T
he hallway
door opened and closed. What? This was followed by footsteps heading down toward
the dayroom.
The station was locked. But s
omeone else was in the building.
Spencer knew this had to be a gag.
A
nyone who has
ever
worked with other firefighters knows
that firehouse pranks sometimes get
pretty intense, from finding real dead snakes languishing in your bed to participating in actual pie fights a la Moe, Larry and Curly. True!
Spencer assumed that someone, another firefighter no doubt, had opened
Box 158 on the front of the building, took the key to the building, and
entered the station.
But Spencer found no one
else
in
the fire station that night. Whoever made those creepy noises in the hallway outside the officers' room also made a quick getaway
. But how? The station was locked!
The door and footstep n
oises continued
in the days and weeks that followed. Finally,
Spencer reluctantly approached Blake and Maturo
. Maybe they'll think I'm nuts, he thought, but he had to know if Blake and Maturo also heard the strange noises when they were on duty.
Indeed, Warren Blake and Gene Maturo also reported hearing
the same
eerie
late-night sounds of doors
opening and closing,
as well as the footsteps with nobody
there.
In time, the noises eventually stopped. But Spencer knows what he heard was
real. He is convinced that t
he slamming doors and footsteps that he, Blake and Maturo heard during the winter of 1969 were
manifestations of
the
ghost
of Miss
Alice
Peck,
haunting the very space
where she
performed
her life's work.
Were these three guys imagining things? Maybe. Maybe not. This week, while researching Alice Peck for this
article, the
author discovered
that Miss Peck had
passed away while visiting
in
Waterbury on Saturday, February 22, 1969. Her funeral was February 26th, when
Gil Spencer
first
heard Station 9's unseen visitor.
*Portrait of Alice Peck captured from Ancestry.com
_____________________________________________________________________________________________________
_____
The third of seven images from a catalog of Maxim fire
apparatus is
this "conventional cab" 75' aerial ladder truck,
quite similar in appearance to Hamden's 1958 "junior" aerial truck. Hamden's truck was an open-cab model, however.
Older retirees, who rode in this
ladder truck before its 1971 refurbishing,
may remember the wipers on the outside

and the inside

of the windshield.
When
Hamden's 1958 ladder truck
was repainted red in 1971, it also received a soft top to protect passengers
from most of the elements,
except
the bitter cold.
_____________________________________________________________________________________________________
_____
COPYRIGHT NOTICE

Unless otherwise cited or in the Public Domain,
all material on this website,
including all original photos, essays, articles and commentary published herein, are Copyright © 2009-2021 by the Hamden Fire Retirees Association, Inc., and may not be copied or republished in whole or in part without prior written permission of the Hamden Fire Retirees Association, Inc.

Official website of the Hamden Fire Retirees Association, Inc.
Website powered by Network Solutions®