Hamden Fire Retirees Association, Inc.
Weekly Updates Resume Friday, September 4th.
('Tis much better to have only one, two or three features once a week* than to have five or six twice a month.)
* That's what it's going to be.
_____________________________________________________________________________________________________
_____
Featured in this update . . .
_____________________________________________________________________________________________________
_____
Valley Flood Disaster of 1955
Most of us retirees born in the first half of the twentieth century probably remember the great flood 60 years ago last week that devasted many communities along the Housatonic and Naugatuck Rivers and
their
tributaries.
The effects of the flood rippled (no pun intended) through many communities like Hamden that remained relatively unscathed by the disaster, as shown in the newspaper photo below of a very swollen Clark's Pond.
Hamden PW sent a steam shovel to one of the affected communities to help clean up the mess.
Twenty-seven years later our town would experience significant flooding following a late spring Saturday deluge. But that 1982 Hamden disaster could not approach the devastation wrought by the Great Flood of '55.
Check out the links below for more information. The first link includes a five-part audio documentary that was recorded by New Haven's WAVZ radio station. Very interesting to hear!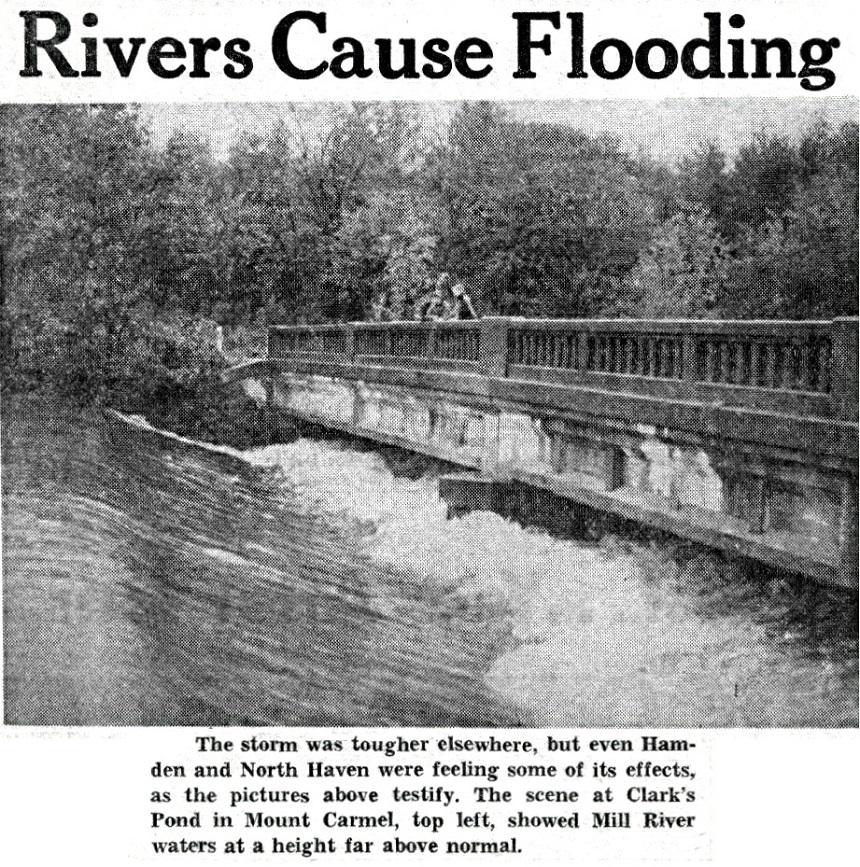 New Haven Evening Register, Saturday, August 20, 1955
The occupants in these two N. Riverside St. houses in Waterbury would perish just
minutes later when both houses were carried away by flood water. (CLICK to enlarge)
Only a few miles from Hamden on the northwestern side of Bethany, Naugatuck was among the hardest hit communities, with $40,000,000 in municipal damages in 1955 dollars ($356 million today) and $10.5 million in industrial losses.
Another valley town separated from our own by only one other town, Seymour sustained $6,355,000 in municipal losses (over $56 million today) and nearly $2 million in industrial losses that affected 17 firms.
During the height of the flood, telephone communication to and from Seymour was cut off. New Haven's radio station WAVZ broadcast an appeal to members of the Woodbridge Fire Department to stand by in their station in anticipation of being summoned to Seymour for mutual aid.
Notwithstanding all the flood devastation, and the fact that it has been sixty years, most of the buildings in the photo above still stand today in the heart of downtown Seymour. Many have become popular antique stores and malls for selling antiques.
_____________________________________________________________________________________________________
_____
From the November 9, 1964 minutes of the Hamden Board of Fire Commissioners: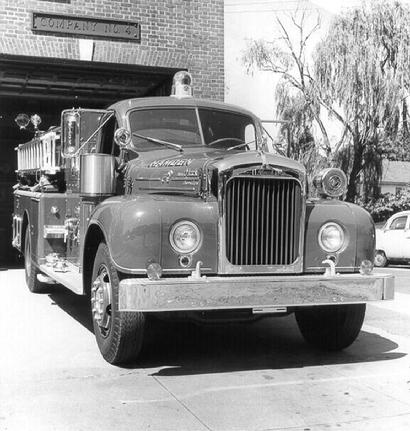 At Fire Headquarters - August 1965
At a cost of $21,940, Hamden's first non-Maxim fire apparatus in twenty-three years, and its last new full-size pumper built on a commercial chassis, was placed in service fifty years ago this week. According to department records, Hamden's new Mack, a Model ENF707C with a Waterous CMB-750 pump, was placed in service at Station 2 on August 18, 1965 as a temporary replacement for Engine 2, the 1959 Maxim cab-forward, which was "out for repairs." Once the '59 Maxim was repaired, the Mack was assigned to Headquarters as Engine 4.
"The Mack," as it was always referred to by HFD personnel, marked
the return of red
as the official color of Hamden's fire
apparatus following
the Board of Fire Commissioners' seven-
year flirtation with white. It served as Engine
4 until 1968, Engine 2 until 1974 and Engine 9 until 1985, with six months as Engine 5 in 1975-76.
When two
new Pierce Dash pumpers were placed in service in January 1985, the Mack was reassigned to Company 7, where it remained until it was sold in 2000. (See the story below for one of the Mack's last calls, in August 2000.)
Ironically, fifty years later, the 1965 Mack and the 1959 Maxim were both sold to different private buyers on the same day by the same party who originally purchased the trucks from the town many years ago.
| | | |
| --- | --- | --- |
| | Mack dedication plaque | |
Pump testing at Lake Whitney in late July 1965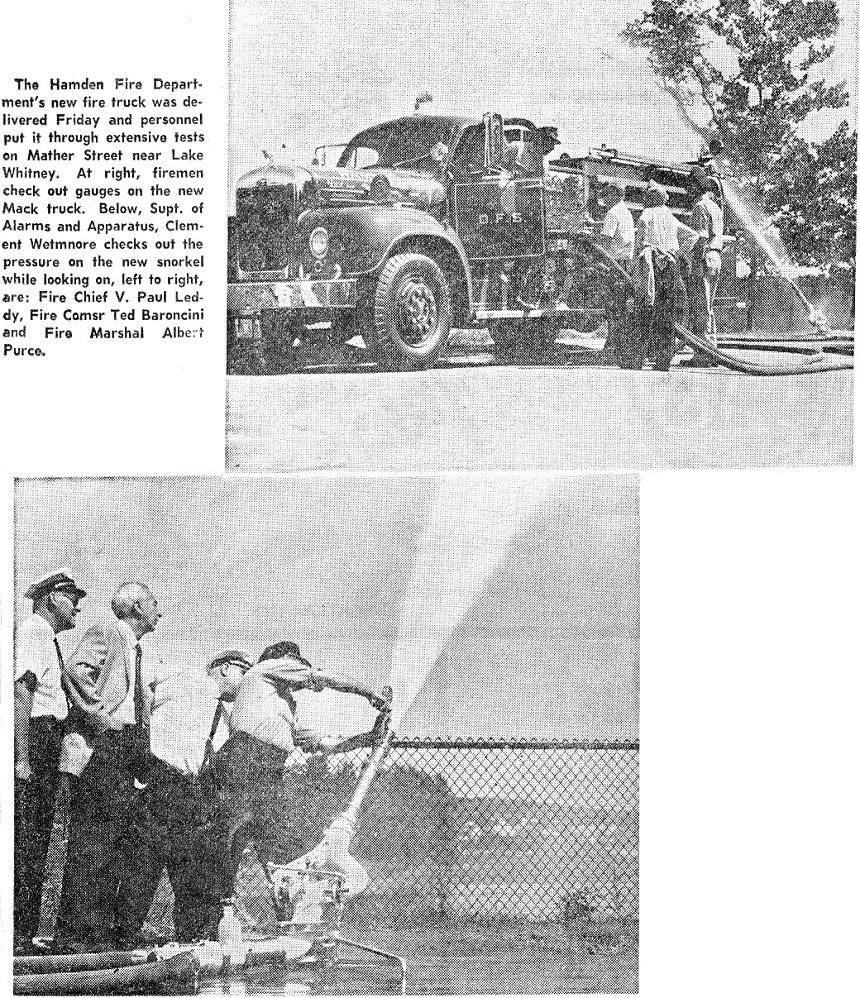 Courtesy of Chan Brainard
Cold Weather Attire for the Bulldog

Firefighter Johnny Hoffman was Platoon 2's driver of "the Mack." For those cold Connecticut winter months, Johnny's daughter knitted a nifty woolen "overcoat" for Engine 4's bulldog radiator mascot, seen here in a late-1960s photo that included Dep Chief Training Officer Danny Hume and Chief V. Paul Leddy.



_____________________________________________________________________________________________________
_____
106 Helen Street
Thursday, August 31, 2000
Originally posted 8/29/10
On one of his annual trips back east fifteen years ago, Chan Brainard took some action photos of a three-alarm fire at 106 Helen Street. 19 full-size photos are displayed below. This was one of the last responses to a working fire by the 1965 Mack 750. "The Mack" was placed in service 35 years earlier on August 18, 1965. It was Engine 7 at the time of these photos.
Staff car in the foreground may be Car 4 (Training Officer), a 1988 GMC Jimmy with a storied past.
Haz-Mat unit on the left is the former Rescue 1, on a 1988 GMC chassis.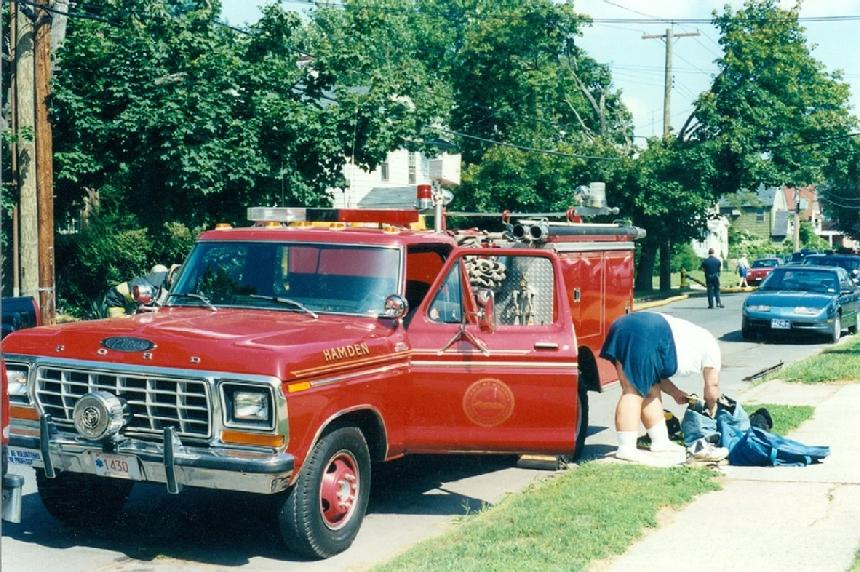 Engine 8 - 1978 Pierce 250 GPM Mini-Pumper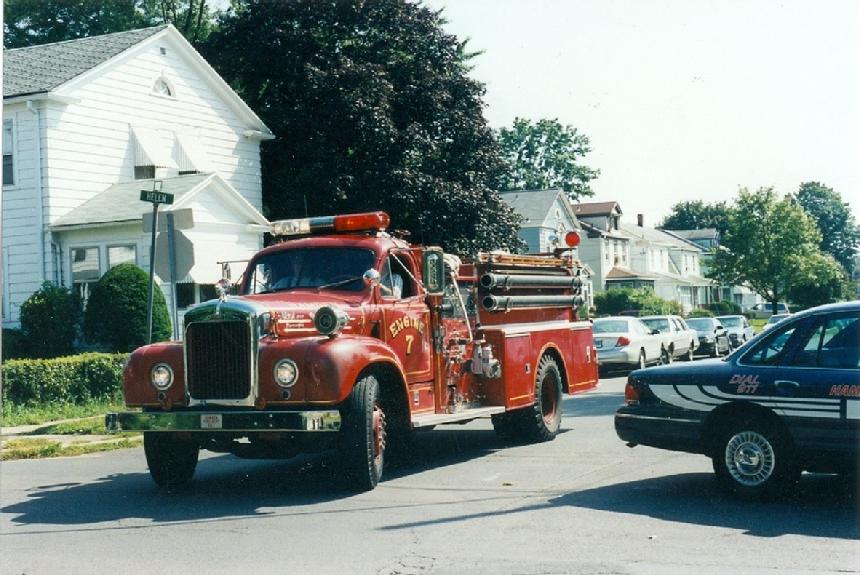 Engine 7 arriving on third alarm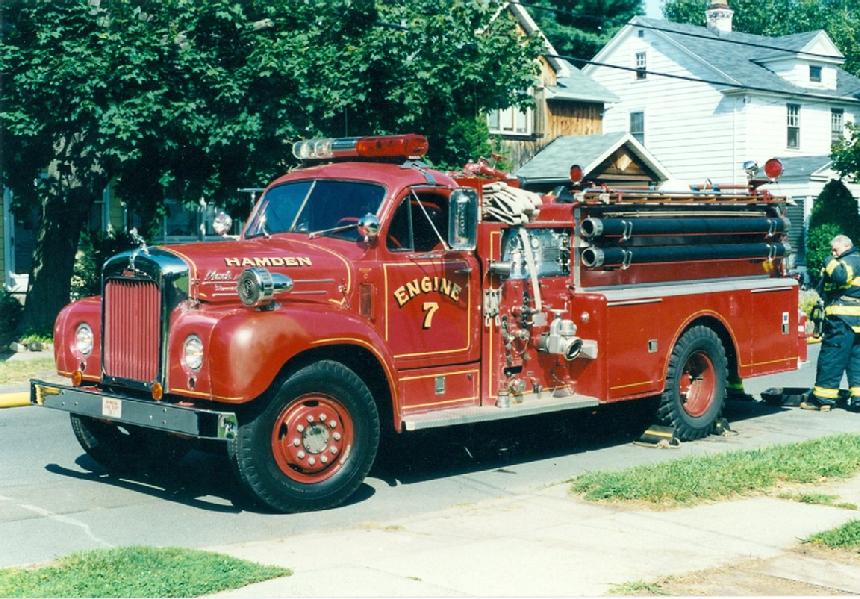 Engine 7 - 1965 Mack 750 GPM pumper - at 35 years, it was the longest serving first line piece in the history of the Hamden Fire Department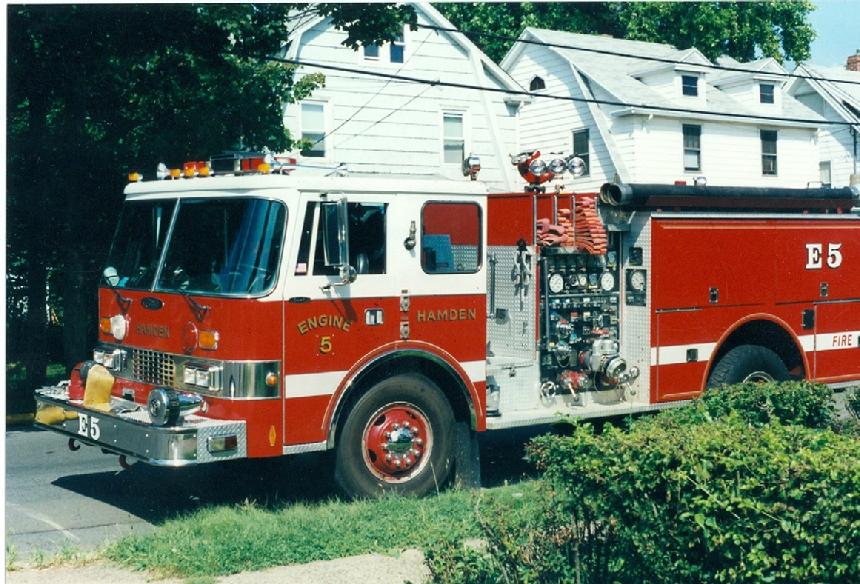 Engine 5 was one of two 1984 Pierce Dash 1000 GPM pumpers delivered in December 1984.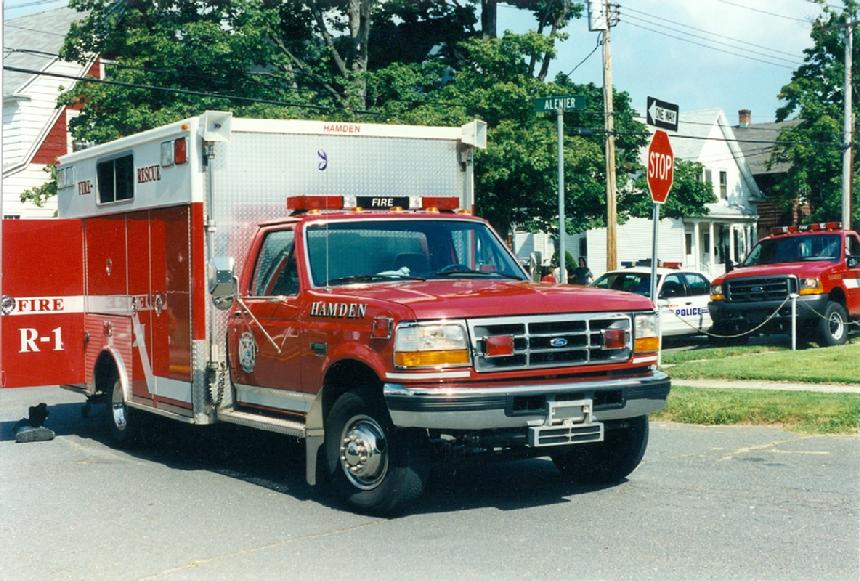 Rescue 1 - a 1998 Ford 3-D
_____________________________________________________________________________________________________
_____
Department Fights Nasty Brush Fire on August 14th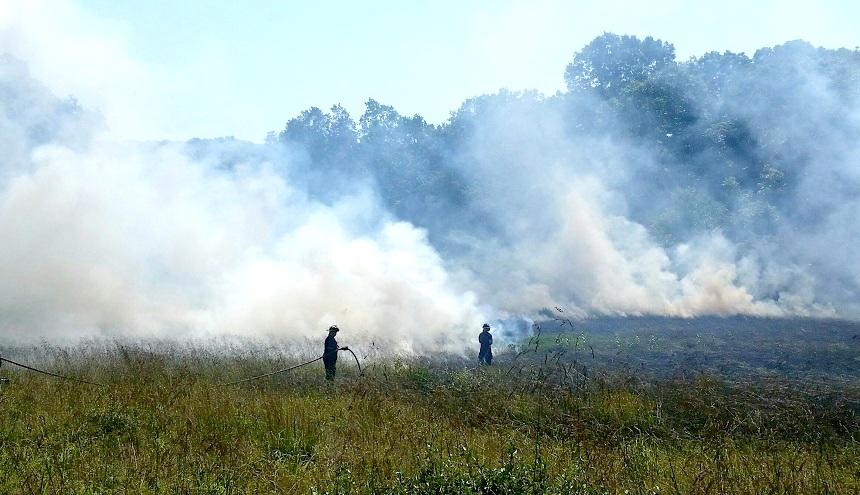 Photo courtesy of Dep. Chief Gary Merwede
From the Office of the Fire Chief:
On Friday morning, August 14th, between 10:02 and 10:05, Hamden Central Communications received multiple 911 calls describing heavy smoke rising in the wooded area West of Hill Street and North of Dunbar Hill Road. HFD Squad 1 was dispatched to locate the source of the smoke.
The fire was located on the western edge of the pond below West Rock Ridge in a
n area of approximately 5-7 acres.
Working with t

he Department of Energy and Environmental Protection [DEEP], department personnel
determined the best access to the burning area was with brush truck pumpers from the Mountain Road access point to the west of the Farm Brook Reservoir.
Six career and four volunteer firefighters worked alongside the DEEP rangers and extinguished the burning field, underbrush and root systems. The fire was declared under control at 11:04 a.m.
Hamden fire marshals were called to the scene to assist the State in investigating the origin and cause of the fire. This area is frequented by day hikers, several of whom stopped to watch the operation. Anyone who may have information about this fire is encouraged to contact Fire Marshal Brian Dolan at 203-407-3182.
_____________________________________________________________________________________________________
_____
Hamden Firefighters Donate School Supplies to Kids in Need!
CLICK

on the photo to read the Hamden Patch article by Vincent Salzo.
_____________________________________________________________________________________________________
_____
The website thanks former Hamdenite, Mr. David Ormstedt of Bloomington, Indiana, for his recent email that provided more information about the 1950 lightning strike at the West Shepard Avenue residence of Mr. and Mrs. Leonard A. Dorman that killed three and injured several others. Twenty-six six years earlier, the Dorman home was the scene of a significant event in the history of one of Hamden's major volunteer fire companies.
The July 3, 2015 Update includes a story about lightning killing three people and injuring seven others at a July 4, 1950 picnic at the home of Mr. and Mrs. Leonard Dorman on West Shepard Ave. It is interesting, perhaps ironic to note that the first organizational meeting of the Mix District Volunteer Fire Company was held at that same Dorman home in 1924. There is an article about that on your web site here

http://www.hamdenfireretirees.org/firestations/7mixdistrict.html

Among others at the birth of Mix District was Clement Wetmore, who later served as HFD Supt. of Alarms and Apparatus for many years.
One of the people injured by the lightning strike is identified in the NH Register article as Leonard Dorman, Jr. (although he really isn't a "Jr." as he has a different middle name). At the time the younger Leonard was himself a Mix District volunteer, having joined in 1945 at age 16. He recovered from the lightning strike and remained an active volunteer for many years. Having married Lenny's oldest daughter Sharon, I remember the sound of the Plectron being ever present.
Lenny still lives on West Shepard in the house he built across the street from his parents.
In a follow up email,
David
noted that his dad, Capt. Henry Ormstedt, had served on the the Hamden Police Department from 1945 until 1972.
David Ormstedt's
clarifications and further insights regarding the Dorman tragedy are sincerely appreciated and have been included in the archived update of July 3rd.
_____________________________________________________________________________________________________
_____
COPYRIGHT NOTICE

Unless otherwise cited or in the Public Domain,
all material on this website,
including all original photos, essays, articles and commentary published herein, are Copyright © 2009-2021 by the Hamden Fire Retirees Association, Inc., and may not be copied or republished in whole or in part without prior written permission of the Hamden Fire Retirees Association, Inc.

Official website of the Hamden Fire Retirees Association, Inc.
Website powered by Network Solutions®