Hamden Fire Retirees Association, Inc.
_____________________________________________________________________________________________________
_____
_____________________________________________________________________________________________________
_____
Honorary Membership for Shirley Mangler
At the Association's recent summer meeting, HFRA President Bob Mordecai presented a certificate of membership to Shirley Mangler, who was unanimously voted to Honorary Memership at the April meeting. Shirley, who is the wife of Hamden's longest continuously serving career member, Firefighter Harold Mangler (Ret.), has contributed to the Association's archives hundreds of
her photographs taken at scores of
Hamden Fire Department activities since the 1980s.
A Sampler of Shirley's Photographic Contributions
This fire devastated a significant portion of the industrial park that early spring
Saturday morning. Shirley was right there to capture some amazing action.
Shirley's classic group photo following interior fire training in a derelict house. "Let 'er rip!"
Only days after the department faced its worst challenge in decades, the Davenport Residence fire, Shirley captured this image of the department contingent
marching to the praise
of Hamden citizens as it passed the reviewing stand on Dixwell Avenue.
We have many of Shirley's photos of
Hamden Memorial Day Parades.
Capt. Bob Viglione and Firefighters Gary Couture and Dave McDermott posed with Shirley in front of Station 3 following a Tower 1 training exercise in the summer of 1993. The photo was probably snapped by Harold - but it was Shirley's camera!
Washdown
Whitney and Day Spring
December 1968
1966 - Whitney and Day Spring (Photo by Irving R. Saslow)
Lt. William Hines and the crew of Engine 4 use two 1-1/2" lines to dissipate a fuel oil spill at the corner of Whitney and Day Spring Avenues in Centerville. This was standard operating procedure for all fire departments when dealing with almost all types of spills on roadways, especially following motor vehicle accidents. L-R: Ff. Paul Reutenauer, Ff. Milner Benham, Lt. Hines, and Ff. Jim Moore.
When this photo was taken in late 1968, the brick building in the background was an architectural hardware company. It later housed Shopper's World. The building was razed a few years ago and a Dunkin' Donuts shop is presently located on the site. This photo was taken by Irving R. Saslow, who served on the Board of Fire Commissioners numerous times from the 1960s to the 2000s.
Originally posted 7/19
/10
1962 - Chief Leddy Receives His First New Car
It was a Rambler. But, hey, it was new!
The Board of Fire Commissioners was still calling the shots, and white was still their choice of color for all apparatus.
That all would change with a town charter revision that took effect January 1, 1966.
March 5, 1962
The year after the Deputy Chiefs (shift commanders) received a brand new 1961 Ford sedan, Chief V. Paul Leddy was issued a brand new white 1962 Rambler sedan, purchased from Goodman Motors for $2,971.50. The new car replaced
the 1956 Pontiac that was originally issued to former chief, Raymond C. Spencer. This was when the department was still in its short-lived "white" period, which lasted from 1958 until 1965. Department records indicate that this car was junked by 1971.

Pictured (L-R) are Chief Leddy, Fire Commission President Elton Wetmore, and Stewart Goodman, of Goodman Motors in Hamden, which continued to sell American Motors autos until the 1970s.
Originally posted 7/22/11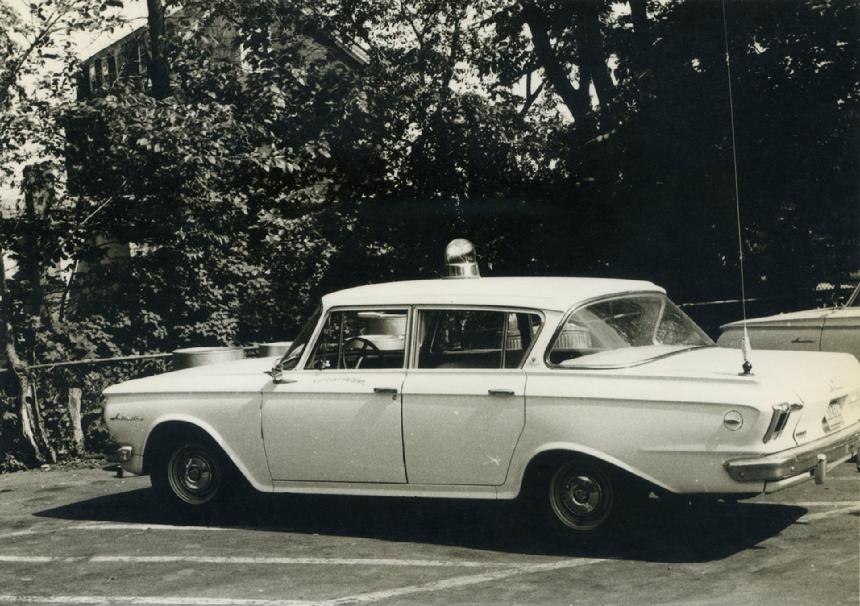 Car 40 - 1962 Rambler
Hamden's 1978 Pierce "Fast Attack" Minipumper
A New Haven Register reporter covered a Platoon 1 training session conducted by Dep. Chief Training Officer Ken Harrington to acquaint department personnel with Hamden's newest apparatus, a 1978 Pierce "Fast Attack" minipumper on a Ford chassis.
After a two-week familiarization on all four platoons, the minipumper went in service as Engine 5, replacing the
1954 Maxim pumper that had been Engine 5 since the early 1970s.
The 1978 minipumper subsequently served as Engine 8 and then Engine 15. It was only recently removed from service and is awaiting disposal through the bidding process.
New Haven Register, Friday, July 21, 1978 (Courtesy of Chan Brainard)
1978 - Right after it went in service as Engine 5. (Edward Doiron, Sr. photo)
1980 - Engine 5 - At the "Y" Camp. Car 55 (later "Brush 5"), a 1960 GMC 3/4 ton pickup, right behind (Ed Doiron, Jr. photo)
1991 - Assigned as Engine 8 (Chan Brainard photo)
2011 - Assigned as Engine 15 (HFRA photo)
Honorary Member Laura Ann (Wetmore) Wolf
We regret to report the passing on July 5, 2015 of Hamden Fire Retirees' Association honorary member and Hamden Guardian Services Retirees Association member Laura Ann (Wetmore) Wolf, 84, widow of our brother Hamden firefighter, the late Gerald Wolf (1927-2013), and sister of former Hamden fire chief and brother HFRA and HGSRA member, Paul Wetmore, Sr.
Funeral service was Thursday morning, July 9th, at the funeral home, followed by burial in Mt. Carmel Cemetery.
For complete details or to offer a condolence to the family please go to the Beecher and Bennett webpage for Laura's obituary (link below):
Our thoughts and prayers are with Wolf and Wetmore families.
Stan Brown photo courtesy of Chan Brainard
Gladys Wetmore Brown was a member of Mix District Volunteer Company 7's Ladies Auxiliary back in 1966, when her husband, Hamden career firefighter Stan Brown, snapped this photo
at a parade in the Town of Middlebury. Gladys (on the right) was helping to carry Company 7's ladies' banner.
Company 7's 1918 Brockway chemical truck, still roadworthy today, can be seen in the background right behind the gals. It was being driven by Gladys' dad, Clem Wetmore, who was the department's Supt. of Alarms and Apparatus at the time of this photo.
_____________________________________________________________________________________________________
_____
LITERACY VOLUNTEERS NEEDED
Experience Corps needs people age 50+ to tutor literacy three times a week with young students in New Haven, Hamden & East Haven elementary schools or at an after-school program. Training and a small stipend are provided. Volunteers also encourage reading at fun community events to. You have wisdom to share. We
have children who need it.
For more information, call Sheila at 203-752-3059 x2900 or email volunteer@aoascc.org
Experience Corps - Greater New Haven is a program of the Agency on Aging of South Central and a proud member of the National Service Network (AmeriCorps). For more information, please visit www.aoascc.org/experiencecorps
_____________________________________________________________________________________________________
_____
COPYRIGHT NOTICE

Unless otherwise cited or in the Public Domain,
all material on this website,
including all original photos, essays, articles and commentary published herein, are Copyright © 2009-2021 by the Hamden Fire Retirees Association, Inc., and may not be copied or republished in whole or in part without prior written permission of the Hamden Fire Retirees Association, Inc.

Official website of the Hamden Fire Retirees Association, Inc.
Website powered by Network Solutions®