Hamden Fire Retirees Association, Inc.
_____________________________________________________________________________________________________
_____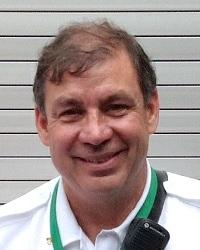 Batt. Chief DeBurra
Battalion Chief Sam DeBurra Has Retired
The department lost another b
attalion chief to retirement at 0800 hours on June 30th, when 21-year department veteran
Sam DeBurra finished his last shift. An informal reception for Sam at Station 3 took place the previous afternoon. The entire platoon and other friends of his stopped by to wish him all the very best. Sam's departure came just two months after B/C Don LaBanca retired on April 30th.
Following his recruit training, Sam reported to Station 3 on October 18, 1994 and was assigned to Engine 3. He was promoted to lieutenant in 2002, captain in 2006, and battalion chief in 2010 following the retirement of Platoon 4 B/C Dave Strawhince. Sam is also certified in Fire Investigation and Code Enforcement.
Deputy Chief Gary Merwede informed the website that Sam was instrumental in planning and implementing the mobile data terminal (MDT) program, "a tremendous upgrade in information technology available directly to responding units field." He added, "Sam's command presence will be missed on the fireground and in the firehouse." Prior to his 1994 appointment to the HFD, Sam had served as Chief of the Madison Fire Department.
The members of the Hamden Fire Retirees Association congratulate Battalion Chief Sam DeBurra on his retirement and wish him many happy and healthy years ahead.
| | |
| --- | --- |
| Lt. Daryl Osiecki, Ff. Paul Anderson, Capt. Ron Desroches, B/C DeBurra, Ff. Mike Dowling, Lt. Richard Lennon, Ff. Dave Beaton and Ff. Doug O'Rourke (Photo courtesy of Dave Beaton) | Dep. Chief Gary Merwede and Batt. Chief Sam DeBurra on Sam's last day on the job. |
1995 Special Olympics World Games
From July 1 to July 10, 1995 the Town of Hamden hosted three of the several sports venues for the 1995 Special Olympics World Games:

Bowling

, at the Hamden Bowling Lanes;

Baskeball

, at the Quinnipiac College Gym; and the

Bicycle Race

, along Whitney Avenue from New Haven to Cheshire.
For over a year the Hamden Fire Department, with the assistance of several other area fire departments, spent hundreds of hours preparing for the enormous ten-day increase in the town's population.
Hamden Safety Coordinator for the games was Batt. Chief Tom Doherty, assisted by Batt. Chief Mike Ambriscoe. They
headed the Game's Safety Committee for all Hamden venues. Capt. Dave Johnson and Capt. Bob Viglione coordinated Fire Safety operations, Capt. Paul Wetmore, Jr. organized Emergency Medical Services, and Capt. Don LaBanca was responsible for Logistical operations.
The 1995 Special Olympics World Games were the single largest athletic event in the world that year. Batt. Chief Doherty began organizing department members toward this effort early in 1994. From the beginniung of the planning stages until the last day, virtually all Hamden career and volunteer personnel contributed their time and effort to make the department's safety mission a success. Fire personnel from North Haven, Bethany, Cheshire, and Madison offered a tremendous amount of assistance as well.
Originally posted 7/1/2010
Horrible Lightning Tragedy on West Shepard Avenue
On the Fourth of July 1950, a freak lightning strike killed three and injured several others outside the 65 West Shepard
Avenue home of Mr. and Mrs. Leonard A. Dorman, where the organizational meeting of the Mix District Volunteer Fire Co. No. 7
had taken place
in November 1924.
The occasion was a
gathering of family members and friends to celebrate the birthday of the
Dormans' son, Leonard
E. Dorman, 20, who was among the injured. The younger Dorman had
been a member of Mix District Co 7 since
1945. Also among the injured was the late Frank Warner, then 26, also a
member of Co. 7
. He
reported that there was no indication of storm activity in the area. The lightning strike was totally unexpected.
The Hamden Fire Department responded under the command of Capt. Everett Doherty. According to details provided in the Hamden Chronicle article below, a chain hanging from a nearby tree conducted the fatal electrical charge.
This was one of Hamden's earliest mass casualty incidents on record. Police, fire and ambulance personnel worked valiantly to render assistance to the survivors. Rev. Joseph Peters of the Mt. Carmel Congregational Church also responded to render spiritual support to the surviving family members. Three months later, Rev. Peters would be appointed with Fr. Bernard Miller, assistant pastor at
St. Rita's
Church, as one of the first two chaplains of the Hamden Fire Department.
In the years that followed, this tragic incident was often cited in local warnings for
people to avoid
standing beneath trees during electrical storms.
The Hamden Chronicle, July 6, 1950 (Courtesy of the Hamden Historical Society)
Capt. Everett Doherty started his career on the Hamden Fire Department in late 1927. He retired in 1966 at the rank of deputy chief.
Lt. Paul Leddy was appointed in November 1941. He was promoted to lieutenant in 1949, captain in 1951 and named battalion chief in
1954. In November 1960, B/C
Leddy was appointed Chief of the Department, a position in which he served until his 1984 retirement.
Lt. James Strain was appointed in 1942, became a lieutenant in 1949, captain in 1954 and deputy chief in 1961. He retired in 1973.
Firefighter Francis "Chalkie" Leddy was appointed in 1946, was promoted to lieutenant in 1956, captain in 1964 and deputy chief in 1970. He retired in 1986.
Firefighter Fred Fletcher was appointed in 1946 and retired in 1980.
Firefighter Dan
O'Connell joined the department in 1948 and was promoted to lieutenant in 1963. He retired in 1986.
Co. 5 volunteer firefighter Joe Rahl joined the department as a career member in 1956. Joe served 33 more years before his retirement in late 1989. Joe, who turns 91 this year,
is the only surviving member of the crew mentioned in the 1950 article. He is currently a
member of the Hamden Fire Retirees Association.
_____________________________________________________________________________________________________
_____
_____________________________________________________________________________________________________
_____
The members of the Hamden Fire Retirees Association thank former Hamden resident, Mr. Barry Edmonds of East Hampton, for donating to our archives
Humphrey Hook & Ladder
Fire Association badge #69 that had
been
issued
to his great-grandfather, Frederick William Edmonds. From examination of old Humphrey photos, the badge appears to be at least 100 years old.
Mr. Edmonds' generous gift completes a set of badges from each of
Hamden's Volunteer Companies 1 through 5.
The Association still hopes to acquire at least one badge for Companies 6, 7, 8 and 9.
An "Atta Boy!" from Hamden Politicos of the Day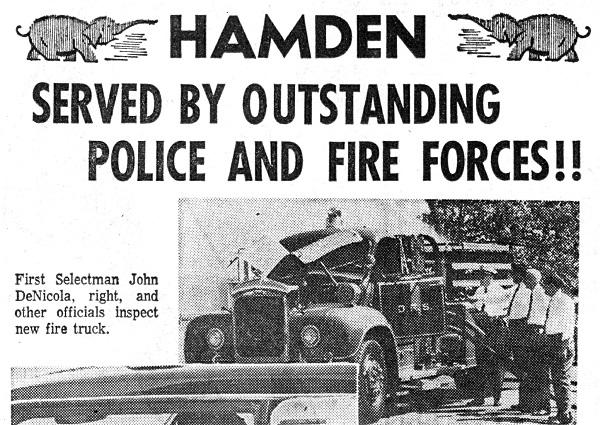 Courier-Register Saturday Special, July 10, 1965 (Courtesy of Chan Brainard)
July 1, 1975 was a busy day for the HFD
July 1, 1975 marked the signing of a three-year contract between the town and the Hamden Paid Firemen's Sick Benefit Association, the bargaining unit for Hamden's 112 non-management fire personnel. The members had been without a contract for two years.
Members received 5% raises for each of the 1973-74 and 1974-75 fiscal
years. For the 1975-76 fiscal year, along with a 1% raise the town agreed to pay the future pension contributions for all members, a promise that frequently
went unfulfilled, leading to a pension fund crisis that has been addressed only recently.
On the same date, Paul Petrillo and Richie "Rambo" Maybury were appointed to fill
vacancies resulting from the 1973 retirements of Firefighter Mario "Bucky" Serafino and Dep. Chief Dan Hume. The resignation of five-year veteran Ff. Steve Hitchcock a few days later resulted in the July 8th appointment of Dave Johnson.
The three recuits started work on July 21st.
Branford Co. 8 took delivery of this nice 750 GPM Maxim open cab pumper in 1953. The Civil Defense logo on the cab doors suggest that, like Hamden's Maxim pumper purchased the following year, the federal government footed half the purchase price.
In an effort to obtain more information on this pumper - specifically, to see if it was still around - the website found this 2012 photo
of the pumper (below) on Branford F.D.'s FaceBook page, when it was nearly 60 years old. Sadly, as far as we know, all three of Hamden's early 1950s 750 GPM Maxims were junked years ago. Thank you, Branford, for keeping yours - and in such great condition.
_____________________________________________________________________________________________________
_____
Honorary Member Laura Ann (Wetmore) Wolf
We regret to report the passing on July 5, 2015 of Hamden Fire Retirees' Association honorary member and Hamden Guardian Services Retirees Association member Laura Ann (Wetmore) Wolf, 84, widow of our brother Hamden firefighter, the late Gerald Wolf (1927-2013), and sister of former Hamden fire chief and brother HFRA and HGSRA member, Paul Wetmore, Sr.
Friends may visit with Laura's family on Wednesday evening, July 8th, from 5 p.m. to 8 p.m. at Beecher and Bennett funeral home, 2300 Whitney Avenue, Hamden.
Funeral service will be celebrated at 10 a.m. on Thursday morning, July 9th, at the funeral home, followed by burial in Mt. Carmel Cemetery (Whitney, north of Tuttle Avenue).
For complete details or to offer a condolence to the family please go to the Beecher and Bennett webpage for Laura's obituary (link below):
Our thoughts and prayers are with Wolf and Wetmore families.
_____________________________________________________________________________________________________
_____
COPYRIGHT NOTICE

Unless otherwise cited or in the Public Domain,
all material on this website,
including all original photos, essays, articles and commentary published herein, are Copyright © 2009-2021 by the Hamden Fire Retirees Association, Inc., and may not be copied or republished in whole or in part without prior written permission of the Hamden Fire Retirees Association, Inc.

Official website of the Hamden Fire Retirees Association, Inc.
Website powered by Network Solutions®