Hamden Fire Retirees Association, Inc.
_____________________________________________________________________________________________________
_____
Hamden's first motorized pumping engine p
hotographed at Whitneyville firehouse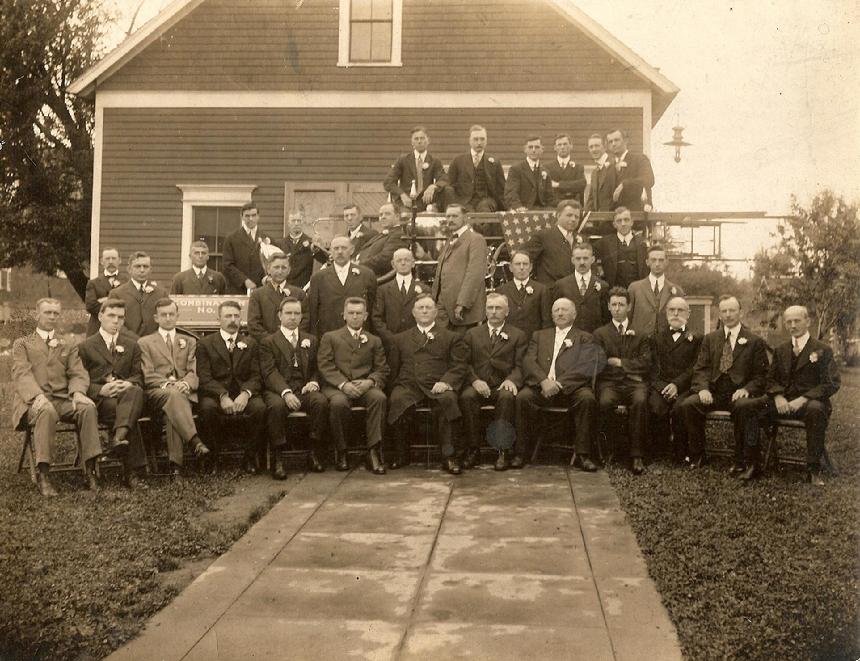 This photo of Co. 3 with their new Maxim engine was also printed on a postcard that was found in Joe Taylor's outstanding collection of old Hamden photographs. The caption on the postcard stated that the photo was taken on June 20, 1915.
June 20, 1915 - Members of the Whitneyville Volunteer Fire Association pose with their brand new 1915 Maxim combination pumping and chemical truck in front of their Putnam Avenue quarters.

The original wood-frame building was donated by the Winchester Repeating Arms Co. and subsequently moved to the site at 39 Putnam Avenue. The original building was torn down b

etween November 1926 and May 1927,
and a new two-bay brick building was constructed in its place. During the six months the new fire station was under construction, the temporary site of a Hamden fire station was actually a private home.

From the Station 3 Log Book (1926-1947): "We moved our [1910 Locomobile and 1915 Maxim] from the old Fire house to H.F. Hall's garage on Thursday Nov. 18, 1926. Was moved back to New quaters (sic) Saturday May 15, 1927." 116 Putnam Avenue was H.F. Hall's address, located between Clifford Street and Lilac Avenue. Mr. Hall was a prominent member of Co. 3 and part owner of Brock-Hall dairy.

The new two-bay brick fire station was officially dedicated on May 28, 1927. It was acquired by the Town of Hamden from the Whitneyville volunteers in 1951 and continued to serve as Station 3 until September of 1970, when new Station 3 was opened at the corner of Ridge Road and Hartford Turnpike.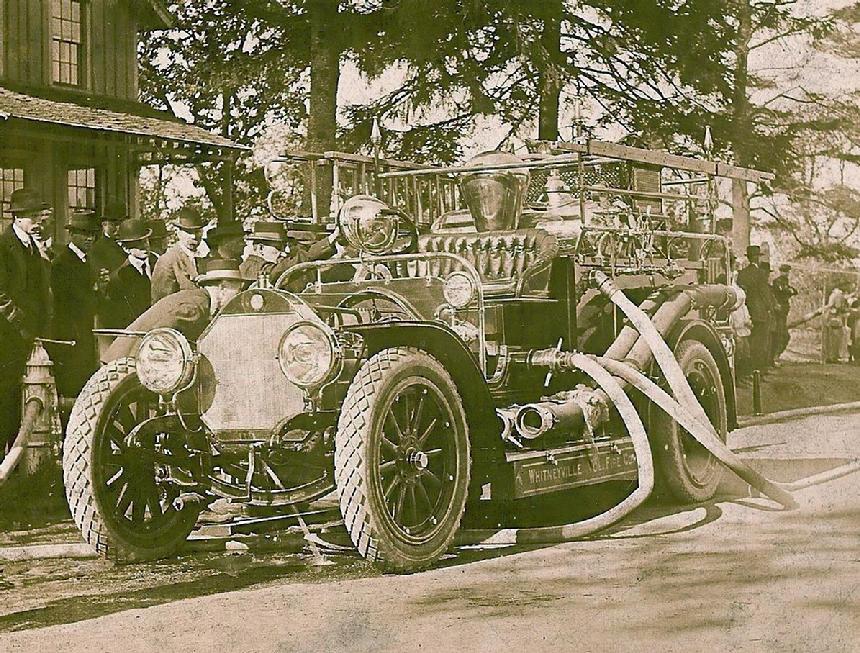 1915 - Whitneyville Co. 3 testing its brand new Maxim 500 GPM pumper, the first pumping engine manufactured by Maxim (HFRA Collection)
The Whitneyville Fire Association purchased this brand new Maxim triple combination pumping engine for $5,500. The apparatus was built on a Thomas Flyer chassis. Even though Mt. Carmel had
acquired
a Model-T
Ford roadster in 1913 to pull its hose cart,
the 1915 Maxim was Hamden's first motorized fire apparatus. It was considered a triple "combination" pumper because it had a 500 GPM rotary gear pump, it carried hose, and it also was a chemical truck, as can be seen by the transversely mounted tanks behind the driver's seat.
This 1915 Maxim also had the distinction of being the Maxim Company's first motorized pumping engine, as noted by author Walter McCall in his 1976 book,

American Fire Engines Since 1900

, (Crestline Publications, Inc., Glen Ellyn, IL: 1976).
Originally posted 10/18/2009
George Reutenauer Replaces Deputy Chief Everett Doherty
Controversary Sparked by Appointment
L-R: Cmmr. Michael Sullivan, Chief Leddy, Cmmr. Anthony Raccio, D/C Reutenauer, Cmmr. Ted Baroncini (I.A. Sneiderman photo)
Until 1984 the platoon commander, now called Battalion Chief, was more properly designated as "Deputy Chief."
Even though deputy chief was a management position until 1982, deputy chief appointees were selected through the civil service examination process.
When Deputy Chief Everett Doherty was retiring in 1966, Hamden's civil service rules for selecting deputy chiefs allowed for any line officer, lieutenant or captain, with five years' experience in an organized fire department to take the civil service test for the position, with the top three scorers being the only eligible candidates for appointment.
George Reutenuaer's June 20, 1966 appointment to deputy chief was somewhat controversial because, although he had the requisite five years of minimum experience as a line officer, he was a lieutenant. He had placed second on the civil service list, between two captains.
Nonetheless, the appointment conformed
to existing civil service rules. Deputy Chief Reutenauer got the job and assumed command of "old" Platoon 2. Shortly thereafter Chief V. Paul Leddy spearheaded a successful change in civil service rules. Thereafter, all future deputy chief candidates chosen through civil service were required to serve a minimum of three years at the rank of captain.
When the 42-hour work week was instituted four years later, Deputy Chief Reutenauer was assigned to command Platoon 3, where he served until his 1984 retirement. His replacement as shift commander was Thomas Doherty, son of the man he replaced 18 years earlier.
Goerge Reutenauer joined the department in
April of
1946. He was promoted to lieutenant in 1961, during the promotional thread following V. Paul Leddy's appointment as fire chief.
Deputy Chief George Reutenauer passed away ten years ago this week, on June 20, 2005, the 39th anniversary of his appointment as a deputy chief.
Ridge Road and Dessa Drive
Just after the first anniversary of his appointment, Dep. Chief George Reutenauer and Platoon
2 responded to this house fire. So did news photographer I.A. Sneiderman, who captured these seven photos, several of which were published the next day in the New Haven Journal-Courier. Located at the corner of Ridge Road and Dessa Drive, the house sustained heavy damage.
Notice the 2-1/2" nozzle wyed off with two separate 1-1/2" lines from the "skidload" off Engine 3.
D/C George Reutenauer on the rear deck. Notice yet another 2-1/2" line wyed off with 1-1/2" lines from a pumper's "skidload."
Ff. Bob "Whitney" Williams is donning a Scott off Ladder 42.
Crew of Ladder 42 preparing to open the roof.
Ventilating the old way
That's Bob "Whitey" Williams, lower man on the ground ladder during overhaul. The khaki work uniforms were replaced by the currrent dark blue uniforms in 1972.
Heavily Damaged!
All Photos by I.A. Sneiderman
_____________________________________________________________________________________________________
_____
COPYRIGHT NOTICE

Unless otherwise cited or in the Public Domain,
all material on this website,
including all original photos, essays, articles and commentary published herein, are Copyright © 2009-2021 by the Hamden Fire Retirees Association, Inc., and may not be copied or republished in whole or in part without prior written permission of the Hamden Fire Retirees Association, Inc.

Official website of the Hamden Fire Retirees Association, Inc.
Website powered by Network Solutions®