Hamden Fire Retirees Association, Inc.
_____________________________________________________________________________________________________
_____
Friday, December 12 - This morning the town hall rotunda was once again the scene of the swearing in of three newly-promoted Hamden Fire Department officers. Twelve-year veteran Brian Dolan was sworn in as Hamden's seventh fire marshal since the position was created in 1944. He succeeds Dennis Harrison, who retired two weeks ago. Marshal Dolan served previously
as Deputy Fire Marshal. Chief David Berardesca praised Dolan for his dedication through the years.
Lieutenant Dan Such and Lieutenant Richard Lennon, with nine and seven years' service respectively, were sworn
in with Marshal Dolan. They will fill vacancies created by the recent retirements of Lieutenants Dave
Proulx and Brian Bird. The Chief announced that Lt. Such would
be assigned to Squad 1 on Platoon 3 and Lt. Lennon to Engine 3 on Platoon 4.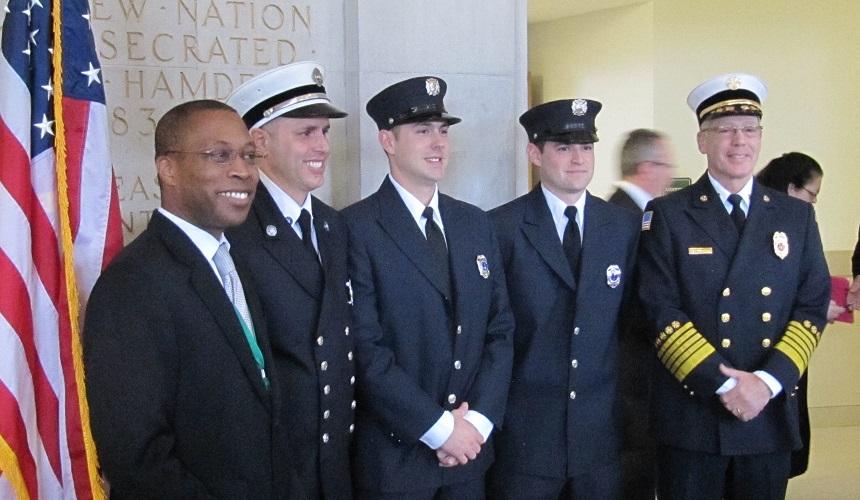 Mayor Scott Jackson, Marshal Brian Dolan, Lt. Dan Such, Lt. Richard Lennon and Chief David Berardesca (Photo by Bob Mordecai)
In remarks before a crowd of about eighty relatives, friends and many other department members, Mayor Scott Jackson praised the members of the Hamden Fire Department, "I'm proud to be here in support of you." He expressed his admiration for the unique
camaraderie among members of the fire service, noting that many times in today's society and culture people sometimes are preoccupied with fighting about "stupid little things. But what's important," the Mayor emphasized,
"is us looking out for each other, and nobody does that like the fire service." Following the Mayor's remarks all three gentlemen were sworn in to their new positions by Hamden Town Clerk Vera Morrison.
Dramatic Below Grade Rescue 50 Years Ago
Fire personnel are shown assisting Fr. James H. Smith of St. Rita's Church, who offered consolation to the terrified victim of the collapse.
Tuesday, December 15, 1964 - Armando Teixeira, 40-year old Rossotto Company employee,
was trapped
twenty-five
feet below Skiff Street when the sandy walls of
a
trench
Teixeira
was working in collapsed around
him. While fire department personnel were responding to the scene, fellow workers scurried to dig around Teixeira's
head to clear away enough sand for him to breathe
. The incident occurred while workers were installing a new sewer pipe near the old entrance to Eastern Industries, just west of the parkway underpass.
Hamden Fire Department personnel, assisted by Hamden police and Public Works employees,
worked
tirelessly for three hours to free the man, who sustained a broken leg and some minor injuries.
The Hamden Chronicle reported, "At one point the Rev. James H. Smith of St. Rita's Church crawled down into the dangerous pit to console the trapped worker," who was described as "terrified."
This was the second major incident during the short careers of three recruit firefighters, Charlie Carson, Ed Doiron and Harold Mangler, who started on the job in late November. The week before,
the three new men helped fight one of the biggest fires of the previous forty years at the Weather Vane Restauant.
Lieut. Luke Tobin, who commanded the incident, and two of the recruits
later attended an American Legion awards presentation that
recognized
the efforts of those who participated in Mr. Teixeira's rescue (see photo below).
On a stretcher, trench collapse victim Armando Teixeira is about to be removed and transported to the Hospital of St. Raphael by Murray's Ambulance Service.
Hamden Firefighters Honored for Below Grade Rescue
March 16, 1965 - CLICK to enlarge (Photo by I.A. Sneiderman)

On March 16, 1965, Hamden Post 88 of the American Legion honored each of four Hamden firefighters with their Meritorious Award for

the below grade rescue of a trapped workman

following a road collapse on Skiff Street a few months earlier.

Honored were

Lieut. Luke Tobin and rookie

Firefighters Charles Carlson, Harold Mangler and Ed Doiron (not pictured),

all three

of whom began their careers

on the

Department

the previous November.



American Legion Post 88 Meritorious Award recipients (L-R): Michael Iezzi, HPD Lieut. Daniel Liston, Frank Gamache, Ff. Charles Carlson, Ff. Harold Mangler, Lieut. Luke Tobin, Betsy Wollensack, and Comm. Charles Noonan. (Photo by I.A. Sneiderman)
Originally posted 3/15/13
In addition to those fire personnel in the news photo above, these HFD personnel were also recognized by the American Legion Post 88 for the successful rescue of Armando Teixeira.
December 2014 - The scene of the collapse 50 years later
The November 21st website update featured a sampler of six ads from the Hamden Paid Firemen's Sick Benefit Association's 1961 Annual Ball ad book. The original ad book had a total of 252 ads from area businesses. We selected

six of the original 252 ads and put them onto a sample page (below). None of these ads appeared together on the same page in the original ad book, but all them had something in common.

We asked if anyone knew what was common to all of the businesses being advertised. Gil Spencer and Bob Slater nailed it. Undoubtedly there were lots of other who did as well.



CLICK to enlarge either image
Most of us older "boomers" remember Studebaker automobiles, which were manufactured in South Bend, Indiana from the early 1900s until 1966. Known by many collectors these days for the sporty Avanti, the now valuable Corvette wannabe of the early 1960s, Studebaker also manufactured trucks well into the 1950s. HFRA president Bob Mordecai recently visited the Studebaker National Museum in South
Bend and
brought home some great shots of a couple
of Studebaker's fire apparatus offerings, which included a 1905 hose reel.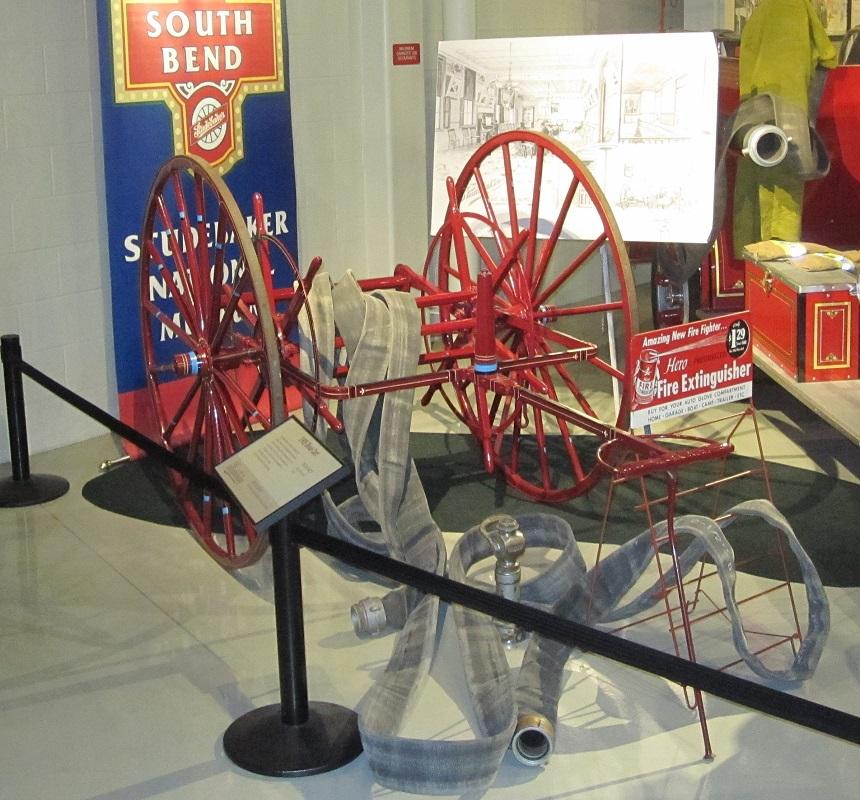 1905 Studebaker Hose Reel - $145 New!
1928 Studebaker Pumper - $2410.00 - "Outfitted by Boyer Apparatus Company of Logansport, Indiana."
_____________________________________________________________________________________________________
_____
COPYRIGHT NOTICE

Unless otherwise cited or in the Public Domain,
all material on this website,
including all original photos, essays, articles and commentary published herein, are Copyright © 2009-2021 by the Hamden Fire Retirees Association, Inc., and may not be copied or republished in whole or in part without prior written permission of the Hamden Fire Retirees Association, Inc.

Official website of the Hamden Fire Retirees Association, Inc.
Website powered by Network Solutions®