Hamden Fire Retirees Association, Inc.
_____________________________________________________________________________________________________
_____
October
Quarterly Meeting
to Honor Deceased Members
Over 300 years of collective service to the Hamden Fire Department will be recognized on Wednesday, October 8th when plaques honoring the memories of ten deceased members of the HFRA are
presented to their families
. The presentations will take place at 2 p.m. in the Hamden Elks' Hall following the regular October quarterly meeting of the HFRA on Wednesday, October 8th. The meeting and optional meal will run from noon until 1:45, followed by the presentations at 2.
Association members decided several years ago that instead of sending flowers,
the HFRA
would honor the memory of a deceased member by presenting the family with a memorial plaque at an appropriate time.
The first and
thus far only memorial plaque was presented to Mary Critchett, widow of Lt. Frank Critchett, at
an
informal presentation in November 2010.
The Association has lost ten more members since Frank's passing. Arrangements were made at the July meeting to present memorial plaques to the ten families in conjunction with our October meeting. The timing is
especially
appropriate given that October is generally regarded
as the month when the fire service
remembers its fallen members.
Invitations have been sent and representation from all ten families is expected. All active and retired Hamden
fire personnel are welcome to attend
the brief presentation ceremony, to
be followed by light refreshments.
The ten honorees with their years of service include:
Firefighter Sidney Trower (1947-1980)
Capt. Burton Hillocks (1950-1981)
Firefighter Paul Reutenauer (1957-1993)
Firefighter Charles Cargan (1968-2000)
Firefighter Richard Kenyon (1969-1993)
Firefighter Gerald Wolf (1957-1991)
Firefighter Harry Cubbellotti (1957-1993)
Lieut. Howard Hurlburt, Jr. (1970-1994)
Firefighter Hugh McLean (1949-1987)
Firefighter Joseph Yoga (1965-1980)
D/C Francis Leddy
Until a 1984 department reorganization, the largest number of promotions within a single month - seven - took place in September 1970, as the department prepared for the implementation of a
42-hour work week. Officers on each platoon at the time consisted of the shift commander,
then designated as "deputy chief," one captain and two lieutenants.
Capt. Frances Leddy was promoted to deputy chief (now "battalion chief")
to head the new 4th Platoon. Lieutenants Joe McDermott and Ken Harrngton were promoted to captain. Harrington filled the vacancy left by Leddy's promotion and McDermott became captain on the new 4th Platoon.
Four veteran firefighters, Frank Cubbellotti, Tom Doherty, Dave Herrmann and Gil Spencer, were promoted to lieutenant because of the vacancies left by McDermott and Harrington, and the creation the two lieutenant slots on Platoon 4.
All seven promotions took effect on October 1st.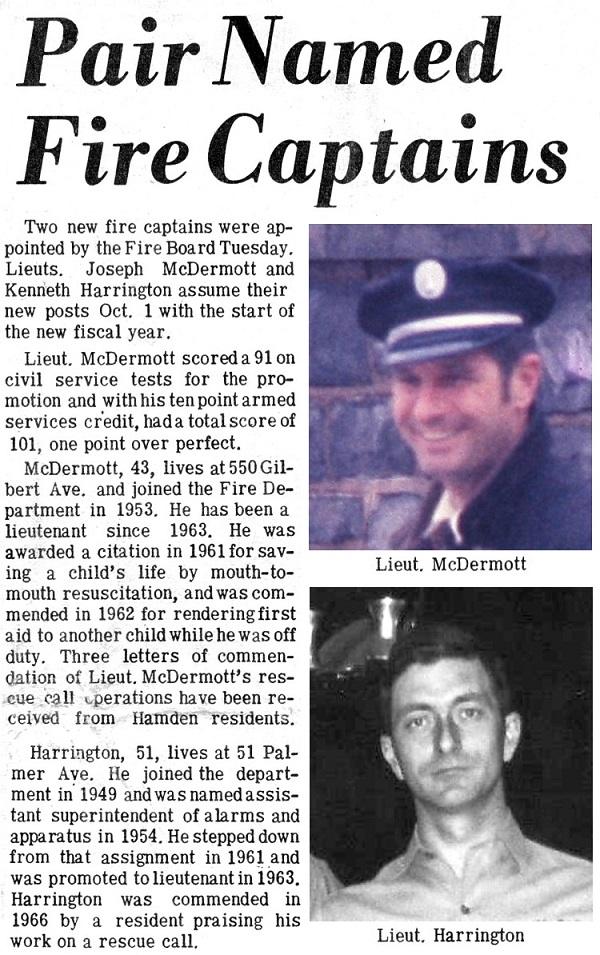 The New Haven Journal-Courier, Wednesday, September 23, 1970
The New Haven Register, Tuesday, September 22, 1970 (Courtesy of Gil Spencer)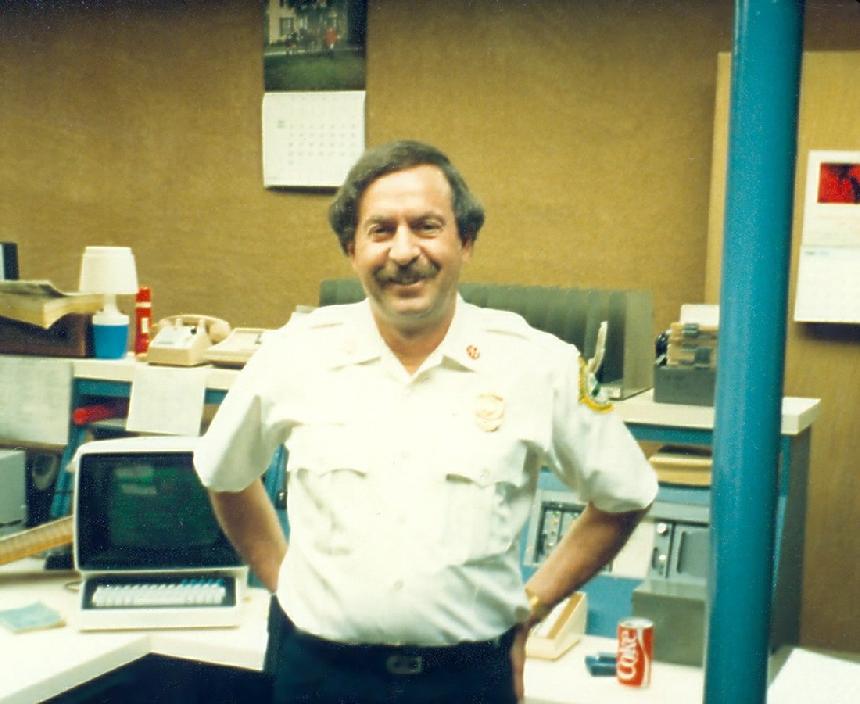 May 1982 - Dep. Chief/Training Officer John Tramontano in Central Communications' Original Location
Pump Acceptance Test for 1926 Pumper
Years ago, when
then-Supt. of Alarms Paul Wetmore, Sr. was sorting out
the file cabinets in the office at the Shop, he
provided
some historic documents
for
what eventually would become the HFRA archives. Included in the vast cache of ancient paperwork were some pump acceptance tests for apparatus that were but dim memories for even the most senior personnel at the time.
The oldest document was the accepteance test for the 1926 Maxim Model BU2 500 GPM pumper that was conducted at Middleboro, Massachusetts on March 2, 1926. The pumper was delivered to Hamden on March 23rd. Noted along the left edge in pencil was "Wm. Balke," chairman of Hamden's Board of Fire Commissioners, which was created only nine months earlier.
Another Connecticut Maxim
Below is
Chan Brainard's
pre-delivery factory photo
of North Branford's 1958 Maxim pumper, virtually identical to Hamden's '54. The three discharge port handles suggest that it was a 750 GPM.
More of Chan's Maxim factory photos will be posted here in the weeks ahead.
1958 Maxim delivered to North Branford.
Honorary Member Geraldine Bourneuf Tobin
We regret to announce the passing on September 24th, of HFRA Honorary Member Geraldine Bourneuf Tobin, widow of HFD Captain Luke Tobin. She was 89.
She is survived by her daughter, Ellen M. Tobin of North Dighton, Massachusetts. Geraldine's husband, Luke, served with the Hamden Fire Department
from 1949 until his retirement
in 1984. He passed away in 1993.
A
Mass of Christian
Burial was
celebrated on
Saturday, September 27, 2014 in St. Stephen's Church,
400 Ridge Road, Hamden.
To read the complete obituary or to leave a condolence message please visit:
Our thoughts and prayers are with Geraldine Tobin's daughter Ellen and the rest of her family

.
_____________________________________________________________________________________________________
_____
COPYRIGHT NOTICE

Unless otherwise cited or in the Public Domain,
all material on this website,
including all original photos, essays, articles and commentary published herein, are Copyright © 2009-2021 by the Hamden Fire Retirees Association, Inc., and may not be copied or republished in whole or in part without prior written permission of the Hamden Fire Retirees Association, Inc.

Official website of the Hamden Fire Retirees Association, Inc.
Website powered by Network Solutions®