Hamden Fire Retirees Association, Inc.
_____________________________________________________________________________________________________
_____
_____________________________________________________________________________________________________
_____
According to the website of the National Weather Service, an F4 tornado on the Fugita scale is characterized by winds estimated at between 207 and 260 m.p.h. "Well-constructed houses leveled; structures with weak foundations blown away some distance; cars thrown and large missiles generated." (

http://www.spc.noaa.gov

)
Connecticut isn't
much
like Oklahoma, or Kansas, or even Ohio, where F4 tornadoes occur now and then. But this week marks the 25th anniversary of the F4 tornado that
devastated
much of the Newhallville and Whitneyville sections of Hamden on Monday evening, July 10, 1989. The fire, police and public works departments
mobilized to address the many emergencies resulting from the devastation, to open up roads,
and to
re-establish communications, among other things.
The Hamden Fire Department under the direction of Chief John Tramontano had its hands full. The tornado struck around
5:30, when the Platoon 3 day shift was being relieved by the Platoon 1 night shift. Many firefighters working the night shift had difficulty
getting to work and many on the day shift could not get home. That really didn't matter much anyway because b
efore long all available fire personnel were being ordered to duty.
Clark Hurlburt
At the recent Summer meeting of the HFRA, retired Deputy Fire Chief Clark Hurlburt recalled the afternoon of the tornado. "I'm probably the only guy in the history of the Hamden Fire Department to be ordered
in to work by his mother!"
Clark's mother, Nancy Hurlburt, was
Hamden Town Clerk at the time.
Clark noted that right after
the tornado
struck
Nancy drove
through the affected areas
trying desperately
to
find
Mayor John Carusone, who was
in
Newhallville
assisting
the residents. Once the Mayor was located, the two returned to the Emergency Operations Center in the basement of the town hall. That's when Clark got
the call from Mom.
Hamden's 1951 Maxim at Station 9
Whoever first said "extraordinary
times call for extraordinary measures"
could
have
been
describing
Hamden's fire
apparatus situation on July 10, 1989.
Clark, who was a lieutenant at the time, reported to Station 9 in West Woods, the closest station to his Bethany home. On arrival
he was joined by Lt. Dave Strawhince and Ff. Paul Durkin, who were also ordered in.
Engine 9 was out.
Perhaps
it was at the house fire on Westminster Street or assisting somewhere in the south end, but Engine 9
was not expected to return to
quarters any time soon.
The only available piece
of apparatus at
Station 9
was
the 1951 Maxim, Hamden's first post-WWII apparatus purchase and the pumper previously assigned to Volunteer Co. 9, which had disbanded four months earlier
.
Clark said that once they washed all the dust off the ancient pumper they had to jump-start it from Strawhince's
Ford pickup truck.
It started!
Since he was the only one who knew how to drive it,
Lt. Hurlburt once again was able to assume the role of driver.
With Lt. Strawhince beside him and Ff. Durkin riding the tailboard,
Lt. Hurlburt
drove the 1951 Maxim to stand by at Station 4. Wisely, the crew left it running on the ramp.
The night of the tornado
was
undoubtedly
the last time the 1951 Maxim
ever
saw
active service. It was sold the following year.
The venerable old Hamden pumper was last seen in 2007, rotting away in a field in Shelton.
Earlier this week, with the 25th anniversary only a few days hence, Channel 30 Meteorologist Ryan Hanrahan contacted the HFRA. "We would love to be able to interview one or two first responders live on the air about their memories . . ."
Hanrahan's
request
was forwarded
to our online members and several phone calls were made.
HFD Retirees Harold Mangler, Brian Forsyth and former Asst. C.P. Director Neil Gorfain stepped f
orward to
share their recollections as first responders when interviewed at Rochford Field
at precisely 5:40 p.m. on July 10, 2014.
Meteorologist
Hanrahan had
read about the Hamden Fire Department's response to the tornado and had viewed the
day-after video on the HFRA website, which
inspired
him to contact the Association for potential interviewees. We thank Ryan Hanrahan and Connecticut
NBC for helping to preserve our history
.
In the days following the tornado, WTNH Action News 8
present
ed stories about how residents of the Whitneyville-Newhallville areas of Hamden dealt with
the severe damage to their properties. One elderly lady whose house was built by her late husband in 1939 was somewhat
philosophical and almost optimistic despite the damage to her home.
Two direct hits were the condos at the corner of Newhall and Augur Streets and a brand new condo that was completed only a few months earlier. On July 12, 1989, the
Hamden Fire Department was able to provide Action News 8 with "BEFORE" video clips of both of these doomed structures,
taped
for a training video
in October 1988.
Town Clerk (1987-95) Nancy Hurlburt
The spate of tornados that hit the northeast on July 10, 1989 - there were seventeen in all! - was also an enormous challenge to
utility companies.
Shortly after the dust settled, but before the storm
was officially declared a tornado, Appaloosa Custom Products
of Milford produced special commemorative belt buckles for the utility workers who
spent
tens of thousands of man-hours
to get things back to normal. Complimentary paperweights of the same design were
given
to town officials. T
he paperweight that was
presented to Town Clerk Nancy Hurlburt is pictured above.
First Anniversary T-Shirt (CLICK to enlarge)
As a 1970s CETA employee, Vic Mitchell served
both
in the Shop and the Alarm Room. As a Hamden volunteer firefighter for over 40 years, Vic also served with Cos. 5 and 7. Vic brought this brand new, never-worn Hamden tornado first anniversary commemorative T-shirt to the recent retirees meeting. They were sold at a
reunion gathering of Whitneyville-Newhallville residents at Rochford Field in July 1990.
Five years ago on the 20th anniversary of the tornado that devastated parts of southern Hamden, WTIC FOX 61 News featured a remembrance during its nightly weather forecast. Meteorologist Joe Furey did not mince words, "In Connecticut history, this
is

the

worst tornado outbreak ever, by far."
Some of the Hamden video in this
FOX 61 presentation was supplied by the HFRA.
Day After the Hamden Tornado
Tuesday, July 11, 1989
(originally posted 7/3/2009)
An F4 tornado ripped through southern Hamden, leaving damages in the millions of dollars. The 1989 tornado was an incredible challenge for the department.
While tape rolled, commentary was added occasionally to establish exact locations because many areas were unrecognizable.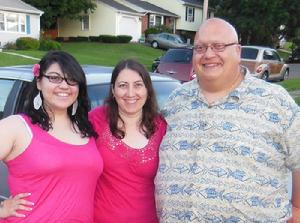 Dolores Fortuna (center) flanked by daughter Anna-Marie and husband Tom.
Sears Building Proved a Safe Haven in '89
Dolores Fortuna's memory of the event is a vivid as anyone's. It was approaching five in the afternoon and she was about to leave the Hamden Sears store, where she worked in the accounting department. Her father was supposed to pick her up, but he was still at the H.A. Leed Company on Leeder Hill
Drive.
It was getting very dark as Dolores waited for her dad by the plate glass doors. She says
that she remembers that the doors and windows were rattling something awful, and she wanted to get out of there fast. Just like everyone else in Hamden that afternoon, Dolores could not have imagined that an F4 tornado would be ripping up the south end of town at that very moment - and the H.A. Leed building
was among its many casualties.
Fortunately, noted Dolores, her father was
in that part of the Leed building that withstood the estimated 200 m.p.h. winds, although his car was totaled out in the front parking area. As for Dolores, she probably could not have
had any better protection than the Sears building. Five years later, it would take a lot more than high winds to bring that baby down.
Originally Posted 8/18/12
_____________________________________________________________________________________________________
_____
Hamden firefighters of Platoon 3 responded to a fully involved garage fire at 11 Notkins Street last
Monday. The garage was destroyed and radiant heat caused some damage to adjacent structures. A couple of retirees showed up and took some photos. CLICK on the photo below.
_____________________________________________________________________________________________________
_____
Yeah, it's Ralph Pascale from Public Works. When leaving the fire on Notkins Street last Monday,
we
met up with Ralph and his wife, Pasqualina, who were watching the action from their front steps.
Ralph and his public works colleague Tommy, a duo affectionately known around 4's as "Cheech and Chong," were familiar to anyone who worked at Station 4
a
few years back - and especially to the staff fire personnel who occupied basement offices at town hall in the 80s.
Ralph, who looks great, has been happily retired since 2000 (which is probably why he looks so good).
_____________________________________________________________________________________________________
_____
_____________________________________________________________________________________________________
_____
COPYRIGHT NOTICE

Unless otherwise cited or in the Public Domain,
all material on this website,
including all original photos, essays, articles and commentary published herein, are Copyright © 2009-2021 by the Hamden Fire Retirees Association, Inc., and may not be copied or republished in whole or in part without prior written permission of the Hamden Fire Retirees Association, Inc.

Official website of the Hamden Fire Retirees Association, Inc.
Website powered by Network Solutions®