Hamden Fire Retirees Association, Inc.
_____________________________________________________________________________________________________
_____
30 Years Ago - "Hamden at Work"
During 1983-84, Storer Cable Television of New Haven produced "Hamden at Work," hosted by former newspaperman Frank Whalen. The program showcased a different town department each week.
On April 17, 1984, "Hamden at Work" featured the Hamden Fire Department in two simulations, a priority one medical emergency and a mountain rescue at the quarry at Sleeping Giant State Park off Tuttle Avenue.
Chief V. Paul Leddy on "Hamden at Work" - April 17, 1984

Mr. Whalen began the broadcast by introducing outgoing Hamden Fire Chief V. Paul Leddy, who retired less than two weeks later after more than 23 years as chief. Chief-designate John Tramontano and Assistant Chief-designate Walter T. Macdowall were also present to narrate the mountain rescue and EMS simulations, respectively. They would be sworn in on April 30th.

Lasting just over

eleven minutes, this video

is the first half of the broadcast, which

featured

the

stabilization a cardiac

arrest victim and the various associated procedures

and protocols in effect at the time. (The mountain rescue

simulation

will be posted with next

Friday's website update.)

In the

EMS

scenario, which was taped in a small office in the town hall, "Mr. Johnson" was portrayed by Ff. Charlie "Chaz" Cargan. His secretary was Jill from the town clerk's

office. Lieut./EMT Bob Westervelt and Firefighter/EMT Paul Petrillo of Engine 4 arrived first, followed by Rescue 1's Firefighter/Paramedic Tom Conway and Firefighter/EMT Ray Ramelli.



Website thanks to retired captain and HFRA member Dennis Baker for providing some photos he took of his Platoon 4 buddies at Station 2 in 1979, about a year after coming on the job.
Ff. Ronnie Altieri at the desk in the officer's room, such as it was, at Station 2.

The officer assigned to Station 2

on Platoon 4 was Lieut. John Tramontano (his photos to be featured next week).




Ff. Billy "Badass" Mulcahy at the watch desk. Note the rotary dial

phone on the desk and the Gamewell tape register on the shelf behind. The

object on the shelf next to the tape take-up reel was a huge rolodex with running cards listing the apparatus on each fire alarm box.



Mulcahy is reading, apparently unaware that Ronnie is up to something. Watch desk amenities consisted
only of a radio - note the make-shift antenna
- and whatever reading material was available. Firefighters "sat watch"
in
two-hour shifts from 0800 to 1800, and one-hour shifts from 1800 to 2300. Last man on watch cleaned the kitchen.
Tuesday, April 22, 1969 - The members
of Co. 5 were just leaving the firehouse
following a very long regular monthly meeting
when the bell hit for
this water rescue at the Ives Street bridge over Mill River. The driver of the 1966 Pontiac was rescued by Hamden police
Sergeant Burton Brockett.
Dazed from his ordeal, the 23-year old vehicle operator
insisted that
a
female companion
was with him in the vehicle when it went off the road. Hamden police officer John O'Connor was injured while trying to
locate
the
woman in
the wreckage. Several
p
olice and career and volunteer firefighters waded around in
the swollen Mill River for about twenty minutes in a vain atempt to locate the woman, who was apparently safe at home with her parents.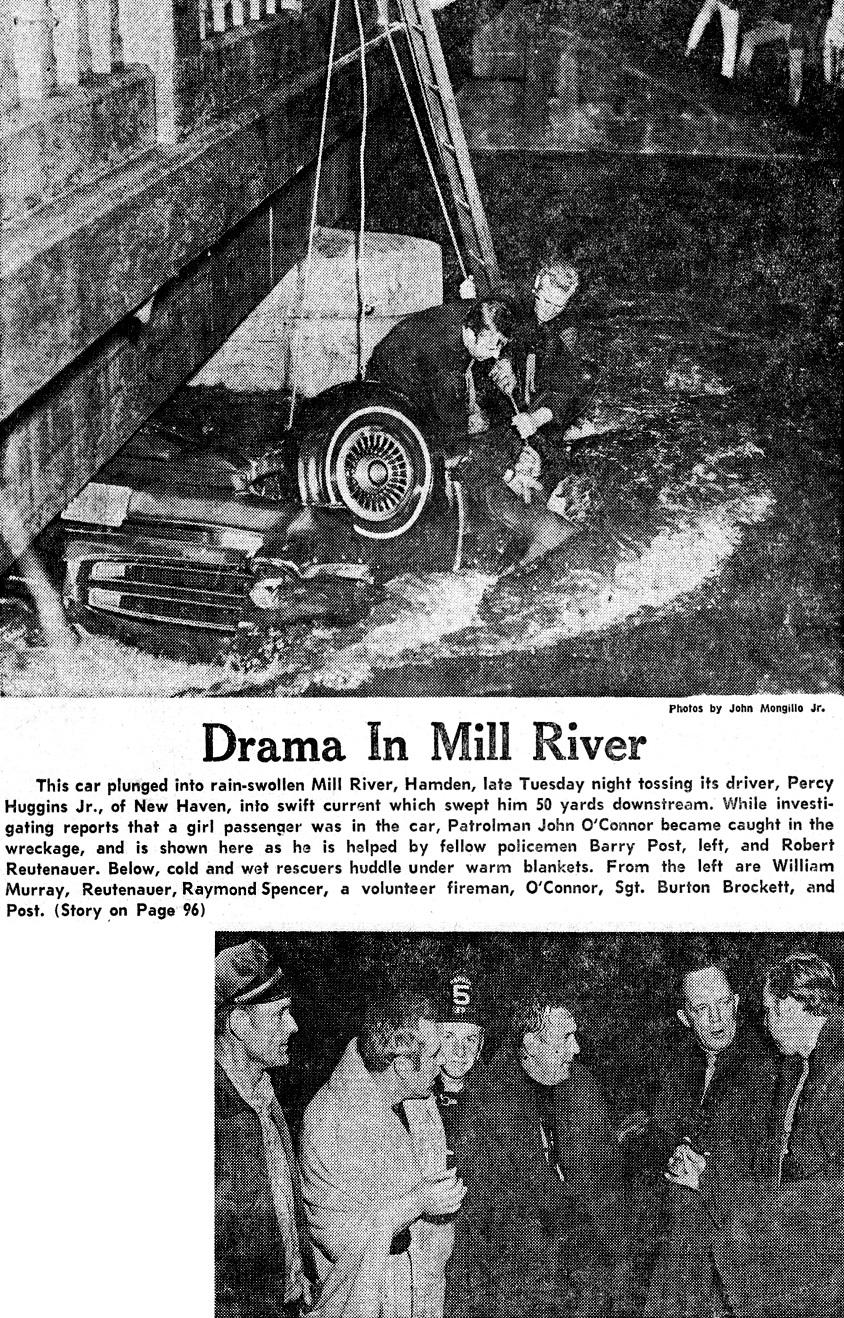 The New Haven Register, Wednesday, April 23, 1969 - Courtesy of Chan Brainard
Seasonal Delivery for the Kids
Easter 1969 - Firefighters John Tramontano and Frank Eitler make a delivery to Brooksvale Park (New Haven Register, April 1, 1969 - Courtesy of Gil Spencer)
_____________________________________________________________________________________________________
_____
COPYRIGHT NOTICE

Unless otherwise cited or in the Public Domain,
all material on this website,
including all original photos, essays, articles and commentary published herein, are Copyright © 2009-2021 by the Hamden Fire Retirees Association, Inc., and may not be copied or republished in whole or in part without prior written permission of the Hamden Fire Retirees Association, Inc.

Official website of the Hamden Fire Retirees Association, Inc.
Website powered by Network Solutions®