Hamden Fire Retirees Association, Inc.
_____________________________________________________________________________________________________
_____
On a brisk March afternoon forty-three years ago this week, a boy delivering newspapers discovered
fire coming from the roof of
this colonial-style house on Santa Fe Avenue. Engines 3, 4 and 6,
Ladder 2 and Rescue 2
responded with Car 30 (Deputy Chief Hromadka) and Car 40 (Chief Leddy).
Chan Brainard sent us this remarkable photo
of
fire breaking through the roof as Hamden firefighters with a hand line ascend the homeowner's ladder, already in place.
The homeowner had been making repairs to the gutter using a
torch to melt adhesive. Not surprisingly, the result was extensive damage to the roof and attic of this rambling Spring Glen home, and injuries to three Hamden firefighters.
The Santa Fe Avenue
fire location was directly next door
to
the
Brainard home at 12 Middle Road. All

of these color
photos
were taken by Chan's mother!

Chan was already living on the West Coast. His mom regularly mailed
him news articles of local fire department activities, many of which are now in the HFRA archives.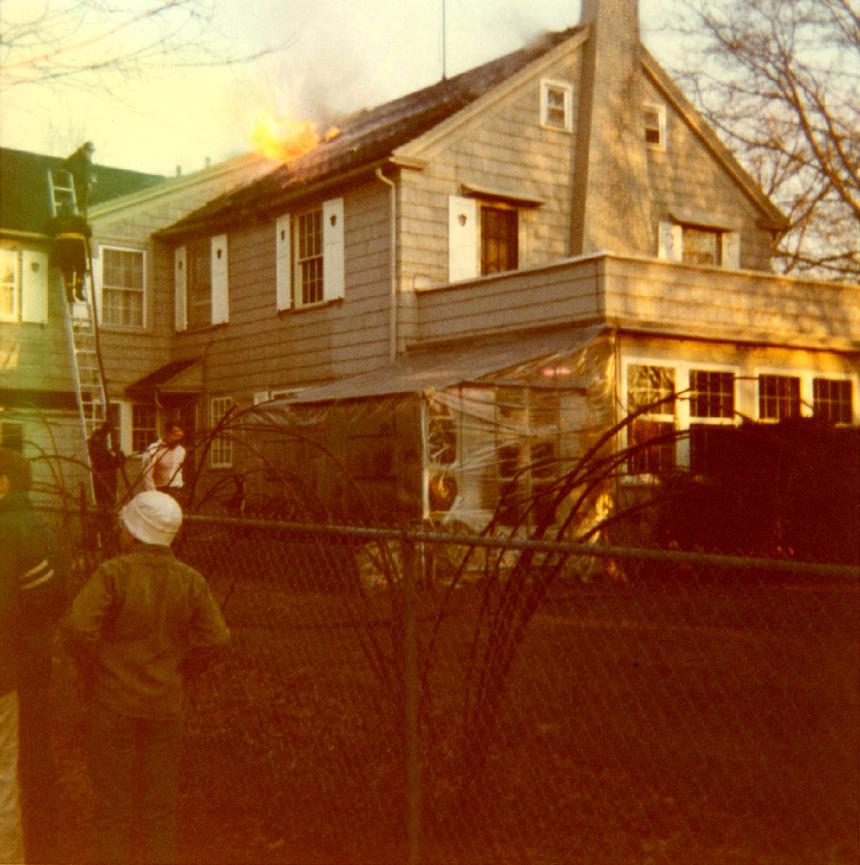 Louise Brainard Photo
The article below refers to a "hidden attic." From inside the house,
the fire floor
was
accessible
only by way of a pull-down stairway located in the room

above the garage. S
o
firefighters
popped the
roof
scuttle for an initial attack, and created
openings elsewhere
on the roof
to
achieve
effective ventilation.
The man on the nozzle has been identified as Firefighter Joe Shields. The officer with him would have been Lieut. Dave Hermann. Both were assigned to Engine 3.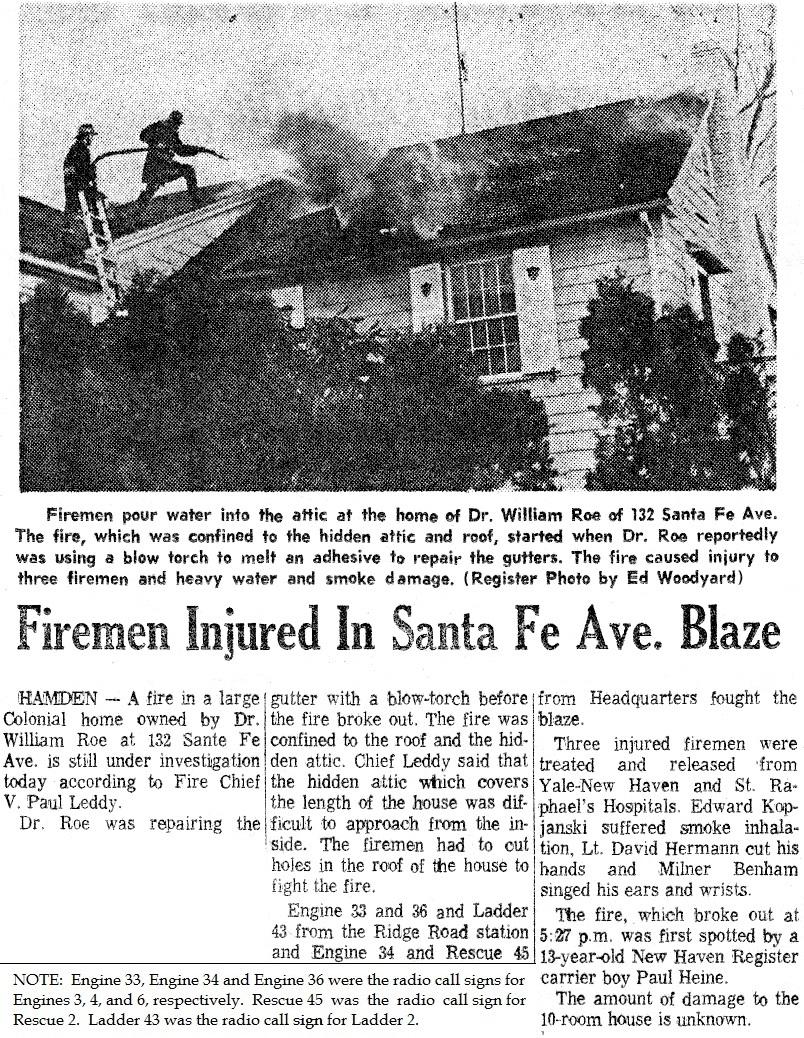 New Haven Register, Friday, March 26, 1971 (Courtesy of Gil Spencer)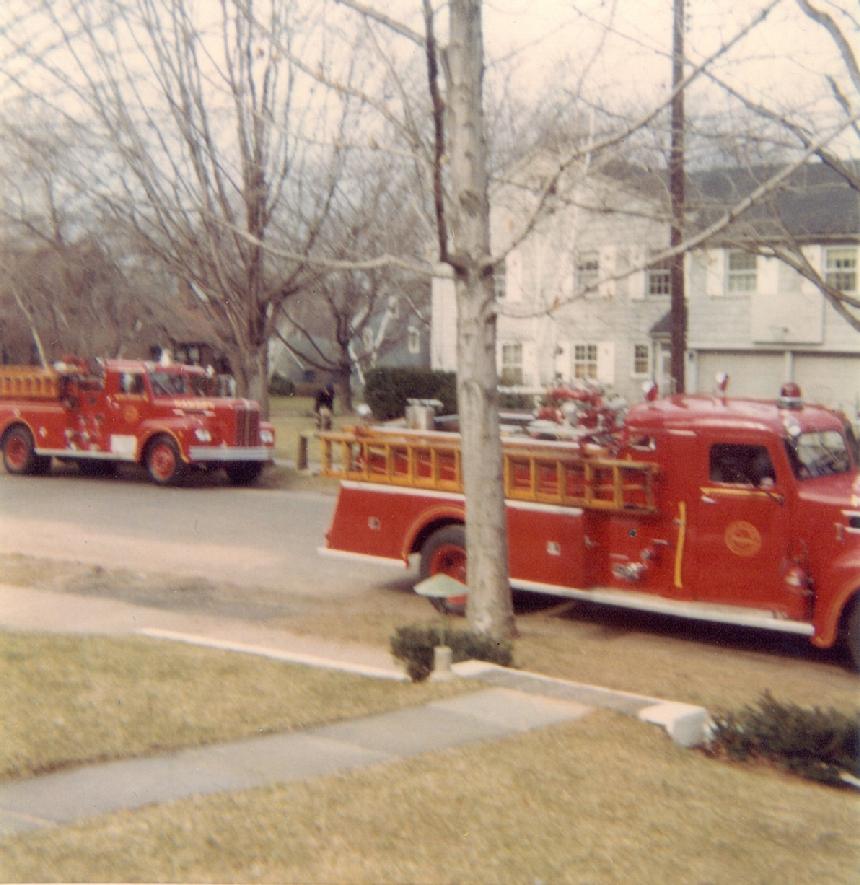 Louise Brainard Photo
The 1968 Maxim S model at left in the background
is
parked
on the Middle Road side of the "fire" house, which faces Santa Fe Avenue. It is either Engine 3 or Engine 4

. They were identical.
The 1954 Maxim in the foreground is Engine 6
, which had been
quartered at Station 3
since it moved from Merritt Street
six months earlier. Engine Co. 6
was de-activated in 1974.
Below left, a Hamden firefighter is on what appears to be
the homeowner's
extension ladder. All Hamden grtound ladders at the time were wooden. The photo on the right shows the extent of the damage to the attic and roof.
Interior access to the attic was a problem, so the roof was breached in several places to reach the fire and to allow for ventilation.
New Haven Parks Department
A nasty fire in a New Haven Parks Department's storage building on Park Road kept
Hamden firefighters of Platoon 2 very busy on a windy night
thirty-seven
years ago
this past week.
The building
was already well involved
before the arrival of the first engine, Engine 3
. Firefighters' efforts were hampered by winds that threatened to spread the fire to adjacent buildings. Fire Marshal Bob O'Donnell
determined that it had been set.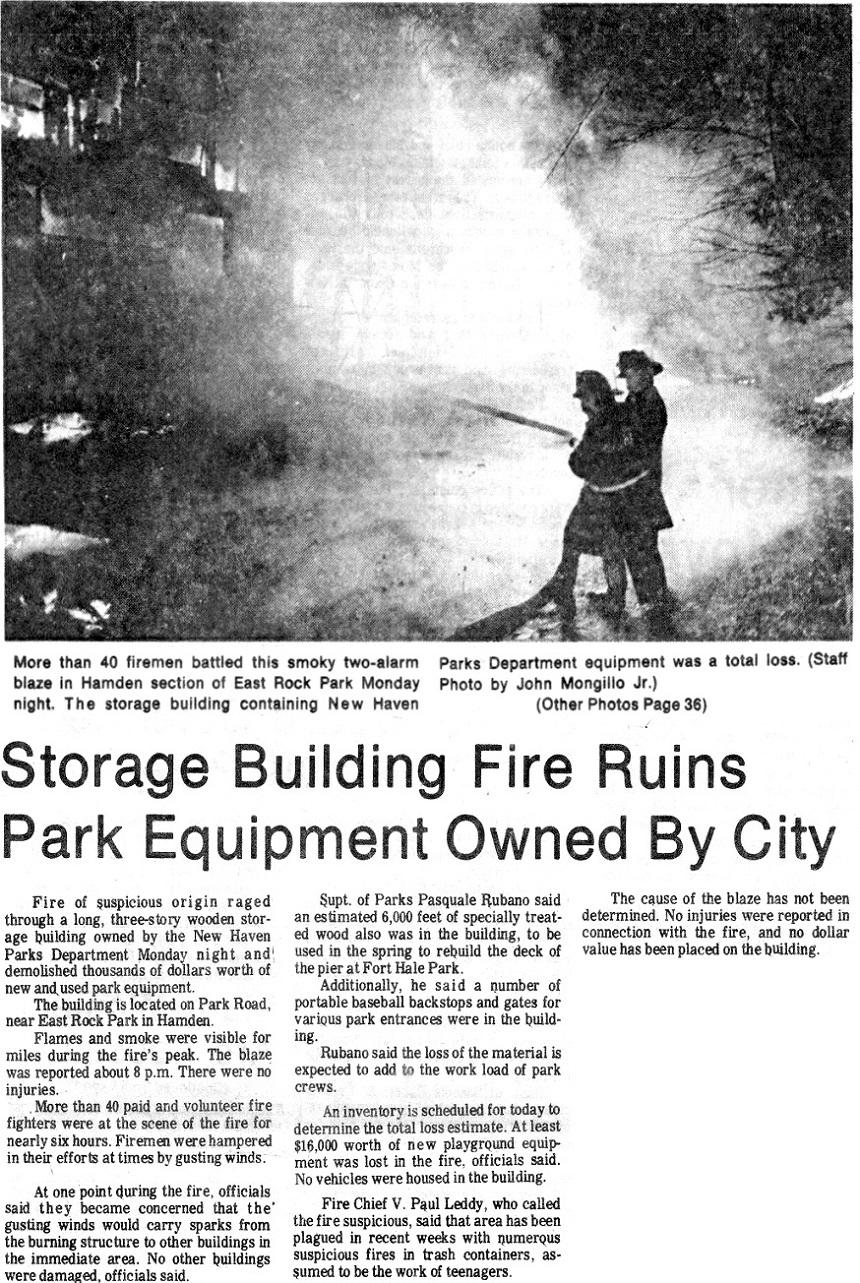 New Haven Register, Tuesday, March 15, 1977 (Courtesy of Gil Spencer)
this week to HFD chaplain




The New Haven Evening Register

(Courtesy of Chan Brainard)



Website thanks to Bob Freeman, who heads Hamden's Community Emergency Response Team (CERT), for sending these before and after photos of Hamden CERT's command vehicle, EM44, which is currently being refurbished.
Bob wrote, "This vehicle is a tribute to not only the CERT Members but all of our firefighters, active and retired. As you well know, one of the main goals of the CERT Program is to assist our First Responders and contribute our share for the professionalism and dedication they provide."
Hamden's CERT volunteers are a credit to our community and
public safety.
Exterior cosmetics included a switch from green to red, but more improvements will
be inside.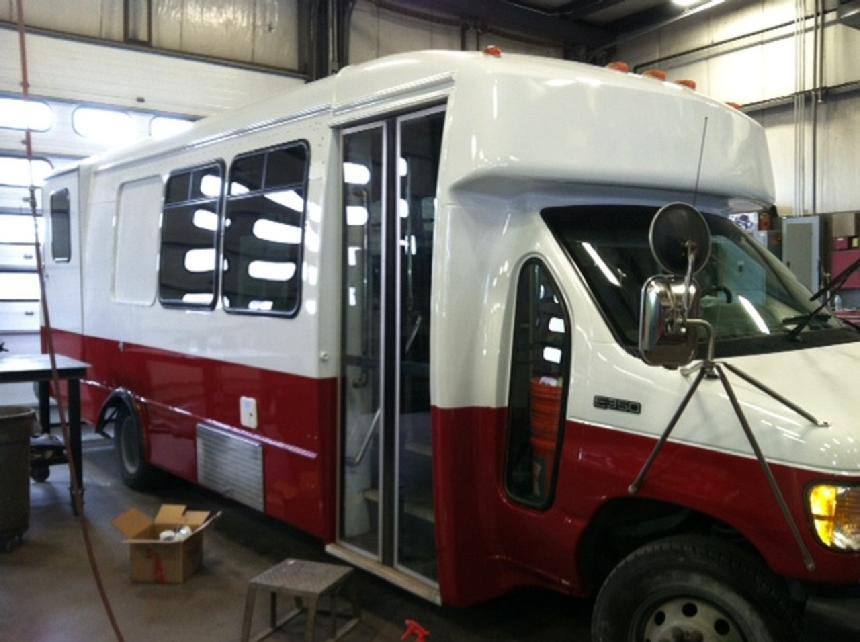 EM44 is stored at Station 3.
_____________________________________________________________________________________________________
_____
COPYRIGHT NOTICE

Unless otherwise cited or in the Public Domain,
all material on this website,
including all original photos, essays, articles and commentary published herein, are Copyright © 2009-2021 by the Hamden Fire Retirees Association, Inc., and may not be copied or republished in whole or in part without prior written permission of the Hamden Fire Retirees Association, Inc.

Official website of the Hamden Fire Retirees Association, Inc.
Website powered by Network Solutions®