Hamden Fire Retirees Association, Inc.
_____________________________________________________________________________________________________
_____
FIREFIGHTER HUGH McLEAN, JR.
It is with deep regret that we announce the passing on
February 10th of retired Hamden Firefighter Hugh McLean, Jr.
A World War II and D-Day Veteran, Hugh proudly served in the US Navy from 1942 to 1945 in North Africa and in the Allied invasions of Sicily and Normandy.
Hugh joined the Department in October 1949 and served with distinction for
38 years until his retirement in
1987.
In 1973, Hugh received the Department's Alfred Ramelli Award, and in 1982
he was named Fireman of the Year by Hamden's Civitan Club.
Hugh is survived by his wife of 65 years, Jeanne, and sons Hugh Scott McLean (Susan) of Pennsylvania, and Brian McLean (Judi) of Clinton. He is also survived by his three grandchildren.
A Mass of Christian Burial will be celebrated Saturday at 11 a.m. in Our Lady of Mt. Carmel Church. Burial in St. Mary's Cemetery. Calling hours are Friday (TODAY) from 4
to 8 p.m. in Sisk Brothers Funeral Home, 3105 Whitney Ave., Hamden.
Donations in Hugh's

memory may be made to the Alzheimer's Association, 2075 Silas Deane Highway, Suite 100, Rocky Hill, CT 06067. Our thoughts and prayers are with Hugh's family.
Click here to view Hugh McLean's obituary in The New Haven Register
Some of the above information was excerpted from The New Haven Register obituary for Hugh McLean.
Superior Printing Ink Co.

While leafing

through some old training reports last week, we found 26

black and white photo negatives dated July 31, 1987. The photographer

is

not

identified. The photos

were taken at

an

acid spill

at the loading dock

of this Sherman Avenue manufacturer of

printing

inks.

Engine 9, Engine 5, Rescue 3, CP-2 and Car 2 responded.

Lt. Bob Kelo and

Firefighters Joe Rahl and Ed Doiron were on Engine 9. According to hazmat protocol, Lt. Dave

Strawhince and Ff. Ray Dobbs responded "special call" from Station 3 with Rescue 3. Firefighters Art Heriot and Rich Maybury responded on Engine 5, when it was manned by only two firefighters.

Rescue 3 was equipped with a cascade air system for refilling Scotts on site. CP-2, the Civil Preparedness vehicle, was equipped with material to absorb spills and

55-gallon metal drums

to take away the waste for

proper disposal.




Crew of Engine 9 with CP-2
| | |
| --- | --- |
| Ff. Ray Dobbs assists with Scott Air Pack | Ff. Rahl and Lt. Strawhince |
The support firefighters were well out of the hot zone.
Crew of Engine 9 pours a SpeedyDry-like absorbent onto the affected areas.
(Note the fully "enveloped" firefighters, and then the guys in the overhead doorway.)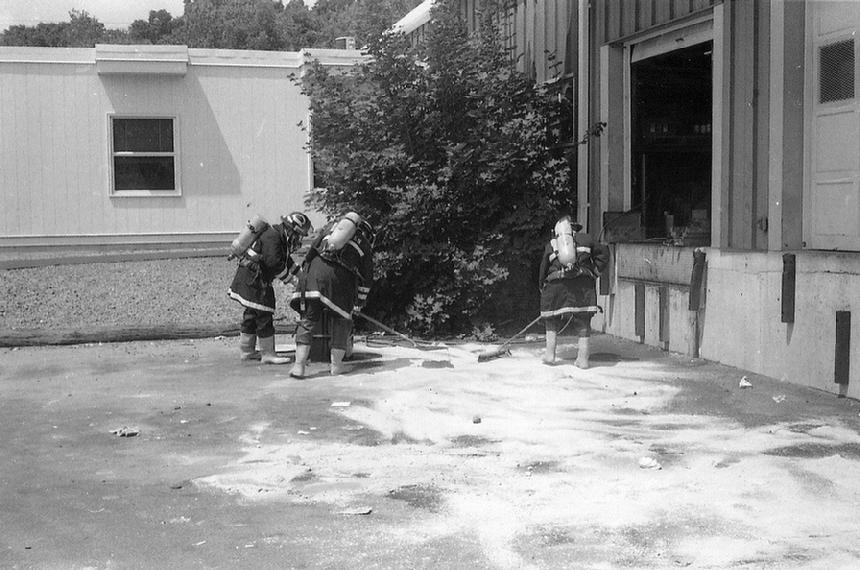 Brooms help to spread the absorbent to soak up the product.
Shoveling the absorbent into the barrel
Ff. Rich Maybury, Neil Gorfain of Civil Preparedness, Lt. Dave Strawhince and Assistant Chief Walt Macdowall
are beside Engine 9. Car 2 and Rescue 3 can be seen in the background.
Asst. Chief Macdowall was also Director of Civil Preparedness at the time of this incident.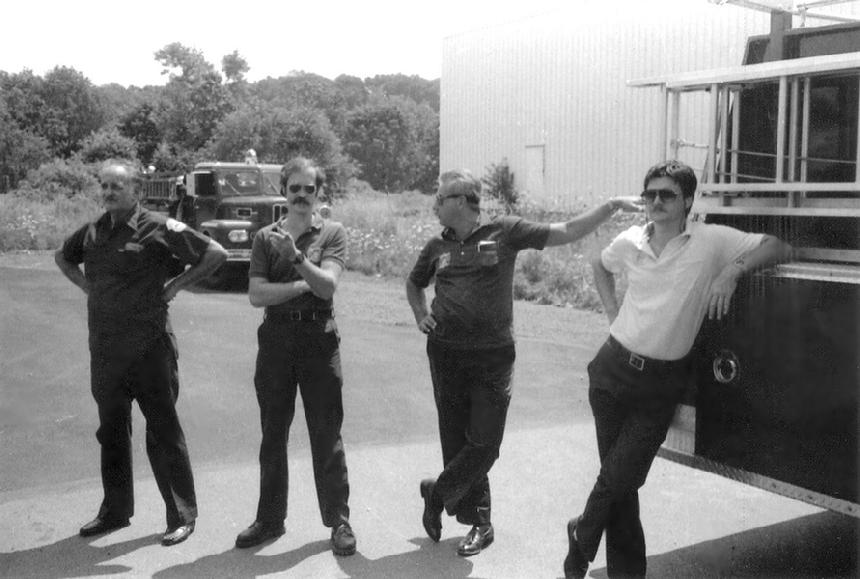 Firefighters Art Heriot, Rich Maybury, Ray Dobbs and Lt. Dave Strawhince. Engine 5 can be seen in the background.
The New Haven Journal-Courier and New Haven Evening Register reported that Hamden firefighters were quite busy on Monday afternoon and evening, February 15, 1954. Around 3 p.m., a small fire activiated the sprinkler system on the second floor of
the Moose Hall, 961 Dixwell Avenue. Fire damage was minimal, but water damage to the
business on the floor below was "extensive." (Ed. Note: Thirty-nine
years
later
t

he

building

was extensively damaged by a multi-alarm fire
. Transients believed to be
living in the
vacant
building
may have started the fire. The building was razed shortly thereafter.)
T

he second fire, reported shortly before 7 p.m.,
destroyed a three-car garage
at 622 Newhall Street. According to accounts in the Courier, quick actions by Hamden firefighters
under the command of Capt. Paul Leddy prevented more serious
damage to the house at that address
as well as two adjacent houses
. Engine
Companies 1 and 2 and the ladder truck from the Circular Avenue station, and the Squad out of Headquarters responded.
In February 1954,
Engines 1 and 2 were the 1938 Seagrave and 1952 Maxim, respectively. The 1941 Diamond-T was the ladder truck and the "Squad" was a 1938 Diamond-T.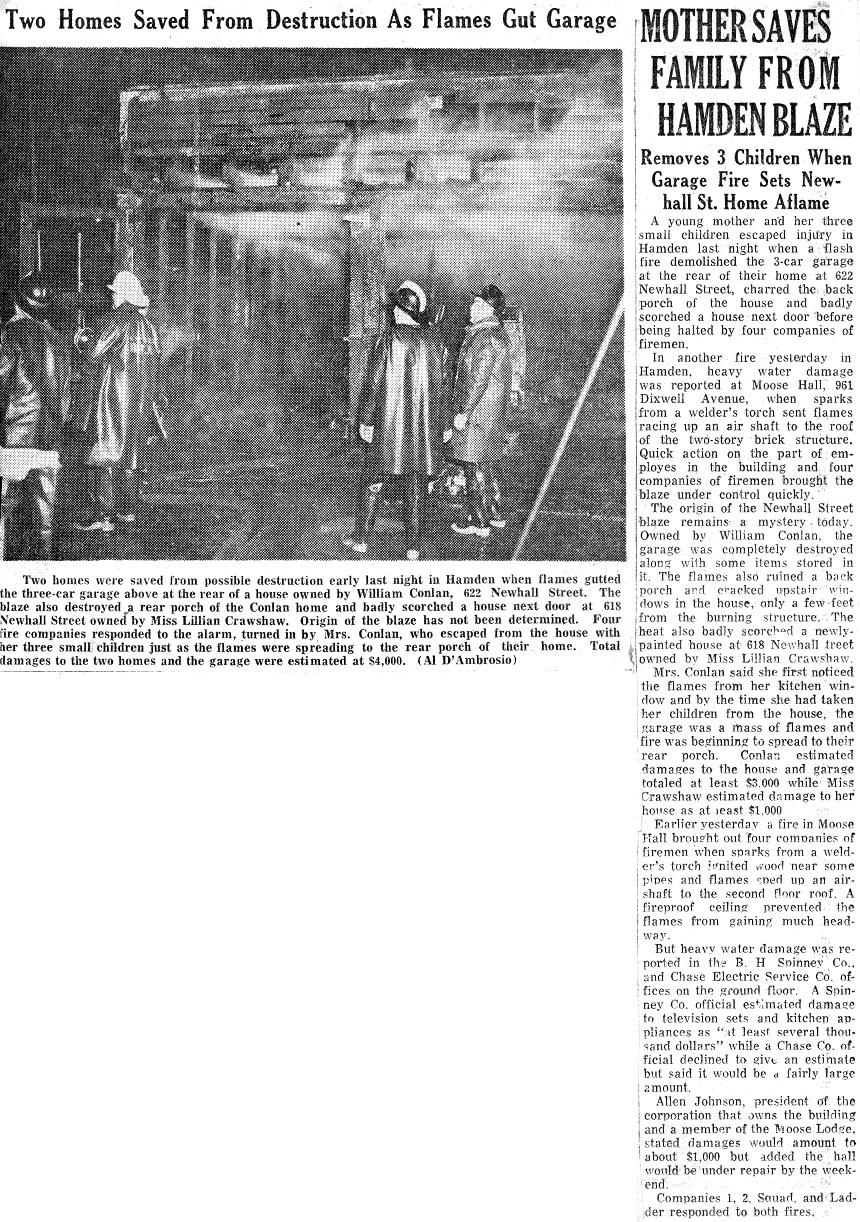 New Haven Evening Register, Tuesday, February 1954 (Sid Trower Collection)
Only six days later, on Sunday, February 21st, another Newhall Street fire
claimed the life of a 44-year old
woman. It was Hamden's
first fire fatality in fire years. The cause was attributed to smoking in bed.
Active HFD Members at a Recent Retirement Dinner (Bob Mordecai photo)

Annual Local 2687 Retirement Dinner

Saturday Night, April 5th

Cocktail Hour 7-8, followed by Dinner

Music provided by Ff. Doug O'Rourke

Deputy Chief Robert Surprise

Firefighter/Paramedic Roberta Angiletta

Firefighter John Bradbury

Invitation letters to retirees will be mailed soon.



Toronto Firefighter Jeff Gayman contacted the website during this past week hoping to obtain
an HFD patch. The website does not have them, but we were certain there were patch collectors out there among our web visitors who might. Jeff wrote that he has many patches to trade. Here is Jeff's contact information:
Jeff Gayman,
Toronto Fire Dept,
74 Barton Lane,
Uxbridge, ON, Canada
L9P 1W2
His email address:

heat@powergate.ca
Please type "Patch Trade" in the subject line.
_____________________________________________________________________________________________________
_____
COPYRIGHT NOTICE

Unless otherwise cited or in the Public Domain,
all material on this website,
including all original photos, essays, articles and commentary published herein, are Copyright © 2009-2021 by the Hamden Fire Retirees Association, Inc., and may not be copied or republished in whole or in part without prior written permission of the Hamden Fire Retirees Association, Inc.

Official website of the Hamden Fire Retirees Association, Inc.
Website powered by Network Solutions®