Hamden Fire Retirees Association, Inc.
_____________________________________________________________________________________________________
_____
Forty years ago last summer an unknown photographer took this photo at Station 5. John O'Hare provided the original 8x10
photo so that it could be rescanned at a much higher rez than the
version published on the website several years ago.
Left to right are Firefighters John O'Hare and Joe Mulligan. Standing by Engine 5, the 1951 Maxim 750, is the late Steve Blennerhassett, a Mt. Carmel volunteer.
On the back of the engine are Co. 5 volunteers Bill Chalmers, Paul Moody and Hamden's future deputy fire chief Clark
Hurlburt, who had joined the fire company a few months earlier.
This was two years before the annex was built onto the Mt. Carmel station.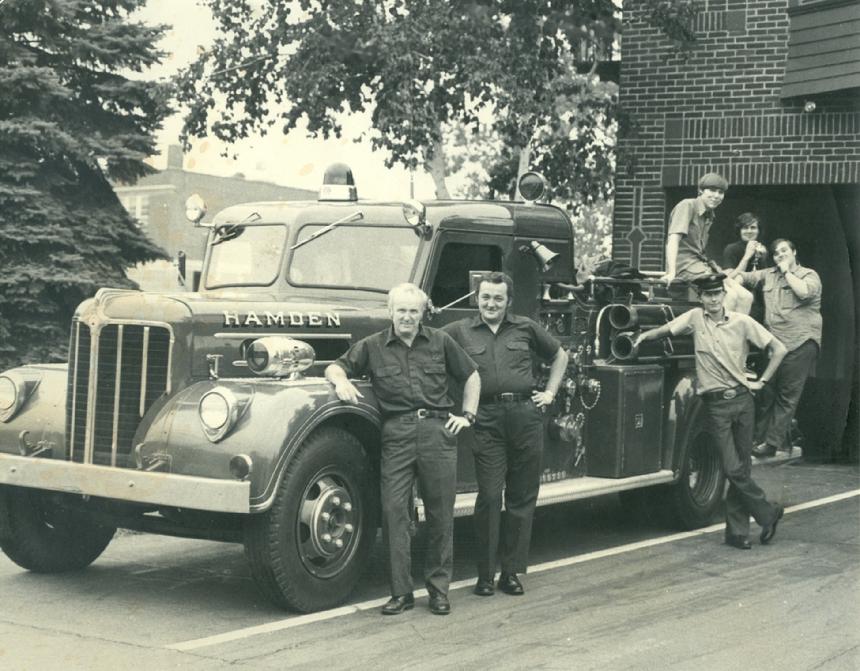 July 1973 - Station 5
A portion of the oldest section of Mount Carmel Elementary School, built in 1921, can be seen in the
background of the above photo.

Mt. Carmel School
The photo at right shows the Mt. Carmel School in the 1930's. A kindergarten and combination gymnasium and auditorium were added in 1939. In 1954, a modern wing with a principal's office, clinic,
cafeteria and five classrooms was a
dded to the west side of the building. A second addition at the south end of the complex was added in 1963.

The school closed at the end of the 1973-74 school year.



The last time the school was
used by town employees was in May 1981, when several different fire department training evolutions were conducted there. The 1921 building was razed later that year, but the 1954 and 1963 wings still stand today as part of the Mt. Carmel Congregate Housing, now located on the site of the old school.
Hamden Paid Firemen's Sick Benefit Association
Officers Elected February 12, 1974
(Bargaining Unit Before Local 2687)
February 1974 article published in The New Haven Register
Laying Supply Lines Before LDH
Engine 4 - 1973 Maxim 1,000 GPM
Before the department adopted
large diameter hose (LDH) in 1986,
Hamden's
pumpers had split hose beds with 3" on one side and 2-1/2" on the other. Depending
on the
pumper, you could fit approximately
1,000 feet of each size in the hose beds - somewhat less on the Telesqurt.
In July 1982, then-Deputy Chief/Training Officer John Tramontano
produced
an in-house
slide presentation demonstrating both
forward and reverse
methods of laying supply lines.
Long before home computers and PowerPoint presentations,
Tramontano's slideshows permitted
every one of
the department's 120 line personnel to remain
familiar
with
department procedures, especially
during winter months when outdoor
hands-on training was neither desirable nor practical.
February 9, 1944 -
Belle's Blessed Event at Station 3
February 9, 1944 article from The New Haven Journal-Courier (G. Donald Steele) - CLICK to enlarge

Belle was born in May 1942. She is shown here in this 1947 photo sitting between Lt. Everett Doherty and Larry Spahr of Co. 3. Bob O'Donnell is sitting in the driver's seat of Engine 3.

One of several of Belle's dog licenses that were saved at old Station 3. They were issued by the Town Clerk, Walter D. Connor. Mr. Connor remained the Town Clerk until the mid-1960s.
This photo appeared in
The New Haven Register on Sunday, February 9, 1964. The department
was
conducting home inspections to help homeowners identify and eliminate common
household fire hazards. Capt. Paul Rosadina and Firefighter Harry Cubbellotti are
at the front door of a
Bagley Avenue residence. (
Some of us
older "boomers"
may
remember
the
date
of that article for another reason.)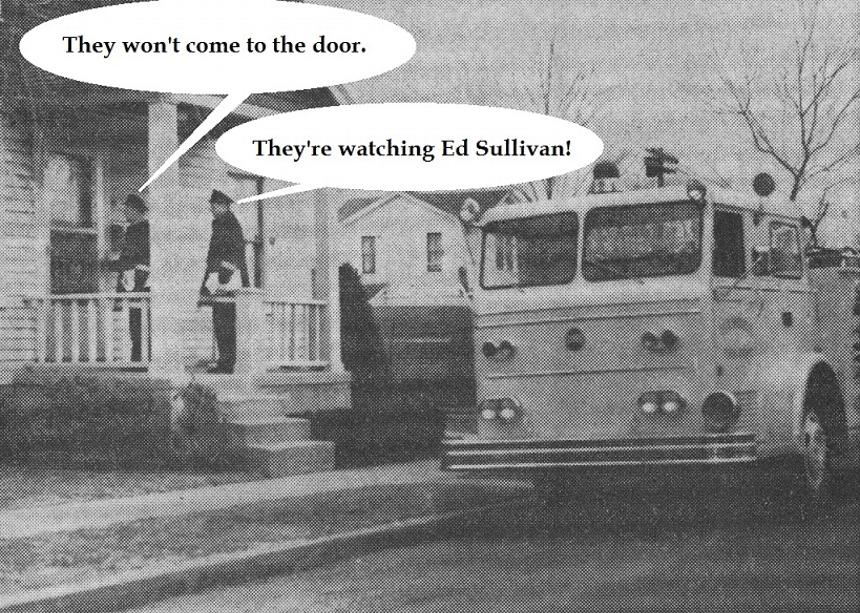 (Newspaper article courtesy of Chan Brainard)
Website thanks to former HFRA president Mark Barletta, who shared this photo of his U.S. and State of Connecticut flags flying from the new flagpole at his home last week. The palm tree provides a hint as to its location (and it ain't Connecticut).

Mark, who is a flag historian, will be flying his Civil War Era 33-star flag during February to honor President's Day, and specifically our 16th president.

All former official U.S. flag designs

are still considered official U.S.flags.



_____________________________________________________________________________________________________
_____
COPYRIGHT NOTICE

Unless otherwise cited or in the Public Domain,
all material on this website,
including all original photos, essays, articles and commentary published herein, are Copyright © 2009-2021 by the Hamden Fire Retirees Association, Inc., and may not be copied or republished in whole or in part without prior written permission of the Hamden Fire Retirees Association, Inc.

Official website of the Hamden Fire Retirees Association, Inc.
Website powered by Network Solutions®