Hamden Fire Retirees Association, Inc.
_____________________________________________________________________________________________________
_____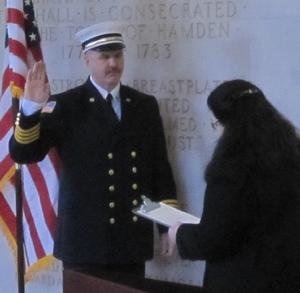 Dep. Chief Merwede Takes Oath
Deputy Chief Gary Merwede Sworn In
20-year Hamden Fire Department veteran, Gary Merwede was sworn in as Hamden's Deputy Fire Chief on Tuesday morning, January 21st. Merwede, the seventh department member to serve as the department's official second-in-command, replaces Deputy Chief Robert Surprise, who retired November 30th after 33 years of service.
Addressing dozens of friends, co-workers and former co-workers, Merwede declared, "My job, as I see it, is pretty straight forward: To work with the Chief and see that our membership is well-equipped and safe; to advance the agenda of public safety in terms of our community; and to protect and preserve the fine reputation of the Hamden Fire Department, which was earned in part by the firefighters, officers and chiefs who came before us." He concluded, "I look forward to the challenge of my new office and look forward to working with you all."
The ceremony, which included Mayor Scott Jackson, Chief David Berardesca and Town Clerk Vera Morrison, took place in the rotunda of Hamden's newly renovated Memorial Town Hall. Coincidentally, the last such ceremony in the rotunda was Merwede's 2004 swearing-in as lieutenant.
The members of the HFRA wish Deputy Chief Merwede all the very best in his new assignment!
Photos and video by Bob Mordecai
| | |
| --- | --- |
| Hamden Chief David Berardesca congratulates newly-sworn Deputy Chief Gary Merwede | Gary and Cheryl Merwede |
| | |
| --- | --- |
| Dep. Chief Merwede is congratulated by his predecessor, Bob Surprise, who served as Hamden's Dep. Fire Chief from March 2010 until his retirement in November. | Dozens of co-workers and family members filled the rotunda of Memorial Town Hall for the first HFD swearing-in there since Merwede took the oath for lieutenant in 2004. |
Photo courtesy of Tom Doherty (CLICK to enlarge)

The website received this photo several years ago from Tom Doherty. It was taken sometime between 1951 and 1954. Most of the people can be identified. (CLICK to enlarge)

From left to right: The older gentleman is Hamden Building Inspector Edward W. Blake. The face of

the

firefighter peering out

between Mr. Blake and the child is

Blake's

s

on Warren, a Hamden firefighter

. The small child is probably Warren's son.

Next is Firefighter Burt Hillocks.

The

partially

hidden firefighter in

the officer's soft hat is most likely Supt. Clement Wetmore who, according to the 1950 town report, "was advanced from Superintendent of Fire Alarms to Lieutenant in charge of the fire alarm system and of apparatus maintenance."



Next is off-duty firefighter Frank Eitler, then Public Works employee Rico Verneris, and off-duty firefighters Luke Tobin and Paul Rosadina. At the far right are Capt. Everett Doherty, commander of Platoon 2, and Chief Raymond C. Spencer.
We do not know the occasion that prompted this photograph, but we may have identified the location.
Since three members of the Blake
family were
present, it seemed
likely that
the location
may have been the Blake home at 19 Seminole Avenue. Looking closely to the right of
Chief Spencer
you can discern what looks like St. Mary's Cemetery off in the distance
between Evergreen and Whitney.
John O'Hare, who worked on old Platoon 2 with these guys, recalls that
many Hamden firefighters worked part-time at Public Works in those days. Among them were Frank Eitler, Luke Tobin and Paul Rosadina, all pictured here. They were probably working with
PW
employee Rico Verneris that day. Anyone know more about this photo?
1/25/14 - Ed. Note: The mystery behind this photo has been solved. Tune in next week.
1/27/14 - Thank you to Bill Bossoli, Richie Lostritto, Bob Slater, John O'Hare and Gil Spencer for their help with identifying everyone.
Don LaBanca and Bob Mordecai

A swearing-in ceremony is often an occasion on which old friends and colleagues meet and greet each other after a long

absence. We met up with two members of the Class of 1978 who attended last Tuesday's swearing-in ceremony at the town hall rotunda.

Battalion Chief Don LaBanca, today the most senior member of the department, and Bob Mordecai were two of six new recruits who came on the job in May 1978. They both made lieutenant in 1984. Bob is now president of the HFRA. He noted that it was his lieutenant's badge that Gary Merwede inherited upon his

2004 retirement.

Don and Bob's recruit class was conducted by Dep. Chief Ken Harrington and

also

included

Dennis Baker, John Bellmore, Wayne Lowry and Jim Beirne.



_____________________________________________________________________________________________________
_____
_____________________________________________________________________________________________________
_____
COPYRIGHT NOTICE

Unless otherwise cited or in the Public Domain,
all material on this website,
including all original photos, essays, articles and commentary published herein, are Copyright © 2009-2021 by the Hamden Fire Retirees Association, Inc., and may not be copied or republished in whole or in part without prior written permission of the Hamden Fire Retirees Association, Inc.

Official website of the Hamden Fire Retirees Association, Inc.
Website powered by Network Solutions®