Hamden Fire Retirees Association, Inc.
_____________________________________________________________________________________________________
_____
_____________________________________________________________________________________________________
_____
(An ad will play first, but you can "X" out of it.)
Firefighter Polite

Brother New Haven Firefighter Battling Pancreatic Cancer

The fire service is really about helping others in need, which sometimes includes those of our own. Hamden firefighters are no strangers to helping out when one of their own needs help. During this past week one of our HFRA members read a New Haven Register account of decorated 16-year veteran New Haven Firefighter Jaime Polite, who is battling pancreatic cancer. Our member contacted the website so that we might help by sharing Ff. Polite's story with our members and website visitors.

Firefighter Jaime Polite's brother firefighters are trying to help him and his family during a very difficult time. We urge our website visitors to read the aforementioned Register article (link below). Some of our members have already helped out.



Empire Kitchens
1188 Dixwell Avenue
Thursday, December 30, 1965
This fire was reported at 7:17 p.m. and immediately went to two alarms. Responding were Engines 2, 3, 4, 6, Ladder 1, Rescues 1 and 2, Car 40 (Chief Leddy) and Car 30 (Dep. Chief James Strain).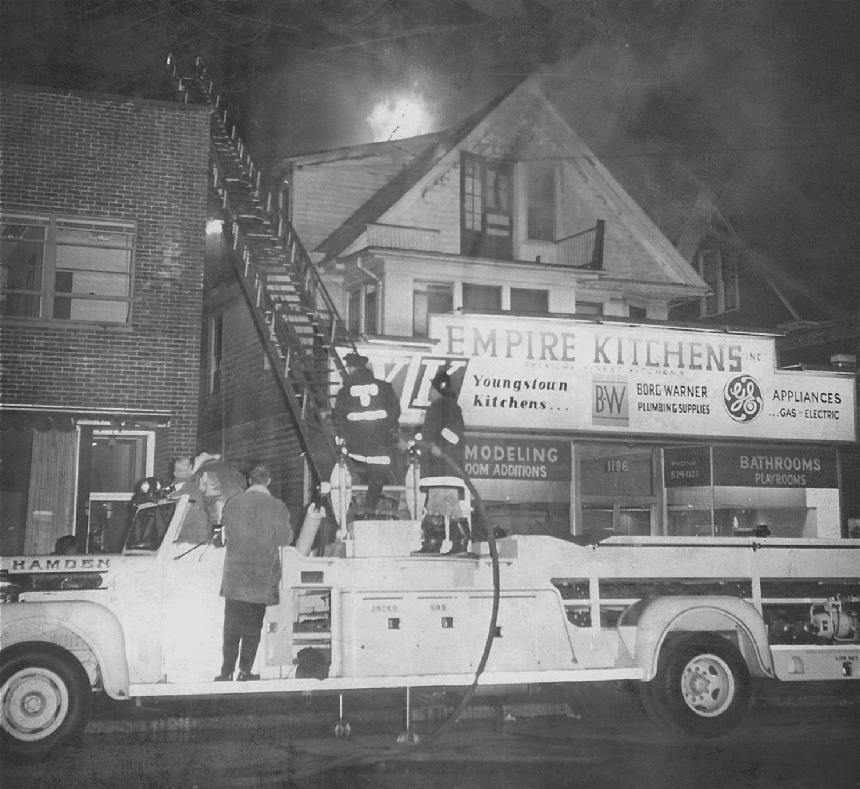 December 30, 1965 - 2nd Alarm - Empire Kitchens - 1188 Dixwell Avenue
Originally posted 10/3/10
Two brand new Maxim S-Model 1,000 GPM pumpers costing nearly $65,000 were delivered to the Hamden Fire Department in October 1968. The dedication plaque (above) was salvaged from one of the pumpers, although it is not known just which one. Both pumpers served well into the 1990s before being off auctioned to private buyers, as has been the case with all obsolete Hamden fire apparatus.
November 4, 1968 - Two new Maxim S-Models on display at Hamden Fire Headquarters
In the above photo,
Mayor William Adams presents two 1968 Maxim Model-S 1000 GPM pumpers to Chief V. Paul Leddy, while Dep. Chief Training Officer Daniel Hume and Supt. of Alarms and Apparatus Clem Wetmore look on. They were designated Engine 3 and Engine 4. A portion of the CITGO gas station that once stood on the southwest corner of
Whitney and Dixwell can be seen in the background. The
building was razed in the early 1970's
to make way for Adams Park and the fountain located there.
The two pumpers
were absolutely identical
except for
their serial numbers
. In 1974, both pumpers were transferred
to Station 2, as Engine 1 (#2686) and Engine 2 (#2687). Serial #2686 remained as Engine 1 to the end. Serial #2687,
coincidentally the same as the
HFD
union's
IAFF local number,
was reassigned as
Engine 5 in 1984. Because of the potential for long lays in the north end, the bed of #2687 was
reconfigured to accommodate
1,800 feet of LDH.
| | |
| --- | --- |
| Serial #2687 on the ramp at 4's for a stand-by in 1994 with Ff. Jim Dunlop, it was now Engine 5, packed with 1,800' of LDH. (CLICK either photo to enlarge) | This photo provided by Ff. Daryl Osiecki shows how it looked in April 2007, several years after being sold. (God only knows what it looks like now!) |
Firefighters' Support of MDA Goes Back a Long Way
The fire service has been a huge supporter of the MDA for many decades. Hamden Firefighter Ken Harrington is pictured below in December 1960
with East Haven Firefighter William Jackson and New Haven Fire Captain Francis Sweeney, presenting a $17,000 check to the New Haven County Chapter of
the
Firefighters' March
on Muscular Dystrophy.
Following promotions to lieutenant in 1963 and captain in 1970, Harrington would eventually become Hamden's deputy chief
in charge
of training. Capt. Sweeney would rise further through the ranks to become Chief of the New Haven Fire Department
in 1965.
The New Haven Evening Register, Saturday, December 31, 1960 (Courtesy of Chan Brainard)
The New Haven area was served by
two
newspapers each weekday until
1987. Monday through Friday the New Haven Journal-Courier was
the morning paper, and The New Haven Register the afternoon paper. The Register was also published on weekends, a morning paper on Sunday. Both newspapers were owned and published by the same company.
Until 1961,
the afternoon newspaper was called the New Haven Evening Register. On Sunday
mornings it
was
the New Haven Sunday Register.
The
photo above
appeared in The New Haven Evening Register on the last day of 1960. The next day, the official name of that newspaper was changed to simply, The New Haven Register
. Later in 1961,
New Haven's
Saturday newspaper became a combined Journal-Courier and Register morning edition called The Saturday Special.
When the New Haven Journal-Courier
ceased publication in March 1987, the Register became New Haven's only daily newspaper,
a morning edition published seven days
a week
.
This IH Travel-al was Rescue 1 from 1959 to 1971

40 YEARS AGO!

December 15, 1973 - The 22-year old driver of this former HFD rescue truck died when it flipped over several times in West Haven. The 1959 International Harvester Travel-al had served as Hamden's Rescue 1 until mid-1971, when it a 1960 model were both removed from service and auctioned off to private buyers.

(CLICK to enlarge either photo)




An ironic ending to a vehicle that was once used to save lives
Hamden Historical Society Archivist Retiring After 13 Years
Joe Pepe: A Very Good Friend to the HFRA
With the advent of the

website in June 2009, the HFRA began an informal yet very productive association with the Hamden Historical Society. The result was the sharing of many important photgraphs and documents preserving

the history of the Hamden Fire Department.

The

key

to

the

success

of

this

relationship

has

been Hamden Historical Society Archivist Joe Pepe, a retired school teacher, whose combined service in Hamden and Wallingford exceeded 30

years. Now, after

serving an

additional

thirteen years

as the HHS Archivist

, Joe is stepping down as of January

1st to enjoy a genuine, well-deserved retirement.

The members of the Hamden Fire Retirees' Association want to

thank Joe

for

his

generous

assistance and encouragement

to the HFRA's History Committee for the past four and

one-half years. Joe will be succeeded by Hamden resident Beth Shutts, who

recently retired from the Cheshire Public Library.




Last Day: Retiring H.H.S. Archivist Joe Pepe (center) with HFRA History Commiittee members Spencer and Johnson.
_____________________________________________________________________________________________________
_____
COPYRIGHT NOTICE

Unless otherwise cited or in the Public Domain,
all material on this website,
including all original photos, essays, articles and commentary published herein, are Copyright © 2009-2021 by the Hamden Fire Retirees Association, Inc., and may not be copied or republished in whole or in part without prior written permission of the Hamden Fire Retirees Association, Inc.

Official website of the Hamden Fire Retirees Association, Inc.
Website powered by Network Solutions®