Hamden Fire Retirees Association, Inc.
_____________________________________________________________________________________________________
_____
Bob Mordecai Elected HFRA President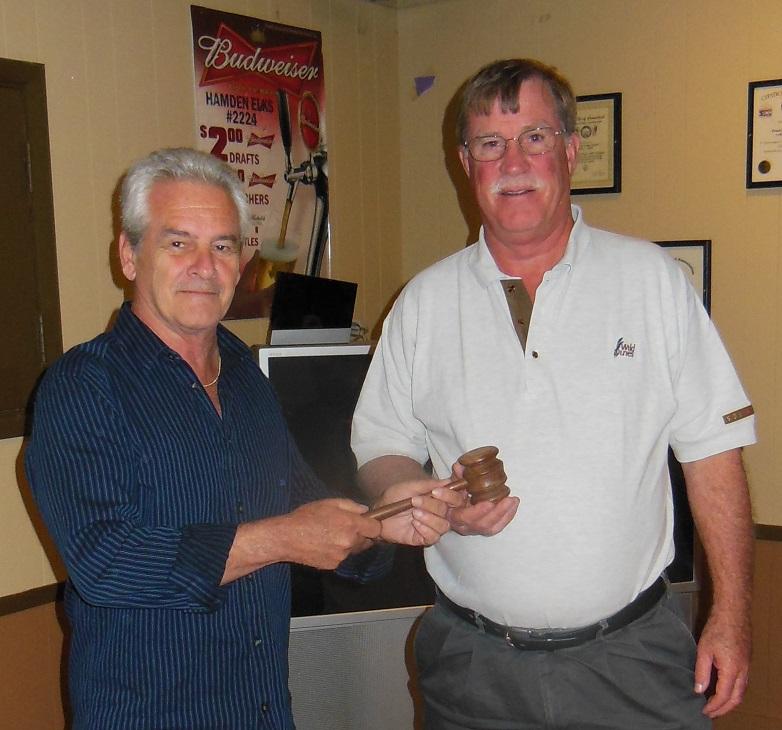 HFRA VP Bob Viglione passes the gavel to newly elected HFRA President Bob Mordecai
Election of
HFRA officers for 2014 took place at the 20th meeting of the association
last Wednesday. Bob Mordecai was unanimously elected president of the Association.
HFRA
vice president Bob Viglione
officially presented
Bob
with the gavel on behalf of
former HFRA president Mark Barletta, who had moved to Florida the previous week.
Bob served previously as one
of
the three
HFRA trustees. Jim Dunlop was elected to fill the three-year trustee slot vacated by Bob, and will serve until Dec. 31, 2016. Bob Viglione and Dave Johnson were re-elected to serve
as
vice
president and secretary/treasurer, respectively.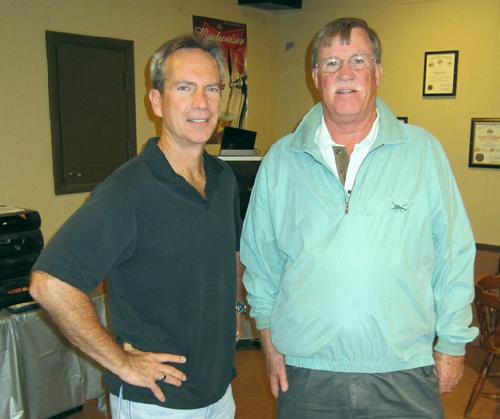 New trustee Jim Dunlop with new president Bob Mordecai
Members Appreciate Brian's Meeting Meals
As

his first official act as

the new

HFRA president, Bob Mordecai presented member Brain Forsyth with

a

well deserved

special

plaque from the membership that reads,

"The Membership of the Hamden Fire Retirees Association recognizes with sincere gratitude and appreciation your outstanding efforts and dedication in providing fine meals to your brother retirees at quarterly meetings since our first year."

Brian has

planned and prepared

excellent meals for his fellow

HFRA members since the first meeting

to

be

held at the Elks Hall in November 2009. Thanks, Brian!



Purce Named Hamden's First Full
Time Fire Marshal
In October 1948, the Hamden Board of Fire Commissioners appointed Captain Al Purce as Hamden's first full time fire marshal. For the previous five years Capt. Purce had
been
Hamden's
part-time marshal in addition to his duties as one of two shift commanders. By 1948 the Board decided it was time to make the position full time. Purce had been
among the first career line officers appointed when the department was reorganized in April 1942.
The Hamden Chronicle, October 15, 1948 (Courtesy of the Hamden Historical Society)

August 21, 1968

Twenty years later, Fire Marshal Al Purce was congratulated on his retirement by his successor, Bob "Bubby" O'Donnell. Hamden's second mayor (1968-74), William Adams, is pictured between them. Bob O'Donnell served until his own retirement in 1987. Marshal Purce passed away in December 1978, and Marshal O'Donnell in 2008.



Hamden Fire Department History on Display
at the Hamden Historical Society
Members of the HFRA History Committee are

preparing

two display cases at

the Hamden

Historical Society that will

celebrate

the history of the Hamden Fire Department.

The first display case (see photo) features old

photos,

original company badges

and patches, as well as other memorabilia

from

Hamden's nine volunteer fire companies.

A second display case, now

being

planned, will feature similar items representing the

career department, from its origins in the 1920s to the present. The career

display case

should be ready by the end of

October. Both

display cases are on

the righthand side at the top of the main

staircase

.



Just found - This roster was printed in the 1950 Hamden Town Report. Thirty of these department members were still on the job in 1975 - twenty in 1980. The last of these guys to retire was John "Jackie" Laffin, who, as a three-striper, left Station 3 for the last time on the morning of January 1, 1990. Jack is well and living on Cape Cod.
The second to the last guy in seniority was a young firefighter named Richard Lostritto, who went on to serve as the department's Supt. of Alarms & Apparatus. Richie, looking good as always, was at the Elks' Hall earlier this week for the HFRA Fall meeting.
More Views of the Fall Meeting - October 9, 2013
Photos by Bob Mordecai and Dave Johnson
(CLICK to enlarge any of them)
_____________________________________________________________________________________________________
_____
COPYRIGHT NOTICE

Unless otherwise cited or in the Public Domain,
all material on this website,
including all original photos, essays, articles and commentary published herein, are Copyright © 2009-2021 by the Hamden Fire Retirees Association, Inc., and may not be copied or republished in whole or in part without prior written permission of the Hamden Fire Retirees Association, Inc.

Official website of the Hamden Fire Retirees Association, Inc.
Website powered by Network Solutions®