Hamden Fire Retirees Association, Inc.
_____________________________________________________________________________________________________
_____
To our brothers and sisters who continue to serve in the fire, police and EMS services in Hamden and elsewhere,

the members of the Hamden Fire Retirees Association, Inc. wish you and yours a very Happy, Healthy and Safe New Year.



_____________________________________________________________________________________________________
_____
1975 - Firefighter Art Heriot at Station 4 (Photo by Joe Rahl) - CLICK to enlarge

Everyone who knew Art Heriot knew that he was one-of-a-kind. An excellent firefighter, Art possessed a monumental sense of humor and the uncanny ability to imitate certain movie legends, as well as high-ranking department officers, on the telephone.

All of the firefighters who worked at Station 4 were expected to fill in for the dispatcher, whether he was having lunch or on vacation. When Art acted as dispatcher, the morning radio test was sometimes conducted by John Wayne or Marlon Brando (think "Godfather").

Art was known to bamboozle näive fire department newbies (and even some old-timers) on the phone, convincing them that he was actually Chief V. Paul Leddy, often with hilarious and unprintable results. Sometimes Art's natural comedic talents didn't pan out too well. One Sunday morning Art answered the alarm room telephone with a flawless imitiation of Chief Leddy's unique and distinctly reedy vocal qualities, "Hamden Fire Department, Chief Leddy speaking." The caller was Chief Leddy. Fortuntely for Art, the Chief also had a sense of humor.



Art served on the department from 1957 until he retired in 1993. He passed away April 17, 2009.
Art was survived by his widow, Noreen, who is an Honorary Member of the HFRA, and by his children Arthur and Joyce Heriot of Hebron, David and Marybeth March of Griswold and Michael and Paula Heriot of Columbia and his much loved grandsons Jonathan and Seth March. He was also survived by his sister Judy Dwyer of Hamden and many nieces and nephews. A brother, Paul Heriot, predeceased him.
New Year's Eve 1992-93 at Station 4

A camcorder documented a brief, typically irreverant, and heavily edited slice of firehouse life at Station 4 on Platoon 2

twenty years ago,

during the final minutes of 1992. The whole crew was

there that night - no extras, except for hydrant maintainer Larry G, who was our guest for a gourmet swordfish dinner prepared by Jim Dunlop in the old, old downstairs kitchen. The festivities included some family members and

Dick Clark. An added treat is a brief

tour of the upstairs sleeping quarters 17 years before they were finally renovated.

Enjoy -

and HAPPY NEW YEAR!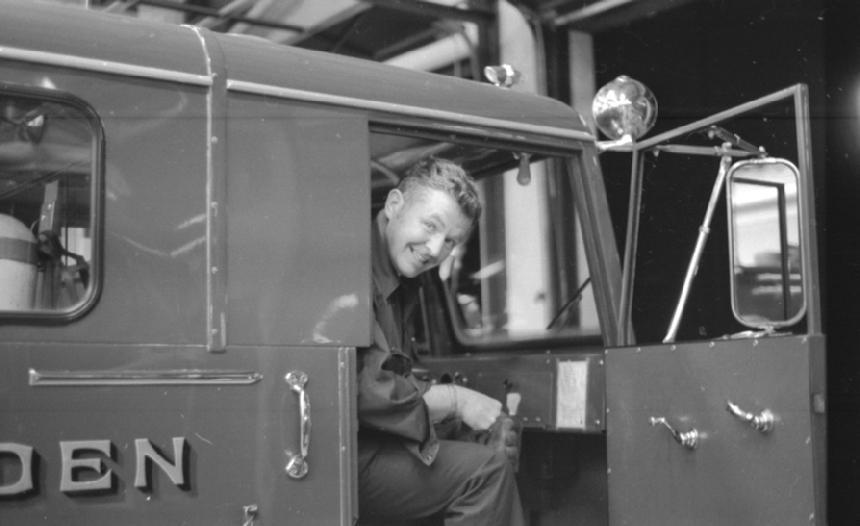 1978 - Ff. Guy White on Truck 2
Here is the earliest newspaper account yet uncovered of a fire in Hamden, from the New Haven Palladium of July 1, 1853. The exact location of the building was not given, but some further investigation may reveal the site.
Apparently this "fire proof" building wasn't so fire proof. Forty-three years before the organization of Hamden's first
fire company,
the result of even a small fire was usually
the total loss of those portions of a building and its contents that were combustible.

Photocopy provided by Julie Hulten (see article below)
A Year-End Thank-You to HFRA's Friends at
the Hamden Historical Society
| | |
| --- | --- |
| Hamden Historical Society Archivist Joe Pepe | Julie Hulten |
| | |
| --- | --- |
| Gil Spencer - HFD B/C (Ret.) | Sandy Marenholz (always in a bad mood!) |
With the close of yet another year, we thought it about time to finally acknowledge some of the Thursday afternoon regulars at the Hamden Historical Society's history room on the upper level of the Miller Library. These folks have been enormously helpful with our HFD preservation efforts by providing many leads and lots of encouragement over the past three-plus years.
We are especially
grateful to the Society's archivist, Joe Pepe. Joe is a retired school teacher who has so generously allowed us to reproduce many irreplacable fire department photos and manuscripts from the Society's archives.
Julie Hulten, also a retired school teacher, was a librarian
in the Wallingford school system for the last twelve of
her
twenty-eight years as an educator. Julie is an avid hiker and frequent lecturer on the history of the Sleeping Giant.
Our own Gil Spencer has been a member of the HHS for decades. Gil contributes many suggestions for HFRA website stories that he finds among the hundreds of individual Hamden files. If there is anything Gil doesn't know about Hamden's history and the Sleeping Giant, it's probably not
worth knowing.
Sandy Marenholz grew up in Mt. Carmel and has been researching several Mt. Carmel history projects lately. As her photo attests, Sandy is a frequent and unabashed pushover for the photographer's stupid jokes.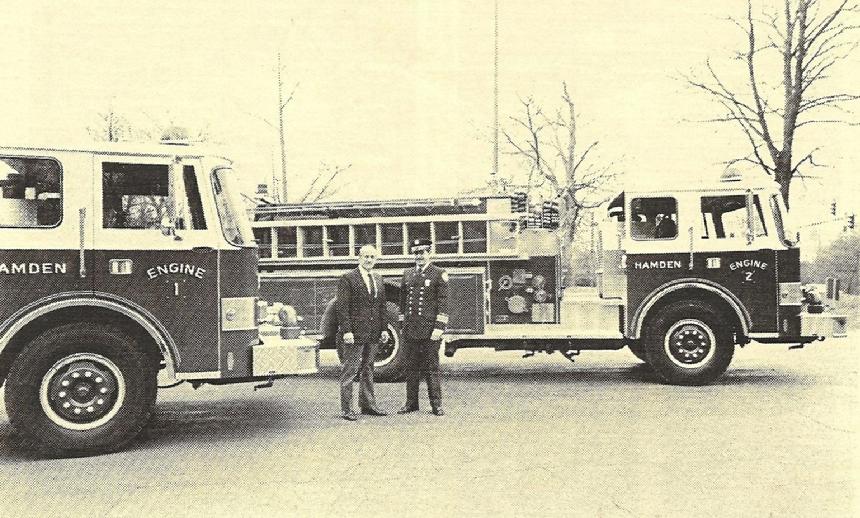 December 1984 - Mayor Peter Villano and Chief John Tramontano with Hamden's two new 1000 GPM Pierce Dash pumpers that went in service in January 1985. The pumper on the left was placed in service as Engine 4, not Engine 1, as the designation plate on the door indicated. The last of these two pumpers, which were standard shift, was removed from service in 2010.
Hamden Elks's Community Service Awards Night.

Saturday, January 26, 2013

Elks Lodge #2224, 175 School Street

Social Hour 6–7 p.m. - Dinner at 7 p.m.

Cash Bar - Program to Follow

Citizen of the Year - Arthur I Erickson

Outstanding Police Officer - Angela Hall

Outstanding Firefighter - Kevin P. Martin

Outstanding Volunteer Firefighter - Russell A. Olson

Donation: $20.00 Tickets Purchased after January 15th $25.00



_____________________________________________________________________________________________________
_____
_____________________________________________________________________________________________________
_____
COPYRIGHT NOTICE

Unless otherwise cited or in the Public Domain,
all material on this website,
including all original photos, essays, articles and commentary published herein, are Copyright © 2009-2021 by the Hamden Fire Retirees Association, Inc., and may not be copied or republished in whole or in part without prior written permission of the Hamden Fire Retirees Association, Inc.

Official website of the Hamden Fire Retirees Association, Inc.
Website powered by Network Solutions®