Hamden Fire Retirees Association, Inc.
_____________________________________________________________________________________________________
_____
Firefighter John O'Hare

Any conversation with John O'Hare is going to be one in which many laughs are exchanged. John has a unique, often humorous way of looking at life.

In a recent phone conversation, John recalled his first day on the job in 1953. He parked his 1948 DeSoto in the parking lot at Station 2 and walked in the front door. Seated at the watch desk was veteran firefighter Art Smith. Looking up at O'Hare, Firefighter Smith asked, "Yes, sir, may I help you?"

When O'Hare told Smith that he was the new man and was supposed to report to Lieutenant Hume. Smith pointed back toward the kitchen and snarled, "He's back there!"

John said that was only time in his 38 years on the job that anyone ever called him "Sir." "They've called me a lot of other things," he chuckled, "but never again did anyone call me 'Sir'!"

Love talking to John!



Famous Mt. Carmel Landmark Burns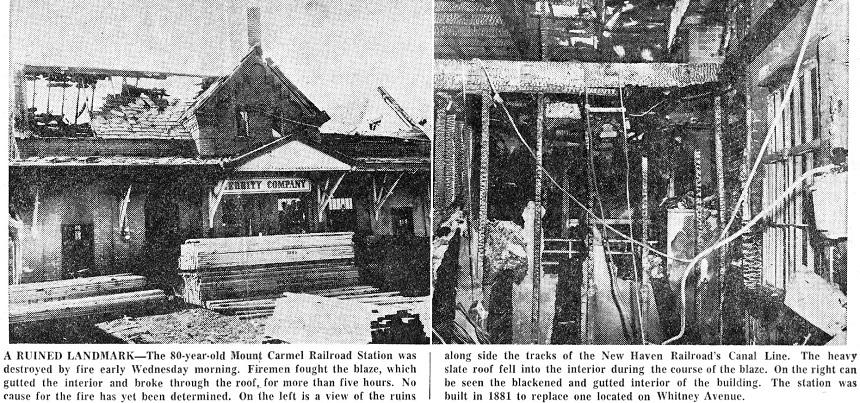 The New Haven Register, Thursday, November 8, 1962
1963 - Co. 5's R.K. Spencer Receives Life-Saving Award for RR Station Fire - CLICK to enlarge

Rescued Firefighter Tells His Story

One of the volunteer firefighters from Co. 5 in Mt. Carmel was Bill Scott. A few years later, Bill would become a Hamden career firefighter for a brief time. Bill sent an email to the website last year in which he recounted his experiences as the injured firefighter that night at the railroad station fire.

Bill wrote,

"Late one night, roughly 50 years ago, the old railroad station north of the fire house on Whitney Ave. caught fire. Many volunteers showed up including myself. I ended up on the roof with others to punch holes for ventilation. Unfortunately for me, I was standing beside the old chimney when it decided to fall, which it did, on top of me.

"My fellow volunteers rushed to my aid and brought me over to a ladder to get me down. Somehow though, they missed the ladder and dropped me off the roof. At this point I was pretty groggy and didn't argue when I was loaded into the back of an ambulance, driven by the notorious Murrays, John and Pinkey. If I'd had my wits about me, I would have called a cab.



Bill Scott
"Bobby Feinn, who rode with me, told me later he thought we would both die that night going 90 MPH down Dixwell Avenue.
"I stayed a couple of days in the hospital with a concusion. My roommate was a guy being guarded by a cop. He was there because he'd been shot by a blind woman while attempting to steal her chickens.
"My recovery was aided by some friends (volunteers of course) who came to visit with a case of beer and pizza. The hospital staff didn't think this was such a good idea and the party ended quickly. My missadventure ended well, but the highlight of that evening I feel is that one volunteers received an award from the state for my rescue even though I bounced a little on the way down."
Every October, Hamden firefighters
visited
businesses in their first alarm territories to conduct informal inspections and answer questions to help citizens observe and obey basic fire codes. When the inspection was over, the firefighters always
presented a calendar from the Department, which offered a sometimes dramatic, sometimes homespun,
but
largely fictional
representation of department life. The Rockwellesque depiction above shows an elderly firefighter entertaining two small kids. Hamden did have a couple of Dalmatian mascots, "Belle" at Putnam Avenue and "Sport" at Headquarters, but we do not recall any active firefighter quite as old as THAT guy. When children visited the fire stations, though, the men on duty were usually quite friendly, letting the kids
try on their boots and helmets and sit in the engine. We still do it today.
Notice the alpha-numeric telephone number, CH 8-5521, which was the Department's emergency number. Fifty years ago this month, the Southern New England Telephone Co. was among the first of the Bell-affiliated telephone companies to discontinue these old EXchange names if favor off all-digit telephone numbers. CHestnut 8-5521 became simply 248-5521. Check out more useless, but interesting, information on Hamden Fire Department telephone numbers since the beginning:
Trivia: What major technological emergency (glitch) occurred 47 years ago on November 9th? And what were you doing? (Email the website at

HFDBadge102@aol.com

.)
On Tuesday afternoon, November 9, 1965, at about 5:15 or so, lights began to flicker throughout the northeast. Then the lights went out entirely. Thus began what became known as the Great Northeast Blackout of 1965. Supposedly
there was a surge in births in August 1966, but that has since been relegated to urban muth status. A similar
blackout, involving a smaller area of the northeast, occurred nearly twelve years later in the summer of 1977.
_____________________________________________________________________________________________________
_____
COPYRIGHT NOTICE

Unless otherwise cited or in the Public Domain,
all material on this website,
including all original photos, essays, articles and commentary published herein, are Copyright © 2009-2021 by the Hamden Fire Retirees Association, Inc., and may not be copied or republished in whole or in part without prior written permission of the Hamden Fire Retirees Association, Inc.

Official website of the Hamden Fire Retirees Association, Inc.
Website powered by Network Solutions®