Hamden Fire Retirees Association, Inc.
CLICK here for daily flag status




FRIDAY, OCTOBER 5, 2012

Website is updated every Friday - Important interim updates will be posted when necessary




Next Meeting: Oct. 9th at 6 p.m. at the Elks.

Menu: Chicken Cutlet sandwich with LT, 2 sides homemade potato salad and coleslaw, brownies with dash of whipped cream - All for $6.00



_____________________________________________________________________________________________________
_____
CLICK to visit website

Please Fly Your Flag Sunday

Gov. Dannel Malloy has ordered all flags to fly at half-staff on Sunday, October 7th in honor of the 31st National Fallen Firefighters Memorial Weekend.

Click on the photo at left to visit their website. Please keep our

fallen firefighters, their families and their fellow firefighters

in your thoughts and prayers.



_____________________________________________________________________________________________________
_____
This photo was scanned from the 1940 Hamden Annual Town Report, which heralded the recent renovation to Station 4, then known as "Fire Headquarters." The bay doors were moved from the north side of the fire station to face Whitney Avenue.
The pride of the department were these two nearly new pieces of apparatus. At left is the "Emergency Squad," built on a 1938 Diamond-T chassis. At right is Hamden's newest pumper, rated at 500 GPM, built on a 1939 Diamond-T chassis. Both pieces were manufactured by the Woods Engineering Service of Topsfield, Masssachuetts. These pieces remained in service in various capacities for several more decades. The 1938 squad was sold in 1971, and the pumper in 1977.
Monday, July 13, 1981

Every morning at

9 a.m., the fire dispatcher conducted

a radio

test

to

all cars and apparatus.

The test format, used since

the

1960s, began with the dispatcher announcing, "This is KCG-711 Hamden, testing to all units at 9 a.m."

The first unit called was usually Car 30, the car assigned to the deputy chief (now B/C).

On Mondays, the day of this test, volunteer and staff vehicles were included in the radio test. Volunteer apparatus were called at the start of the test, and staff vehicles at the end.

When the dispatcher called one of the radios,

the

firefighter

on

that unit's

mike

gave

the unit's

designation,

followed by

"OK on test." The fire

dispatcher would acknowledge with, "10-4 [name of unit]" When the 10 codes were replaced by numeric signals in June

1984,

the

radio

test

response

became

simply, "[Name of unit] 99."



The Hamden Fire Department employed various versions of
the 10 Codes for radio messages from the 1950s until 1984. The 10 Codes list above was modified and enlarged in November 1981 with the advent of Central Communications. Following input from line personnel, Hamden's 10 Codes were replaced in June 1984, with the adoption of numeric signals, similar to those used for years by the New Haven Fire Department.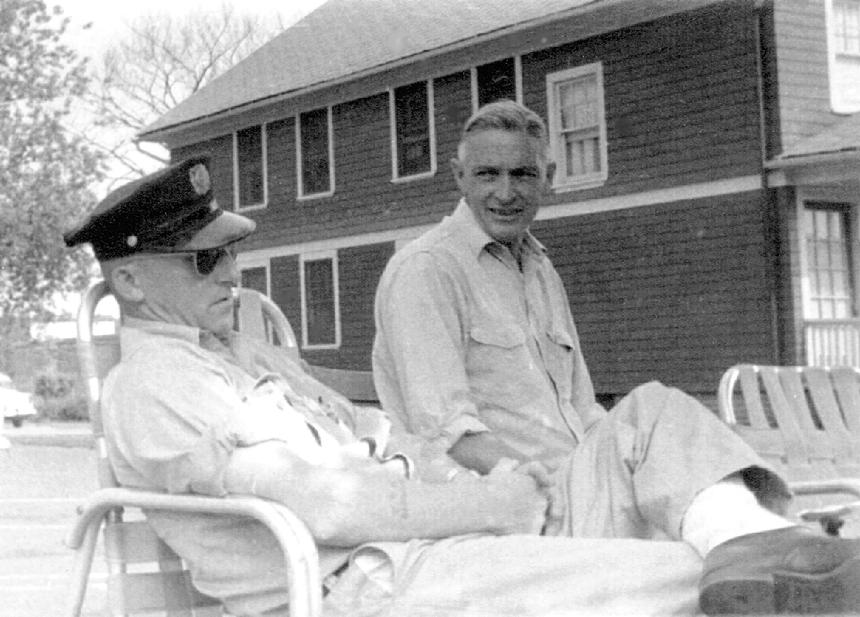 This photo of Firefighters Warren Blake and John McKee was taken by Firefighter Stan Brown around 1965. Stan was an amateur photographer, many of whose photos have been preserved by Chan Brainard. Chan recently donated many of his own photos and hundreds of HFD-related newspaper articles from 1955 through the 1990s. Lots of good stuff will be shared in the coming weeks and months!
CLICK to enlarge

This roster is an interesting snapshot of the department at a pivital stage.

Deputy Chief Training Officer Ken Harrington's 1980 retirement resulted in the first department promotion in over seven years.

With Harrington's position vacant, Capt. Thomas Doherty acted as

training officer when eight

new recruits

were hired in January 1981. But neither he nor the other two captains

still on the job wished to apply for the permanent position

. Civil Service re-wrote the specifications, allowing lieutenants with

three or more years in grade to apply for the position.

Dep. Chief Harrington's vacancy as training officer was

filled in April

by

Lt.

John

Tramontano. Ironically,

seven years

earlier,

Tramontano

had

been

the

last

man to receive a promotion - to lieutenant

- the direct result of then-Capt. Harrington's promotion to training officer.

Harrington's vacancy on Platoon 2 was filled by Lt. Burt Hillocks, whose vacancy on Platoon 4 was

filled by Ff. John Tramontano.

The seven year drought of promotional opportunities affected dozens of firefighters hired in 1969-70, who were not on the job long enough to qualify for the previous

lieutenant's exam,

conducted

in 1973. Some firefighters were on the job nearly twelve years before getting their first shot at a promotion in

early 1981, when Civil Service

finally authorized a promotional exam

.



_____________________________________________________________________________________________________
_____
COPYRIGHT NOTICE

Unless otherwise cited or in the Public Domain,
all material on this website,
including all original photos, essays, articles and commentary published herein, are Copyright © 2009-2021 by the Hamden Fire Retirees Association, Inc., and may not be copied or republished in whole or in part without prior written permission of the Hamden Fire Retirees Association, Inc.

Official website of the Hamden Fire Retirees Association, Inc.
Website powered by Network Solutions®