Hamden Fire Retirees' Association






FRIDAY, SEPTEMBER 23, 2011

Website is updated every Friday - Important interim updates will be posted when necessary






_____________________________________________________________________________________________________
_____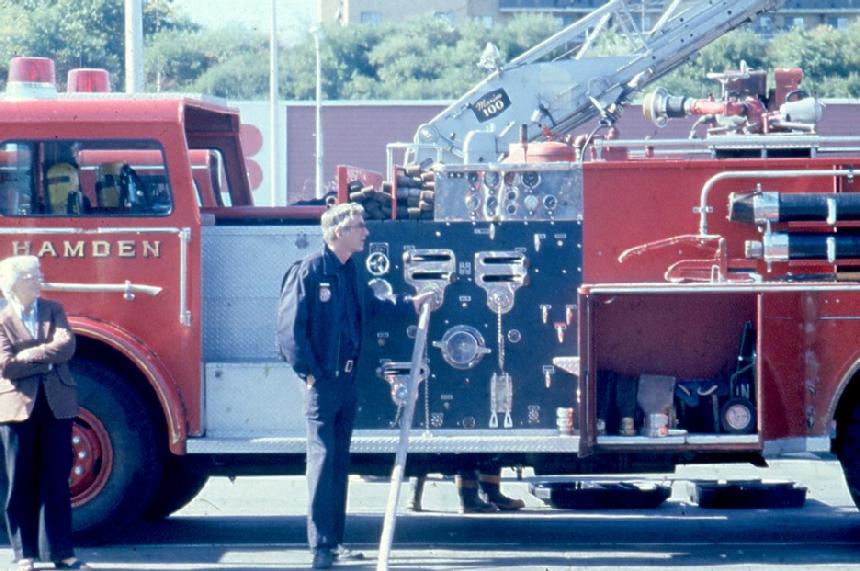 October 1982 - In front of Bradlees at the Hamden Mart. An unknown spectator watches at left as Ff. Paul Reutenauer monitors Engine 4's pump panel during a fire department demonstration for Fire Prevention Week. Truck 2, as it was designated at the time, the 100' Maxim aerial, can be seen right behind. (Photo by Ed Doiron, Jr.)
Wild Ride 25 Years Ago Eventually Leads to Chet's - and a Training Session
1976 Malibu wagon ready for Hurst tool training

Ff. John Longo checking out the Hurst tool before going to work on the front door

Ff. Harold Mangler operating Hurst tool at Chet's Auto Parts
When it came to fire department training, Chet's Auto Parts on Welton Street was always generous with their "inventory," like this 1976 Malibu wagon that once belonged to the family of a Hamden Fire Department member (we're not talkin'!).
And thereby
hangs a tale: 25 years ago this week (September 26, 1986, to be exact), a department member's three-year old son coasted his mom's station wagon down their driveway and through their backyard, on a wild ride that has become somewhat legendary (at least to those who were on the job in '86).
The very good news is that the kid wasn't hurt
when the station wagon he was
piloting collided
with the neighbors' house, and neither were his three brothers. The wagon got the worst of the deal, and seven months later it was put to good use in this training session at Chet's.

Early 1950s - Whitney Avenue near Augur Street. (Photo by Chan Brainard)
_____________________________________________________________________________________________________
_____
COPYRIGHT NOTICE

Unless otherwise cited or in the Public Domain,
all material on this website,
including all original photos, essays, articles and commentary published herein, are Copyright © 2009-2021 by the Hamden Fire Retirees Association, Inc., and may not be copied or republished in whole or in part without prior written permission of the Hamden Fire Retirees Association, Inc.

Official website of the Hamden Fire Retirees Association, Inc.
Website powered by Network Solutions®