Hamden Fire Retirees' Association






FRIDAY, NOVEMBER 25, 2011

Website is updated every Friday - Important interim updates will be posted when necessary






_____________________________________________________________________________________________________
_____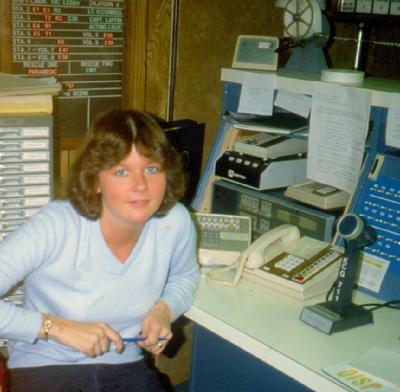 Dispatcher Carol Conway, one of eleven original Central Communications dispatchers.
"Attention, stand by for a dispatch . . ."

Thirty years ago, on November 19, 1981, 9-1-1 service came to Hamden. With a total of eleven cross-trained civilian dispatchers, the dispatch facilities of the Hamden fire and police departments were combined into one unit called "Central Communications."
When Hamden or North Haven residents with telephone prefixes of 248, 281 or 288 dialed 9-1-1, their calls were answered at Hamden's public safety answering position (PSAP) at Central. North Haven residents with Hamden telephone prefixes had their 9-1-1 calls forwarded manually to North Haven.
9-1-1 calls from Hamden residents with New Haven prefixes (562, 624, 777, etc.) were answered at New Haven, then forwarded to Hamden. The introduction of Enhanced 9-1-1 in 1988 enabled the telephone company to have all Hamden residents' 9-1-1 calls answered at Central.
Central Communications was located in the basement of the old Miller Memorial Library. The facility was renovated and enlarged in 1990. It will soon move to the new annex of the old Memorial Town Hall.
1963 - Dispatcher Wilbur Baker in the Alarm Room
Before Central Communications, all Hamden fire dispatching was performed in the "Alarm Room," a small room up a few stairs at the rear of the apparatus floor at Station 4. The fire dispatchers, each assigned to a platoon, were all experienced uniformed members of the Hamden Fire Department.

The Comprehensive Employment Training Act (CETA), enacted in the mid-1970s, provided federal funding to municipalities to hire and train unemployed individuals to fill various positions. In 1976, Hamden hired civilian fire dispatchers under the CETA program. The uniformed Hamden firefighters previously responsible for dispatching, Ray Carofano, Wilbur Baker, Russ Norman and Bob "Ace" Callahan, all of them on the job for decades, were placed back on the line.

Eventually, four full-time civilian fire dispatchers were hired and assigned to work the same 42-hour work schedule as the firefighters, 3-on-3-off. However, their schedules were not in sync with the four platoons. A civilian dispatcher's first day (or night) on duty was always the last day (or night) of the platoon.

When the Hamden Fire Department's four dispatchers moved over to Central Communications, they joined four Hamden Police Department dispatchers and three additional employees, all civilians, working a 40-hour week on three eight hour shifts. Eventually, all eleven were cross-trained in fire and police dispatch procedures.

1982 - Central Communications dispatcher Marge Gambardella, now Marge Yacano, at the fire dispatch position in the original location of Central Communications (Photo by John Tramontano)
January 1955 - Firefighter Bill Hines pumping with the new 1954 Maxim 750 pumper. Bill was promoted to lieutenant the following year and was still an active department member when he passed away in May 1979 following a brief illness. (Photo by Thomas Waite)
_____________________________________________________________________________________________________
_____
COPYRIGHT NOTICE

Unless otherwise cited or in the Public Domain,
all material on this website,
including all original photos, essays, articles and commentary published herein, are Copyright © 2009-2021 by the Hamden Fire Retirees Association, Inc., and may not be copied or republished in whole or in part without prior written permission of the Hamden Fire Retirees Association, Inc.

Official website of the Hamden Fire Retirees Association, Inc.
Website powered by Network Solutions®