Hamden Fire Retirees' Association






FRIDAY, OCTOBER 7, 2011

Website is updated every Friday - Important interim updates will be posted when necessary






_____________________________________________________________________________________________________
_____

HFRA Meeting
Next Tues., Oct. 11th, Noon
Hamden Elks' Lodge, 175 School Street



Nomination and election of officers for 2012

Menu: 3/4 lb. of onion seasoned beef w/cheddar cheese, barbeque sauce, bacon and an onion ring, French fries and cole slaw - $6.00



Humphrey Hook & Ladder Company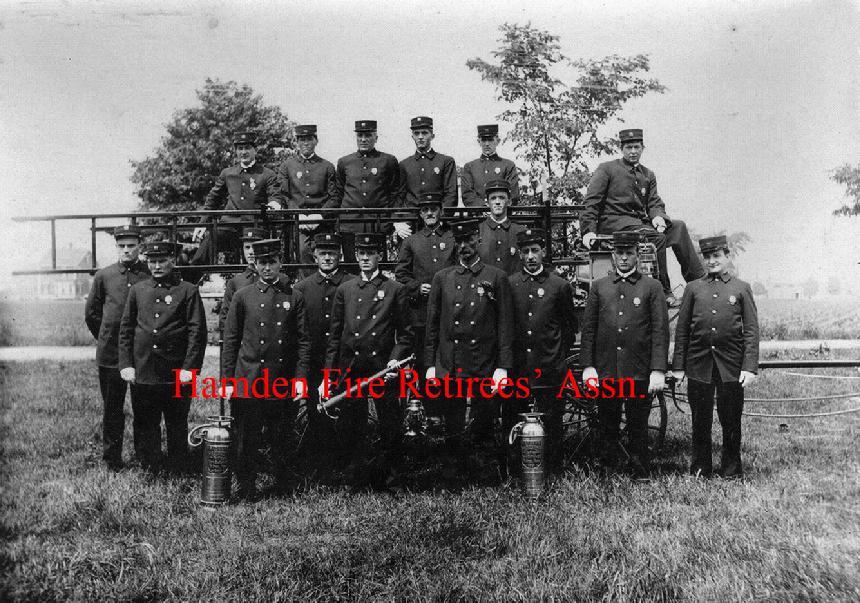 c. 1911 - Members of the Humphrey Hook & Ladder Company pose with their apparatus. The HFRA thanks Joe Taylor for his generosity in permitting the reproduction of this photo on our website.
Fire Prevention Week


This week marks the 140th anniversary of the infamous Chicago fire, and the less heralded but far more deadly Peshtigo, Wisconsin fire which occurred the same day. The Great Chicago Fire gave rise to Fire Prevention Week, observed annually throughout the U.S. during the second week of October. For many years, the Hamden Fire Department conducted various firefighting and fire prevention demonstrations at the Hamden Plaza and Mart.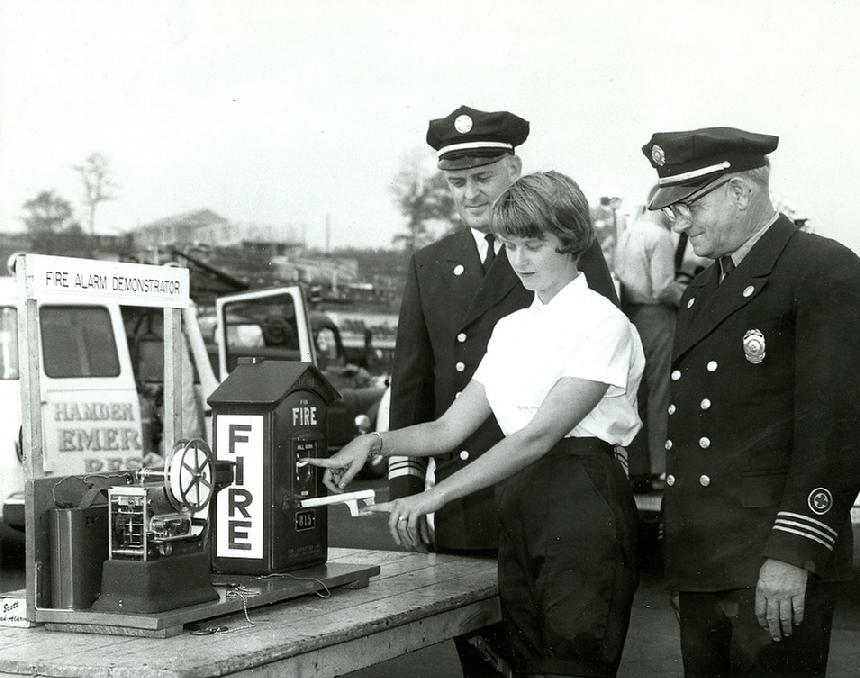 In a photo dated October 12, 1962, Chief V. Paul Leddy and Supt. Clem Wetmore observe a young lady showing how to transmit a fire alarm from a Gamewell box during a Fire Prevention Week demonstration at the Hamden Plaza. The young lady in the photo was (and is) the wife of a Hamden firefighter, who retired as a BC thirty years later. She is also closely related to a present HFD BC. Gamewell boxes numbered in the 800s were assigned to schools. Box 815 was Margaret L. Keefe School (now the M.L. Keefe Center) on Pine Street. Hamden's Gamewell system was in service until 1998. (I.A. Sneiderman photo)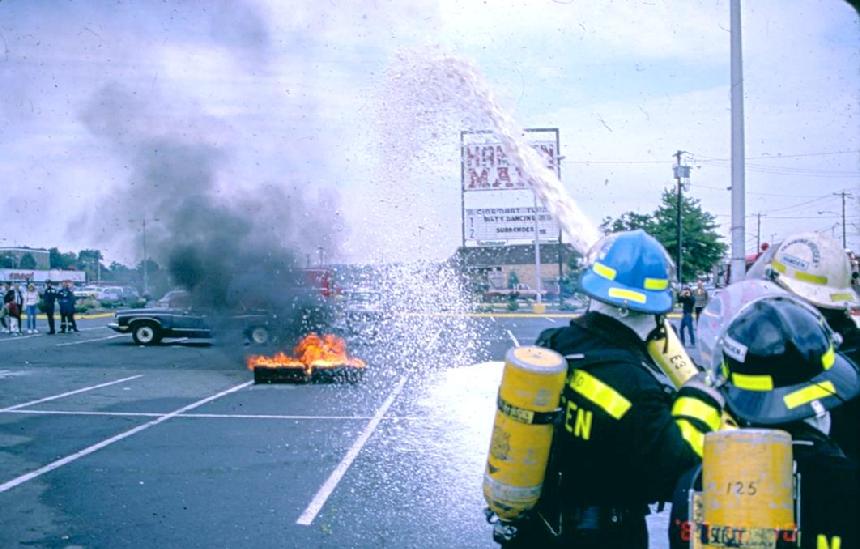 October 10, 1987 - During a Fire Prevention Week demonstration twenty-five years later, Hamden firefighters demonstrate FFFP foam on a combustible liquid fire right next door at the Hamden Mart.
_____________________________________________________________________________________________________
_____
COPYRIGHT NOTICE

Unless otherwise cited or in the Public Domain,
all material on this website,
including all original photos, essays, articles and commentary published herein, are Copyright © 2009-2021 by the Hamden Fire Retirees Association, Inc., and may not be copied or republished in whole or in part without prior written permission of the Hamden Fire Retirees Association, Inc.

Official website of the Hamden Fire Retirees Association, Inc.
Website powered by Network Solutions®