Articles and photos added during
Regular weekly Friday website updates commenced on April 1, 2011.
_____________________________________________________________________________________________________
_____
CLICK on this logo for more on the 1995 World Games in Hamden




Fifteen years ago, the Town of Hamden hosted three of the several sports venues for the Special Olympics World Games. For over a year, the Hamden Fire Department, with the assistance of several other area fire departments, spent hundreds of hours preparing for the enormous ten-day increase in the town's population.

Hamden Safety Coordinator Batt. Chief Tom Doherty, assisted by Batt. Chief Mike Ambriscoe, headed

the Game's Safety Committee

for

all

Hamden venues. On Hamden's Safety Committee, Capt. Dave Johnson and Capt. Bob Viglione

coordinated

Fire Safety operations, Capt. Paul Wetmore, Jr.

organized

Emergency Medical Services, and Capt. Don LaBanca was responsible for Logistical operations.

For more than a year before the start of the Games, and during ten days the Games were held, virtually all Hamden career and volunteer personnel contributed their time and effort to make the department's safety mission a success. Fire personnel from North Haven, Bethany, Cheshire, and Madison offered a tremendous amount of assistance as well.



Historic Flags Fly at Station 4
June-July 1996 - In observance of the 220th anniversary of our country and the 210th anniversary of the Town of Hamden, historic flags flew at Station 4 from Flag Day until July 4th. All of the flags were new and were purchased by a two department members through retail establishments that specialized in historic flags.

Any authentic U.S. flag design from the past, regardless of the number stars, is considered an official U.S. flag and may be flown as such. Each day from June 14th until July 4th 1996, a U.S. flag with a different number of stars flew from Station 4's flag pole. A large informational card was displayed on an easel in front of the station, providing details about the number of stars and the dates of service.
June 1996 - L-R: Firefighters Paul Turner, Roberta Angiletta, Jim Dunlop, Ron Desroches, Lt. Frank Critchett, Capt. Paul Wetmore, Batt. Chief Bill Coppola and Ff. Mark Barletta. CLICK TO ENLARGE

Flying from the flagpole is

a 46-star flag (1908-12).

Displayed left to right are:

50 Stars (1960-present)

49 Stars (1959-60)

48 Stars (1912-59)

45 Stars (1896-1908)

44 Stars (1891-96)

43 Stars (1890-91)

38 Stars (1877-90)

34 Stars (1861-63)

30 Stars (1848-51)

29 Stars (1847-48)



Department members went to great lengths to ensure that the multi-flag display above the bay doors was properly anchored, and that the display itself was in strict conformance with the U.S. Flag Code. However, after about a week, concerns were expressed that Engine 4's exit and re-entry might cause damage to those flags flying above it, so the multi-flag display was taken down a few days early. But a different historic U.S. flag continued to be flown each day from Station 4's flagpole until July 4, 1996.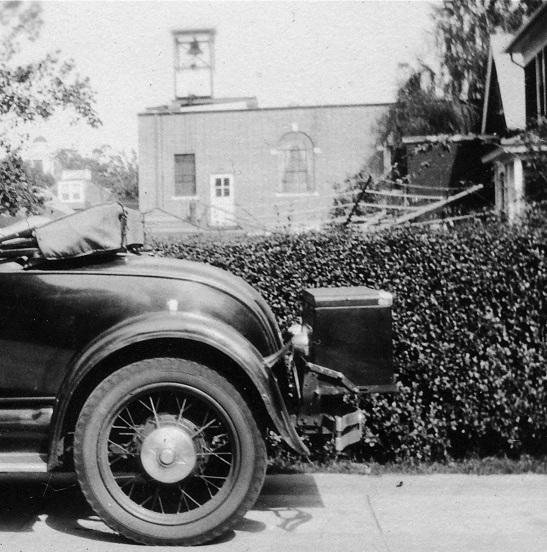 Station 3 Bell Tower as photographed from the rear yard of 55 Putnam Avenue in 1932. That's the tail end of a 1929 Model A in the foreground.
Pillars of Fire Sunday School at Mix District Firehouse
| | |
| --- | --- |
| 1929 - Pillars of Fire Sunday School class in front of Company 7's brand new quarters. | HFRA member Rev. Owen Sandersen provided us with a fascinating memoir by Verna Schulze Nedovich, in which she recalls the formation of the Mix District Volunteer Fire Co. 7, of which her father was the first president, as well as the members of the Pillars of Fire Sunday School, which met at the firehouse from its earliest days until a tragic and notorious crime occurred there in April 1931. |


Forty Years Ago



On July 7, 1970, the last fifteen* of forty firefighters, hired between 1968 and 1970 in anticipation of the 42-hour work week, were sworn in by Town Clerk Thomas Raccio. (*One firefighter was not pictured.)

Before the expansion, each of the three platoons had four officers and 20 firefighters. When the 42-hour workweek was implemented in October 1970, there were four platoons of four officers and 24 firefighters each. By 1980, each platoon had four officers and 26 firefighters each.




MENU

Grilled Steak
Pasta Salad
Potato Salad
Corn on the Cob
Baked Beans
Homemade Strawberry Shortcake

Cost $10.00




Available : Darts, Boccie, Cards with poker chips

Pool Table available for 50 cent charge

As always, members may attend without purchasing the dinner. But those having dinner should notify Brian Forsyth by Friday, July 16th -

flo428@sbcglobal.net

or 203-887-3409



| | |
| --- | --- |
| Bobby Viglione, Jimmy Koutsopolos and Ray Dobbs right after hot-wiring the T-Bird. CLICK on this photo to read the meeting minutes. User IDs and Password haven't changed. | Bob Mordecai, Dennis Baker, Jimmy Dunlop and Jack Mordecai digging in. CLICK HERE TO VIEW ALL 25 PHOTOS OF THE SUMMER GATHERING AT THE ELKS. |
Washdown
Whitney and Day Spring
December 1968
1968 - Whitney and Day Spring (Photo by Irving R. Saslow)
Lt. William Hines and the crew of Engine 4 use two 1-1/2" lines to dissipate a fuel oil spill at the corner of Whitney and Day Spring Avenues in Centerville. This was standard operating procedure for all fire departments when dealing with almost all types of spills on roadways, especially following motor vehicle accidents. L-R: Ff. Paul Reutenauer, Ff. Milner Benham, Lt. Hines, and Ff. Jim Moore.
When this photo was taken in late 1968, the brick building in the background was an architectural hardware company. It later housed Shopper's World. The building was razed a few years ago and a Dunkin' Donuts shop is presently located on the site. This photo was taken by Irving R. Saslow, who served on the Board of Fire Commissioners numerous times from the 1960s to the 2000s.
_____________________________________________________________________________________________________
_____
COPYRIGHT NOTICE

Unless otherwise cited or in the Public Domain,
all material on this website,
including all original photos, essays, articles and commentary published herein, are © Copyright 2009-2018 by the Hamden Fire Retirees Association, Inc., and may not be copied or republished in whole or in part without prior written permission of the Hamden Fire Retirees Association, Inc.

Official website of the Hamden Fire Retirees Association, Inc.
Website powered by Network Solutions®